Recipes for Leftover Rotisserie Chicken
I love a great shortcut in the kitchen, and leftover rotisserie chicken is one of my favorites! So, I've gathered up some of my favorite recipes with rotisserie chicken – there are so many ways to use it. I hope you find some new recipes to try!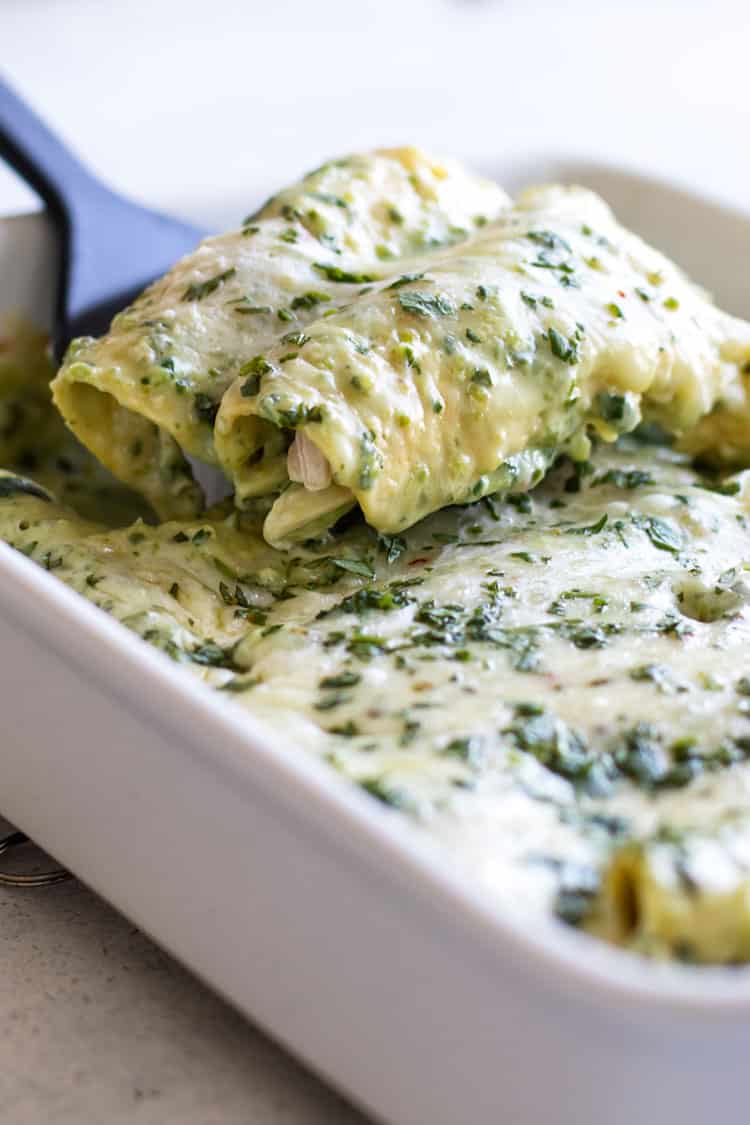 Creamy Poblano Chicken Enchiladas
Chicken rolled up in corn tortillas and topped with a creamy poblano-cilantro sauce. The richness of the sauce is balanced by the fresh herbs and a squeeze of lime juice just before serving. Readers LOVE this recipe – I think you will, too.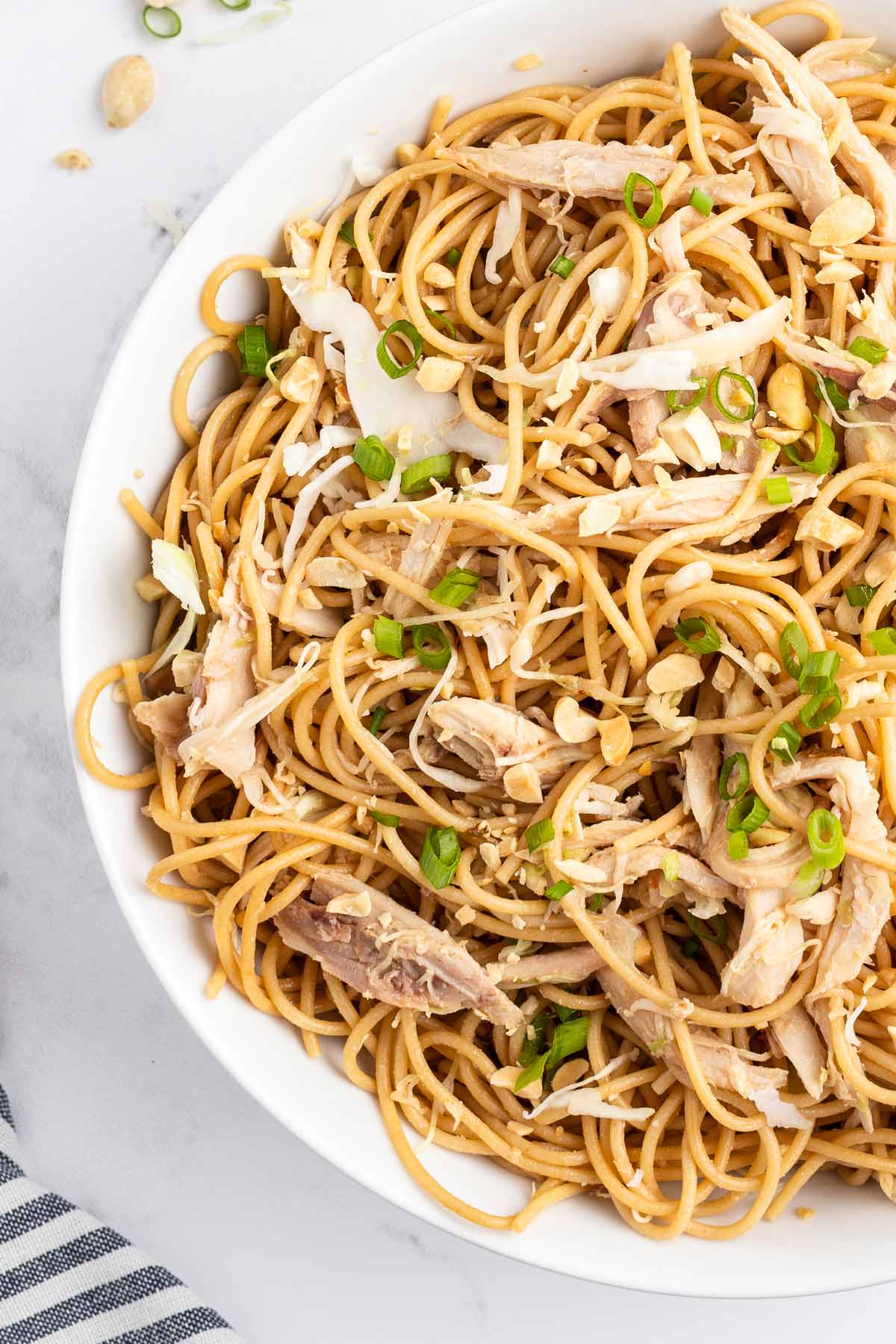 Sesame Noodle Salad
This noodle salad is ready in less than 30 minutes! It's a great side dish or light dinner for the summer and so, so easy to make. It has lots of noodles, chicken, cabbage, and green onions tossed together with a quick and easy sesame peanut sauce.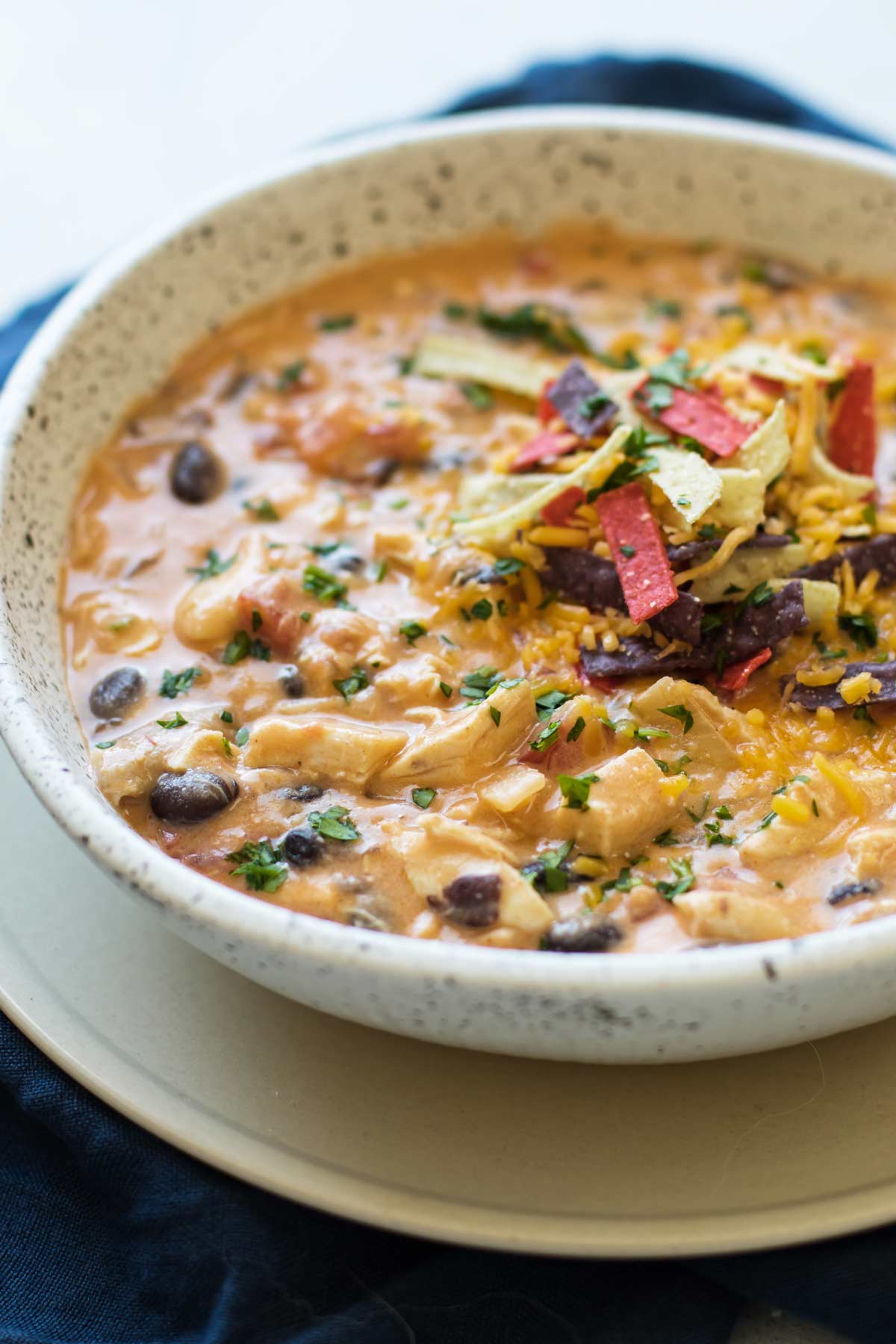 Easy Chicken Enchilada Soup
Quick and easy chicken enchilada soup! It takes 30 minutes to make and has the best creamy texture. Serve it with crunchy tortilla chips and cheese on top for an easy weeknight dinner.
Buffalo Chicken Lettuce Wraps
Quick and easy buffalo chicken lettuce wraps made with rotisserie chicken, a spicy buffalo sauce, and crisp lettuce leaves. This is an easy dinner that's ready in 20 minutes!
Pesto Pasta Salad
This pesto pasta salad is loaded with fresh veggies like asparagus, spinach, and peas. Add some chicken, pesto, and pasta and you get a summer-fresh pasta salad that is ready in 30 minutes.
Easy Chicken Gyros
A rotisserie chicken makes these chicken gyros a simple assembly operation instead of a cooking project. The soft pitas are filled with tender chicken, fresh tomatoes, cucumber and creamy cool tzatziki.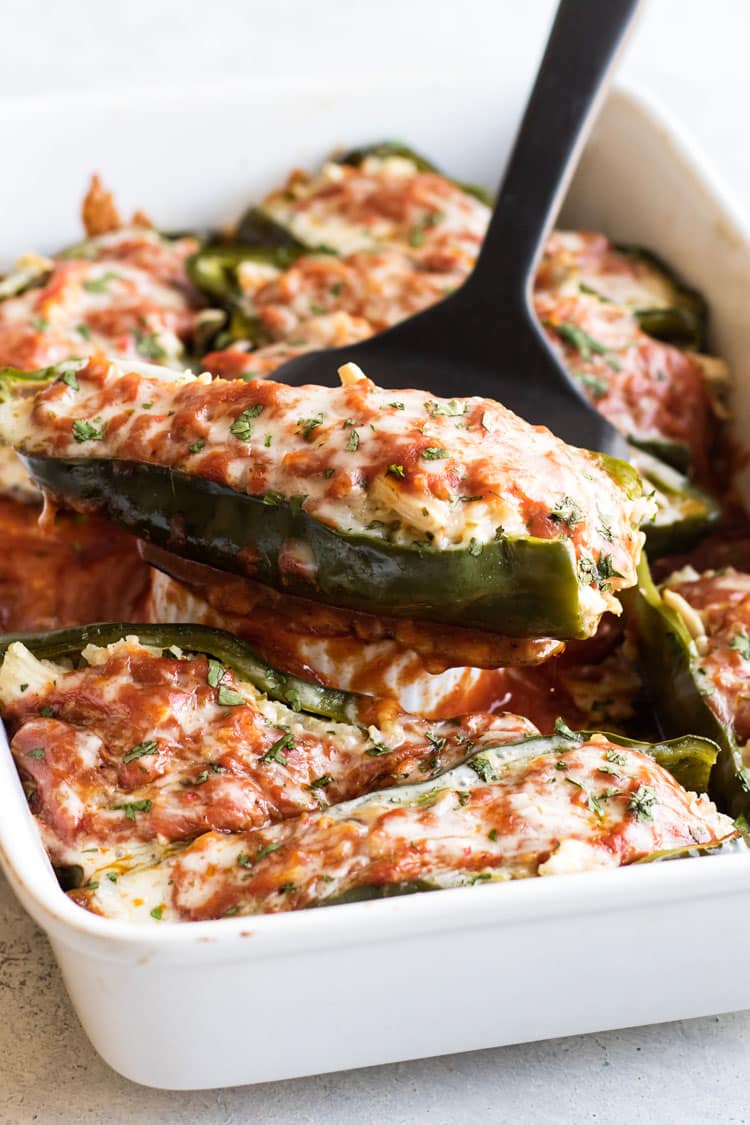 Stuffed Poblano Peppers
These southwest-style stuffed poblano peppers are easy to make! Unlike other stuffed pepper recipes, you don't have to worry about overcooked or undercooked peppers – precooking the peppers ensures they come out of the oven perfectly crisp-tender.
BBQ Chicken French Bread Pizza
This French Bread pizza is loaded with shortcuts for an easy dinner, snack, or appetizer. BBQ chicken combined with cheese, rotisserie chicken, and BBQ sauce makes a hot and toasty pizza for those nights when only something quick and easy will do.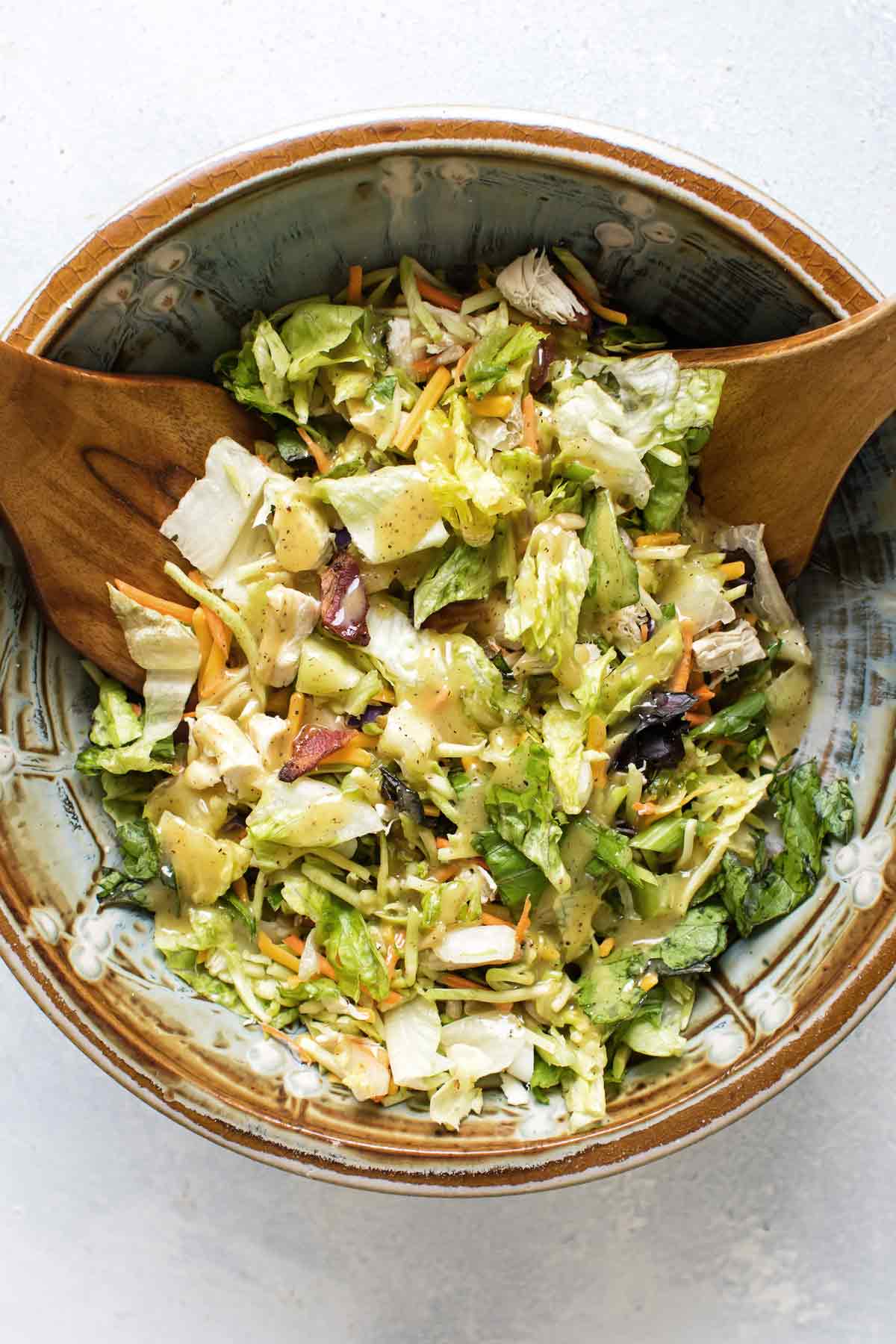 Summer Crunch Chopped Salad
This chopped salad is loaded with veggies, tender rotisserie chicken, and all the crunchy add-ins like crispy bacon and sunflower seeds. All of it is tossed in a simple homemade honey-mustard dressing. 
Chicken Club Sandwich
This layered chicken sandwich has shredded chicken, bacon, tomato, lettuce, and ham sandwiched between toasted bread slathered with mayo. Club sandwiches are a restaurant classic, and you'll love how easy they are to make at home.
BBQ Chicken Nachos
These BBQ chicken nachos are loaded with tender chicken, BBQ sauce, and a super simple homemade cheese sauce. I use several shortcuts, so they're easy to make. These nachos are great for parties and game days.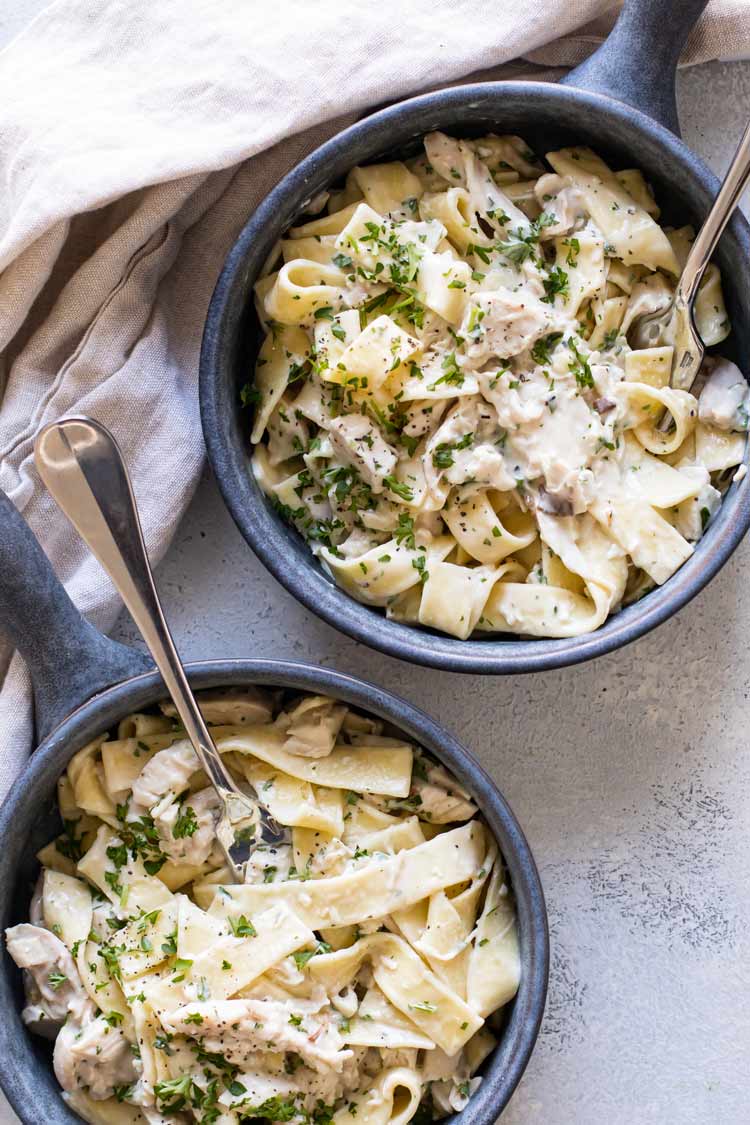 Easy Chicken and Noodles
This chicken and noodles recipe is inspired by Amish chicken and noodles but more dressed up and easy to make with rotisserie chicken. Thick egg noodles are coated in a velvety cream sauce and tossed with shredded chicken. It's a 30-ish minute dinner that's easy to make!
Chicken and Cream Cheese Enchiladas
These rich and cheesy chicken enchiladas are the ultimate comfort food. They're cheesy, rich, and easy to make.
Chicken Parmesan Sliders
These chicken parm sliders are easy to make thanks to shredded rotisserie chicken and so delicious thanks to the easy Parmesan cheese sauce! This recipe makes 12 sliders that are perfect for parties, game days, or weeknight dinners.
I hope you love all of these recipes for leftover rotisserie chicken!
Happy Cooking,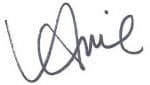 More Shortcut Recipes