Cranberry orange muffins are sweet and tart with fresh orange juice, dried cranberries, and a simple orange glaze. The crumb is soft and tender – a great muffin recipe for a holiday breakfast or brunch!
Fresh and bright orange muffins studded with tart cranberries is a delicious way to express your holiday good tidings this year. Cookies, cakes, and candy seem to always take center stage in the arena of Christmas baking, but what about breakfast and brunch? Don't we all deserve a special Christmas treat at the start of the day? Of course we do!
Maybe you've already have the breakfast casserole planned, so I highly suggest tacking on a fresh-baked batch of these cranberry orange muffins to go with it. They're cheery and holiday-ish with their sunny orange flavor and Christmas-y red dried cranberries – bonus points if you bake them in festive paper liners.
Ingredients
All-purpose flour
Baking soda
Baking powder
Ground cinnamon
Salt
Vegetable oil or canola oil
Large egg
Buttermilk
Vanilla extract
Granulated sugar
Brown sugar
Orange zest
Dried cranberries
Powdered sugar
Fresh orange juice
Recipe Steps
Preheat the oven to 350°F. Line a muffin pan with paper liners and set aside.
Whisk the flour, baking soda and powder, cinnamon, and salt in a mixing bowl. Set the flour mixture aside.
In a large bowl, mix the canola oil, egg, buttermilk, vanilla extract, both kinds of sugars, and orange zest. Mix until just combined.
Add the dry ingredients to the wet ingredients and stir just until combined. Gently fold in the cranberries.
Equally divide the batter among the muffin cups in the pan.
Bake in the center of the oven for 23 to 25 minutes or until a toothpick comes out clean. Take the muffins out of the muffin tins and cool them on a wire rack. While the muffins cool, make the orange glaze.
Whisk the confectioner's sugar and orange juice in a small bowl. Add more juice for a thinner glaze or more sugar for a thicker one, as desired.
Drizzle the glaze over muffins and enjoy!
Recipe Tips
Buttermilk Substitute: You can add either ½ tablespoon of lemon juice or white vinegar to a ½ cup measuring cup and fill the rest with milk. Mix and let it sit for about five minutes. Or, try switching the buttermilk for sour cream or Greek yogurt.
Cranberries: You can use the same amount of fresh cranberries or frozen cranberries for this recipe. If you use frozen, don't thaw them – you can mix them right into the batter. They will release more moisture, so you may need to bake the muffins a few minutes longer.
Ingredients: Using room-temperature ingredients is always a good idea when baking. So, if you remember, pull the eggs and buttermilk out of the refrigerator about 30 minutes before you make the muffins. It's not a huge deal if you forget, but warmer ingredients mix better making it harder to overwork the batter.
Room Temperature Storage: If you don't plan on eating them right away, store them in an airtight container at room temperature for three to four days. For the best results, don't glaze them until you're ready to serve them. You can keep the glaze in the fridge or make it before serving the muffins.
Freezer Tip: If you don't glaze the muffins, you can also keep them in a freezer-safe container for up to two months in the freezer. Pop them into the microwave to thaw and enjoy!
A holiday breakfast or brunch will be a lot sweeter when you make this cranberry orange muffins recipe. The combo of flavors will get everyone in the Christmas spirit. Enjoy!
Happy baking,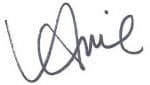 More Breakfast Ideas
Print
The nutrition is an estimate only. It was calculated using Nutrifox, an online nutrition calculator.