These gingerbread muffins are soft, tender, and flavored with Christmas spices. They're easy to make and perfect for a holiday breakfast or brunch.
Yes, there are gingerbread cookies, but how about some gingerbread muffins? They're the same, but different with a soft and tender crumb, delicious gingerbread spices, and a dusting of powdered sugar. They're an excellent alternative if you're over the holiday cookies and want something special to kick off Christmas morning. The Christmas cheer is baked right in.
Ingredients
All-purpose flour
Brown sugar
Ground cinnamon
Ground ginger
Baking powder
Baking soda
Salt
Ground allspice or you can use ground cloves
Melted butter
Molasses
Canola or vegetable oil
Whole milk
Egg
Vanilla
Confectioners' sugar
Instructions
Preheat the oven to 400°F. Line a muffin pan with cupcake liners or lightly spray the muffin cups with cooking spray.
In a large bowl, whisk the flour, brown sugar, cinnamon, ground ginger, baking powder, baking soda, salt, and allspice. Set the dry ingredients aside.
In a separate medium bowl, mix the melted butter, molasses, oil, milk, egg, and vanilla.
Add the wet ingredients to the dry ingredients and stir until combined. Do not over-mix. Fill the paper liners 3/4 full with the batter.
Bake the muffins for 10 minutes. After 10 minutes, reduce the heat to 350°F and bake them for an additional 8-10 minutes or until a toothpick inserted into the center of the muffin comes out clean.
Remove the muffins from the oven and cool them on a wire rack. Once they are cool, dust the tops with powdered sugar.
Store them in an airtight container at room temperature or in the fridge. Or you can freeze them for up to two months. if you freeze them, wait to add the powdered sugar topping until they are thawed.
Variations
You can change up the topping – here are some ideas:
Drizzle a glaze over the top of the muffins. Just mix water or lemon juice with powdered sugar until smooth.
Sprinkle coarse sugar over the top of the muffins before you bake them for a lightly crunchy topping.
Or sprinkle brown sugar over the top before baking them.
You can't beat the flavor of gingerbread during the holidays – these gingerbread muffins are a great way to get your fix first thing in the morning! I hope you love them.
Happy baking,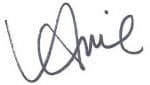 More Holiday Recipes
Print
The nutrition is an estimate only. It was calculated using Nutrifox, an online nutrition calculator.
Post, photos, and recipe updated from the archives. First published in December 2015.