This Easy Teriyaki Shrimp recipe is a quick 30-minute dinner that's light and loaded with flavor. Seasoned shrimp are cooked, tossed in teriyaki sauce, and served over rice with sesame seeds and green onions. It's a quick dinner idea for busy weeknights!
This time of year – when the days are longer and the weather is warmer – I love short-cut recipes like this teriyaki shrimp. It's a quickie type of dinner that's ready in just under 30 minutes with just a few steps and a few pantry ingredients.
It has the kind of ingredients you can keep stocked, so it's easy to whip up when there's not a lot time to cook or when you'd rather enjoy the warm summer night instead of working in the kitchen. It's been in our summer dinner rotation a few times so far this year, and I'm thinking it might end up in yours, too.
It starts with seasoned shrimp and shortcut teriyaki sauce and ends on a pile of rice. It's super simple and delicious – just what a summer dinner needs to be.
Ingredients
Garlic powder
Ground ginger
Black pepper
Peeled and deveined shrimp – I use jumbo shrimp (21 to 25 count), but you can use a smaller size. If you do, you will need to reduce the cooking time. I like to use frozen shrimp and thaw them and pat them dry before cooking them.
Olive oil
Teriyaki sauce – We're not using homemade teriyaki sauce, so grab a bottle at the store and keep it in the fridge – you'll get a few rounds of this teriyaki shrimp out of it. I like the brand Soy Vay, but use your favorite.
For serving: sesame seeds, sliced green onions, and cooked rice
How to Make It
Season the shrimp: Mix the seasonings in a large bowl and then add the shrimp. Toss them in the seasoning mix until they're evenly coated.
Cook the shrimp: Warm the oil in a large non-stick skillet over medium-high heat. Cook the shrimp in a single layer for a couple of minutes and then turn them over and cook them for a few more minutes or until they are pink and opaque. Take them out of the pan while you warm the sauce.
Simmer the sauce: Pour the teriyaki sauce into the same pan and warm it up until it's simmering hot. Add the shrimp back to the pan and stir to coat them in the sauce.
Serve and enjoy! Place the teriyaki shrimp on cooked rice. Spoon the extra sauce in the pan over the top and then garnish with sesame seeds and green onions.
Side Dish Ideas
Serve this teriyaki shrimp with cooked broccoli, green beans, cauliflower, or other veggie that you like.
The shrimp are also great in a salad, or use them to make sandwich wraps.
Here's to easy summer cooking! I hope you give this one a try soon –
Happy shortcut cooking,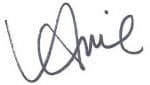 More Easy Recipes with Shrimp
📣 Do you love this recipe? I would love to know! Leave a comment below the recipe, along with your recipe star rating.
Print
The nutrition is an estimate only. It was calculated using Nutrifox, an online nutrition calculator.