Shrimp Taco Bowls have everything you love about shrimp tacos but served up in a bowl with rice and a creamy salsa verde slaw. It's a quick 30-minute dinner recipe full of fresh flavors!
Here we have a quick and easy dinner recipe that's satisfying without being heavy and full of fresh flavors. And it has a name! Shrimp taco bowls or what I like to call the dinner I've been eating on repeat. It's what we all need right now and I can't wait for you to try it – so let's break it down:
These have weeknight dinner written all over them – I think you'll love them!
Ingredients
How to Make the Shrimp
Mix garlic, honey, oil, seasonings, and lime juice in a small bowl. Pour the mixture into a nonstick skillet and bring it to a simmer over high heat.
Lower the heat to medium and place the shrimp in a single layer in the pan. Cook them on one side for three to four minutes and then turn them and cook them for a couple of minutes more until they are pink and opaque.
Take the shrimp out of the pan and increase the heat to high. Simmer the sauce until it's thickened. This should only take a minute or so. You'll know it's ready when you can drag the spatula across the pan and the sauce is thick enough that it doesn't quickly run back together.
How to Assemble the Bowls
Mix the cabbage with the sour cream and salsa. Add to the bowl along with the cooked rice.
Top the rice and slaw with the cooked shrimp. Drizzle the thickened sauce over the top.
Add a spoonful of guacamole and sprinkle the sliced green onions and fresh cilantro over the top for garnish.
Recipe Tips
30 minutes, friends! Give this shrimp taco bowl a recipe a try this week.
Happy easy cooking,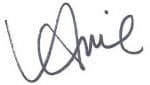 More Dinners in a Bowl
📣 Do you love this recipe? I would love to know! Leave a comment below the recipe along with your recipe star rating.
Print
The nutrition is an estimate only. It was calculated using Nutrifox, an online nutrition calculator.