Easy skillet honey garlic shrimp is a quick 30-minute dinner recipe. The shrimp are coated in a honey garlic sauce and topped with sesame seeds. Serve it with veggies on the side along with brown or white rice for an easy meal.
This honey garlic shrimp recipe is a fast 30-minute dinner that's light and flavorful. In other words, it's a respite from the wintry and heavy, albeit delicious, comfort food dinners that I can't seem to get enough of these days. 
But, I managed to pause the decadent dishes and fit this easy shrimp recipe into the rotation. And you know what? I feel very good about it.
If you're craving something light, too, shrimp coated in a honey sauce with a kick of garlic might just be the answer.
💌 Sign up for the Girl Gone Gourmet Newsletter and get recipes delivered straight to your inbox!
Ingredients
Honey
Soy sauce
Rice vinegar
Minced garlic
Ginger paste or grated fresh ginger
Shrimp
Cornstarch
Unsalted butter
Chopped cilantro
Sliced green onions or scallions
Sesame seeds
Tips: If you want some heat, add some red pepper flakes to the sauce. You can also swap the cilantro for fresh parsley if you like that better.
How to Make It
First, make the sauce. You'll use half of it for the shrimp marinade and half of it for the sauce. You only need to marinate the shrimp for about 15 minutes. While it marinates you can cook the honey garlic sauce.
Mix the cornstarch in the sauce which will thicken it while it cooks. Heat it in a large skillet and then add the marinated shrimp. They cook fast – about two to three minutes per side for medium-sized ones.
Once the shrimp are cooked the sauce should be more like a glaze coating the shrimp. Add the sliced green onions and sesame seeds and it's ready to serve.
I love this dish with cooked white rice, brown rice, or cauliflower rice. I think quinoa would be a good side, too. Add some cooked broccoli, cauliflower, and/or bell peppers on the side if you want a little veggie goodness.
How to Store the Leftovers
Keep the honey garlic shrimp in an airtight container and it will keep well for a day or so in the fridge.
I know you'll love the flavor in this easy honey garlic shrimp – I hope you give it a try soon!
Happy cooking,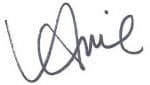 More Shrimp Recipes
📣 Do you love this recipe? I would love to know! Leave a comment below the recipe along with your recipe star rating.
Print
The nutrition is an estimate only. It was calculated using Nutrifox, an online nutrition calculator.