Although meatballs are totally appropriate year-round, I love to make big batches of meatballs this time of year when the days turn colder. Not only are they easy to make, but they are economical and versatile. Now that fall is here I've rounded up 24 meatball recipes to try through the colder months. Serve them as game-day appetizers, Sunday supper, or freeze a batch for quick weeknight dinners – there are so many great choices. I hope you find a new recipe to try!
24 Must-Make Meatball Recipes
Classic Meatballs – Girl Gone Gourmet| Here's the plan: set aside about an hour on the weekend and make these beef and sausage meatballs, portion them in freezer bags and then be so, so happy when a night rolls around when you're just too tired to cook. Serve them with pasta or tuck them into soft rolls for sandwiches. Easy dinner win.
Moroccan Lamb Meatballs – Sprinkles and Sprouts | These little bites are perfectly sized for snacking or, as Claire suggests in her post, serve them with a couscous, chickpea, and tomato salad for an easy lunch or dinner.
Vietnamese Pork Meatballs – Super Golden Bakes | Inspired by a Vietnamese street dish, these 6-ingredient pork meatballs are easy to make and are delicious served in a salad with rice noodles, cucumber, fresh herbs, and a bright and flavorful red slaw.
Swedish Meatballs – The Organic Kitchen | Swedish meatballs are loved all over the world and often are the reason people shop at at Ikea. But, you don't need to buy a chest of drawers in a million pieces in order to get a plate of pure comfort food. You can just give this recipe a try – looks like a wonderful Sunday supper idea.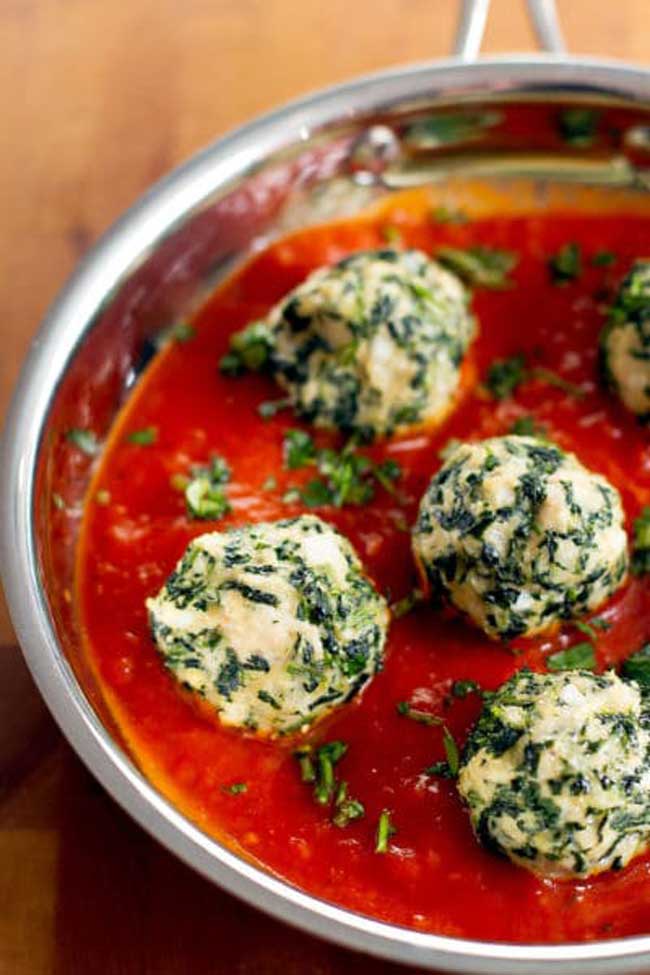 Chicken & Spinach Meatballs – Girl Gone Gourmet | Light and easy to make these chicken meatballs with spinach are a nice way to switch up spaghetti and meatball night. Christina, a Girl Gone Gourmet reader, said, "I just made these for meal prep, they came out delicious!"
Korean Meatballs – Cake Whiz | Make them for cocktail hour or make a batch for dinner. Either way, these beef meatballs coated in a delicious sweet and spicy Korean BBQ sauce are a must-make!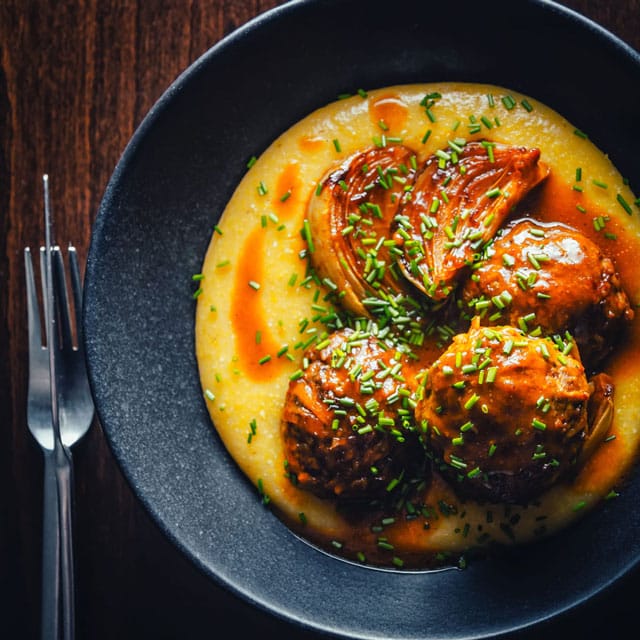 Braised Pork Meatballs – Krumpli | As Brian suggests in his post, sometimes it's a good idea to kick spaghetti to the side and get creative. These meatballs, braised in a beer sauce and served over cheesy polenta, look so comforting and cozy. This is a recipe to add to your cold-weather dinner list.
Chicken Chimichurri Cocktail Meatballs – The Harvest Kitchen | Meatballs on a stick! Your next game-day or holiday gathering needs these bite-sized chicken meatballs in a fresh chimichurri sauce made with fresh herbs.
Cinnamon Meatballs with Marinara Sauce – The Spice Train | If you keep your cinnamon with baking ingredients it's time to it a savory spin and give these tender beef meatballs a try.
Traditional Meatballs – An Italian In My Kitchen | Wish you had an old family recipe for traditional Italian meatballs? Here you go! Rosemary shares all her family's secrets for the best meatballs – no trip to Italy required.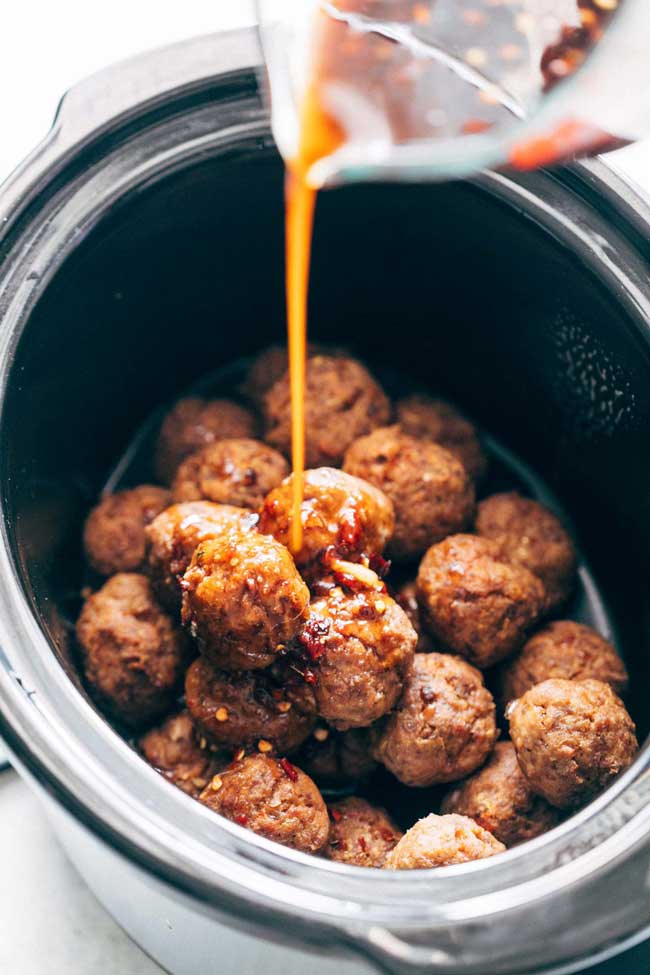 Slow Cooker Teriyaki Meatballs – My Food Story | Tender beef and pork meatballs slow cooked in the crockpot in a homemade teriyaki sauce. Add your favorite veggies, serve it all over rice and you've got a deliciously low-maintenance dinner option.
Buffalo Chicken Meatballs – Taste and See | Tired of the same-old game-day eats? These buffalo chicken meatballs might be the way to shake things up! Serve them with toothpicks, tuck them into slider buns, or served them as lettuce wraps. But, whatever you do, don't forget the blue cheese sauce on the side.
Kicky BBQ Ale Meatballs – Kleinworth & Co | Sometimes we need short-cuts. If you need a quick and easy get-together appetizer these doctored-up meatballs with a simple sauce take just 20 minutes start to finish.
Salmon Balls in a Spicy Arrabbiata Sauce – Confessions of a Clean Foodie | Good-for-you salmon baked-up meatball style. This looks like a great way to get out of a meatball rut.
Honey BBQ Chicken Meatballs – Girl Gone Gourmet | I love chicken wings, but I hate the mess they make. These chicken meatballs, coated in a honey BBQ sauce, are easy to make and even easier to eat!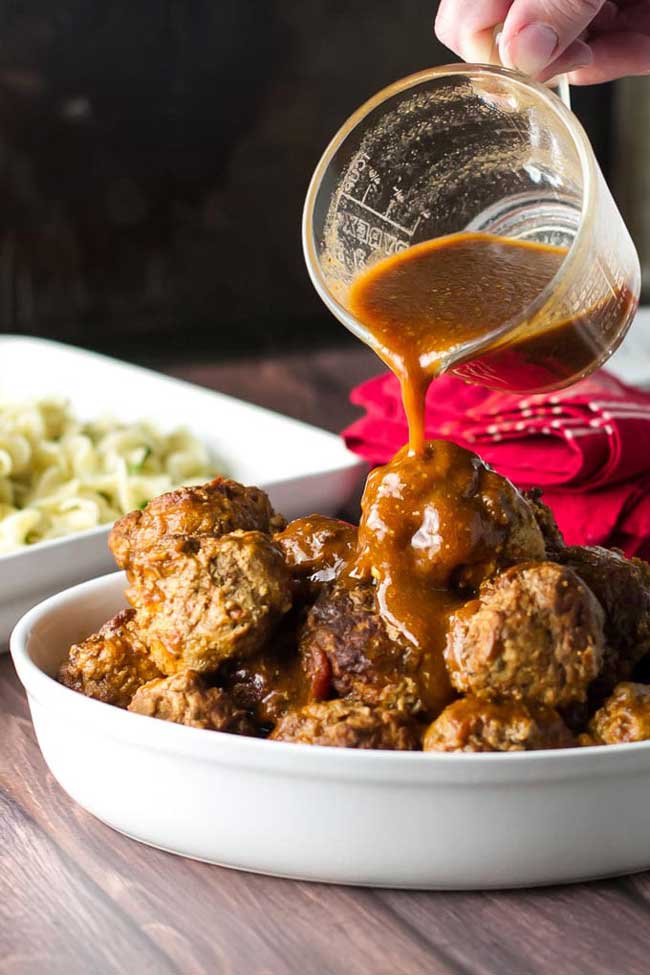 Braised Meatballs with Buttered Noodles – Girl Gone Gourmet | When it's cold there is nothing better than simmering a pot of something rich and comforting. These meatballs braise slowly in the oven, gently simmering in a savory sauce. Serve them over buttered noodles for the ultimate comfort food experience.
Cranberry BBQ Crockpot Meatballs – The Chunky Chef | Deck the halls with cranberry meatballs! These tangy-sweet bites cook up in the slow cooker and, when they're ready, set out some toothpicks and let everyone dig into these tasty bites.
Low-Carb Meatballs – Wholesome Yum | Maya shows you how to get the meatball love without all the carbs – all it takes is a few smart substitutions.
Meatballs in Spicy Curry – From a Chef's Kitchen | Pick your own protein! Beef, pork, chicken or turkey all work well in this recipe because it's all about the homemade spicy curry sauce. Serve the meatballs and sauce over rice for a cozy dinner.
Ricotta Meatballs – Ciao Florentina | Florentina's blog is all about rustic Italian food and living an Italian-inspired life. These meatballs are made with ricotta cheese and beef and can be made on the stove or in the oven. Top with plenty of mozzarella cheese and serve with your favorite sauce and pasta.
Sticky Sesame Chicken Meatballs – Sprinkles and Sprouts | Make them as appetizers or serve them over rice for dinner – either way, the best part is they cook up on a single sheet pan. So easy!
Meatball Veggie Ramen – Garnish and Glaze | Another meatball shortcut dinner idea – doctored up meatballs with ramen and veggies. Only 30 minutes to get dinner on the table!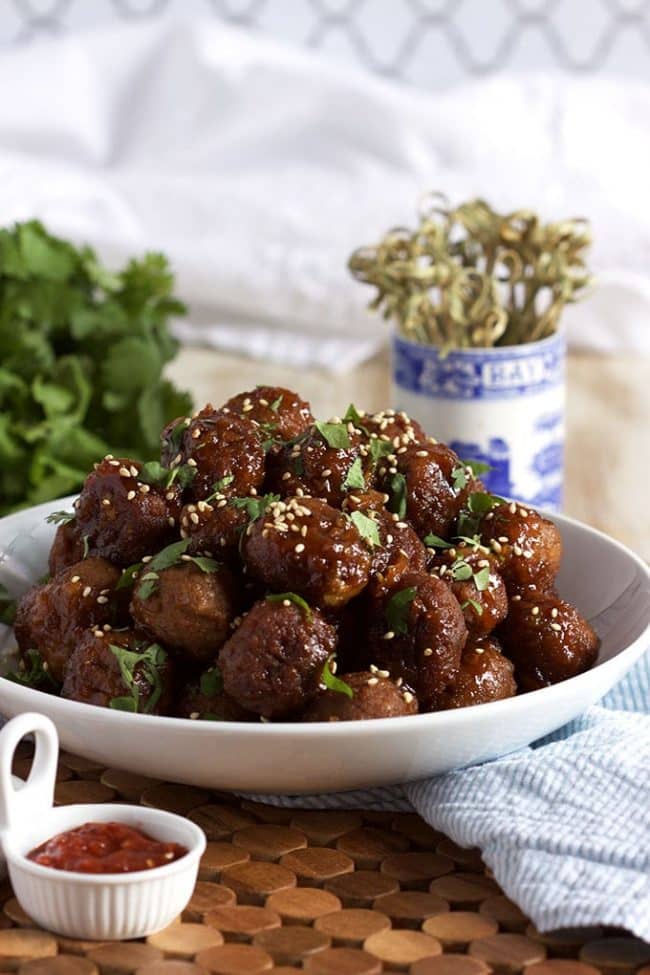 Slow Cooker Spicy Orange Marmalade Meatballs – The Suburban Soapbox | Use your favorite beef meatball recipe or use frozen, but don't skip the sticky sweet and spicy orange sauce! A slow cooker is a great hands-off way to make a big batch for game-day.
Thai Green Curry Chicken Meatballs – Super Golden Bakes | Simple chicken meatballs dressed up in a homemade green curry sauce. Yes, please.