Chewy, bouncy noodles are tossed with crunchy-crisp veggies, a trio of fresh herbs, and a simple peanut sauce with a kick of heat. This spicy peanut udon noodle recipe is delicious served warm, at room temperature, or cold from the fridge – no matter how you serve it, you will love this summery and light noodle dish.
This spicy peanut udon noodles recipe is my idea of the perfect summer meal. It's comforting without being heavy, it has summer veggies like cucumber and cabbage, and it's a great way to use up fresh herbs. Not to mention the spicy peanut sauce – it just pulls the whole thing together.
It's also versatile – feel free to make it spicier or tone down the heat level, skip the cabbage and add another hearty green that you like, or add in other veggies like bell peppers and green onions. Just don't skip the herbs – combining cilantro, mint, and basil gives the dish its fresh summery vibe.
💌 Sign up for the Girl Gone Gourmet Newsletter and get recipes delivered straight to your inbox!
Ingredients
Creamy peanut butter
Tamari – this is a Japanese sauce that is similar to soy sauce but thicker. If you can't find it, you can use low-sodium soy sauce instead.
Sambal oelek – you can also use the same amount of sriracha.
Lime juice
Rice vinegar
Sesame oil
Cooked udon noodles
Shredded cabbage
Chopped cilantro, mint, and basil
Diced English cucumber
Sliced green onions
Minced Thai chilis – if you're not in the mood to mince chili peppers (or want to lower the heat level), feel free to leave them out.
Sesame seeds
Extra: If you have some leftover cooked chicken feel free to toss some in to make it even more filling.
How to Make It
Combine the peanut butter, tamari, sambal oelek, lime, vinegar, and sesame oil in a bowl.
Toss the cooked noodles, cabbage, herbs, cucumber, green onion, and chiles in a large bowl. Pour the sauce over the top and toss to combine.
Garnish with the sesame seeds and serve.
Recipe Tips
These spicy peanut udon noodles are delicious served warm, but I love them cold from the refrigerator, too.
If you have leftovers, they will keep in an airtight container in the refrigerator for three to four days.
Happy noodle tossing,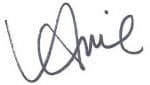 💌 Sign up for the Girl Gone Gourmet Newsletter and get recipes delivered straight to your inbox!
More Easy Recipes to Try
📣 Do you love this recipe? I would love to know! Leave a comment below the recipe along with your recipe star rating.
Print
The nutrition is an estimate only. It was calculated using Nutrifox, an online nutrition calculator.