Ready to get your cozy on? I've gathered up the best fall soup recipes for you to browse. They're hearty, comforting, and perfect for a crisp fall day!
Soup Recipes to Make All Fall
Fall, otherwise known as the start of soup season, is the perfect excuse to simmer something comforting and cozy on the stove.
There's a little bit of everything in this list, from a quick 15-minute recipe to low and slow weekend warmers. If you're looking for some soup recipe inspiration, I think you'll find some here!
I hope you've found some new comforting soup recipes to try this fall!
Happy cooking,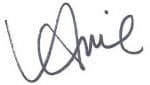 More Recipe Collections
Post updated from the archives. First published in October 2020.