Ready to get your cozy on? I've gathered up the best fall soup recipes for you to browse. They're hearty, comforting, and perfect for a cold day!
Soup Recipes to Make All Fall
Fall, otherwise known as the start of soup season, is the perfect excuse to simmer something comforting and cozy on the stove.
There's a little bit of everything in this list, from a quick 15-minute recipe to low and slow weekend warmers. If you're looking for some soup recipe inspiration, I think you'll find some here!
💌 Want new recipes sent to your inbox? Sign up for the Girl Gone Gourmet Newsletter!
Roasted Acorn Squash Soup | This soup is a cozy fall soup. Roasting brings out the squash's natural sweetness, and it's then simmered into a creamy soup flavored with herbs. I love it with toasted bread on the side.
New England Fish Chowder – from Grow a Good Life | A creamy chowder made with bacon, potatoes, and cod. It looks simple and delicious!
Homemade Minestrone | When it's cold, there's nothing better than a big bowl of this hearty soup. This veggie-packed winter minestrone with potatoes, spinach, cauliflower, and beans will warm you up!
Easy Lasagna Soup – from I Heart Naptime | A favorite baked pasta dish turned into an easy soup! This one-pot recipe has everything you love about lasagna without all the hassle.
Easy Chicken Enchilada Soup | This chicken enchilada soup is made with rotisserie chicken for an easy soup ready in 30-minutes. It's thickened with masa harina and some cream cheese gives it a creamy cheesy texture. Garnish it with tortilla chips and shredded cheese for a cozy bowl that will warm you up.
Wild Rice Soup – from Feasting at Home | You can make this classic in your Instant Pot or in a Dutch oven on the stove. It's loaded with flavor from mushrooms and spinach with delicious wild rice.
Tomato Soup with Croutons | It's cliche but there's nothing more comforting than a bowl of homemade tomato soup. It's simple to make, garnished with homemade croutons and it can be made ahead for cozy lunches and dinners during the week.
Italian Vegetable Lentil Soup – from Cooking Classy | This delicious soup is loaded with fresh vegetables and lots of Italian flavors. The lentils add a big nutrition boost and will keep you filled up.
Guinness Stew | This Irish stew is traditionally made with lamb, but you can use stew meat to make a hearty beef stew, too. It's simple but so delicious and satisfying.
Sweet Potato Soup – from Savory Simple | This creamy soup is perfect for the fall season – sweet potatoes combined with a touch of apple and autumn spices sounds so cozy and good.
Loaded Potato Soup | Take a baked potato with all the toppings and turn it into a hearty bowl of soup. This is a great way to warm up on a crisp fall day.
Easy French Onion Soup | This is my easy version of French onion soup. Instead of hovering over the stove to caramelize the onions, you cook them overnight in the slow cooker or crockpot. Keep them in the fridge, and it's easy to make a batch of this classic French soup during the week.
Roasted Red Pepper Soup | The combination of the creamy soup with the toasted croutons and blue cheese crumbles is a match made in heaven with this recipe.
Creamy Butternut Squash Soup | This is a classic fall soup, and the squash is roasted first to bring out its sweetness. It's combined with other veggies and creamy cannellini beans, which gives the butternut squash and white bean soup a wonderful velvety texture.
Roasted Pumpkin Soup – from Serious Eats | This fall soup is flavored with butter and thyme for a classic combination.
Hearty Italian Sausage Soup | This one is made with Italian sausage, red wine, fresh sage, carrots, spinach and garnished with Parmesan. It's a cold-weather warmer and hearty enough for dinner with some crusty bread on the side.
Tortellini Soup | Fresh veggies, tender cheese tortellini, and herbs simmered together in one pot. This tortellini soup is easy to make and is ready to serve in about 45 minutes.
Chicken Noodle Soup | It's no secret that boxed chicken stock is no match for homemade, but I find that browning bone-in skin-on chicken breasts in some oil and butter and sauteing the vegetables in the browned bits left behind adds a boost to otherwise boring boxed chicken stock. The soup is hearty with a deep flavor that's brightened with a squeeze of fresh lemon before serving.
Tomato Bisque | Tomato bisque is a creamy tomato soup recipe that's easy to make. Serve it all on its own or add some crunchy croutons on top or some crusty bread or a hot grilled cheese sandwich on the side for dunking. It's simple comfort food that will warm you up on a chilly day.
Cauliflower Kholrabi Soup | Kohlrabi has a flavor similar to broccoli making it a perfect match with cauliflower.
Vegetable Beef Soup | I use fast-cooking sirloin to make this comforting vegetable soup. So instead of simmering it for hours, it's ready to go in less than an hour and a half.
15-Minute Italian Meatball Soup | This one is cozy, comforting, and ridiculously easy to make. You only need six ingredients and 15 minutes to make it.
Roasted Cauliflower Soup | Creamy cauliflower soup for two is a great small-batch recipe for a chilly fall day. Serve it with a turkey grilled cheese for the best experience!
Chicken Tortilla Soup | Warm and cozy chicken tortilla soup with black beans, corn, and bell pepper. Topped with avocado, cheese, and sour cream garnish this soup is a delicious Sunday project that keeps on giving throughout the week.
Instant Pot Black Bean Soup | This hearty black bean soup with bacon, green chile, and spices cooks in about an hour – no need to soak or simmer the beans for hours! It's so easy you can make it on a weeknight. I also have an easy stove-top version, too, if you don't have a pressure cooker.
Cheesy Broccoli Soup | This broccoli cheese soup is creamy and full of fresh broccoli flavor. It's garnished with easy-to-make crispy onions – it's so cozy and delicious.
Mushroom Leek Soup | This creamy mushroom soup combines mushrooms with leeks. Serve it with crusty bread on the side to soak up every last drop.
Chickpea Soup | This easy chickpea soup is spiced with paprika and cumin and is hearty enough to stand on its own for dinner. It's a quick 30-minute soup with minimal prep work and is garnished with homemade Parmesan crostini that takes only a few minutes to make while the soup is simmering.
Creamy Potato Soup | This creamy potato soup with crispy pancetta takes just 45 minutes and is so flavorful and delicious. It's like a big warm hug in a bowl.
I hope you've found some new comforting soup recipes to try this fall!
Happy cooking,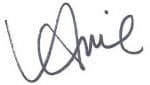 More Recipe Collections
Post updated from the archives. First published in October 2020.