This Salsa Verde Chicken is an easy slow cooker recipe! The chicken, tomatillos, poblano peppers, jalapenos, and other simple ingredients go right in the slow cooker – no precooking steps are needed. A few hours later, you get tender, juicy chicken coated in a bright, flavorful verde sauce. Spoon it over rice and add your favorite toppings for a delicious dinner.
If we're going to haul out the slow cooker, let's do it for a very good reason. Like for this salsa verde chicken – it's one of my favorite reasons to lug the crockpot out of its dark hidey-hole.
It's the best of what I love about crockpot cooking: easy to prep, low-maintenance, and the result is so delicious I think I'll double the recipe from now on. The tender chicken coated in that bright and fresh salsa verde is fantastic straight out of the crock pot, but the leftovers are even better.
Ingredients
Olive oil
Tomatillos – peel off the papery outsides and give them a good rinse to remove the sticky residue.
Canned diced jalapenos – I like canned because it's one less thing to chop, but use fresh if you like! Or, try using the same amount of canned diced green chile.
Diced onion – If you want to save time (like me!), use frozen chopped onion. It's so easy.
Poblano pepper cut into 2″ pieces
Chopped garlic
Kosher salt
Boneless skinless chicken breasts – Boneless, skinless chicken thighs would work well, too.
Chopped fresh cilantro
Fresh lime juice
Heat level: You can control how spicy this is by using mild or hot jalapenos or a combo.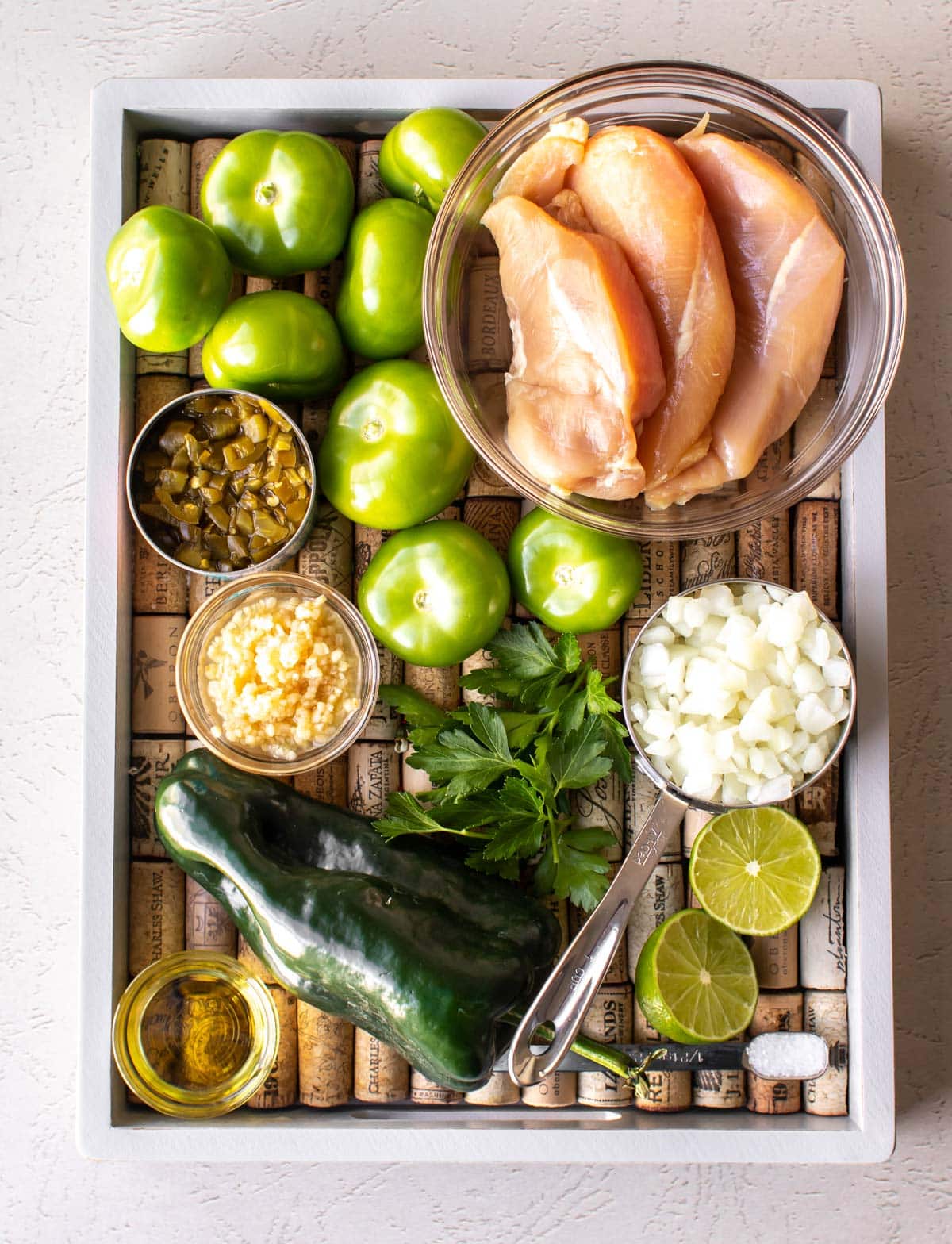 How to Make Slow Cooker Verde Chicken
Drizzle the olive oil into the bottom of the slow cooker.
Cut the tomatillos into quarters and place them in the slow cooker. Add the jalapeno, onion, poblano pepper, garlic, and salt. Give it a stir.
Place the chicken breasts on top of the veggies and then secure the lid.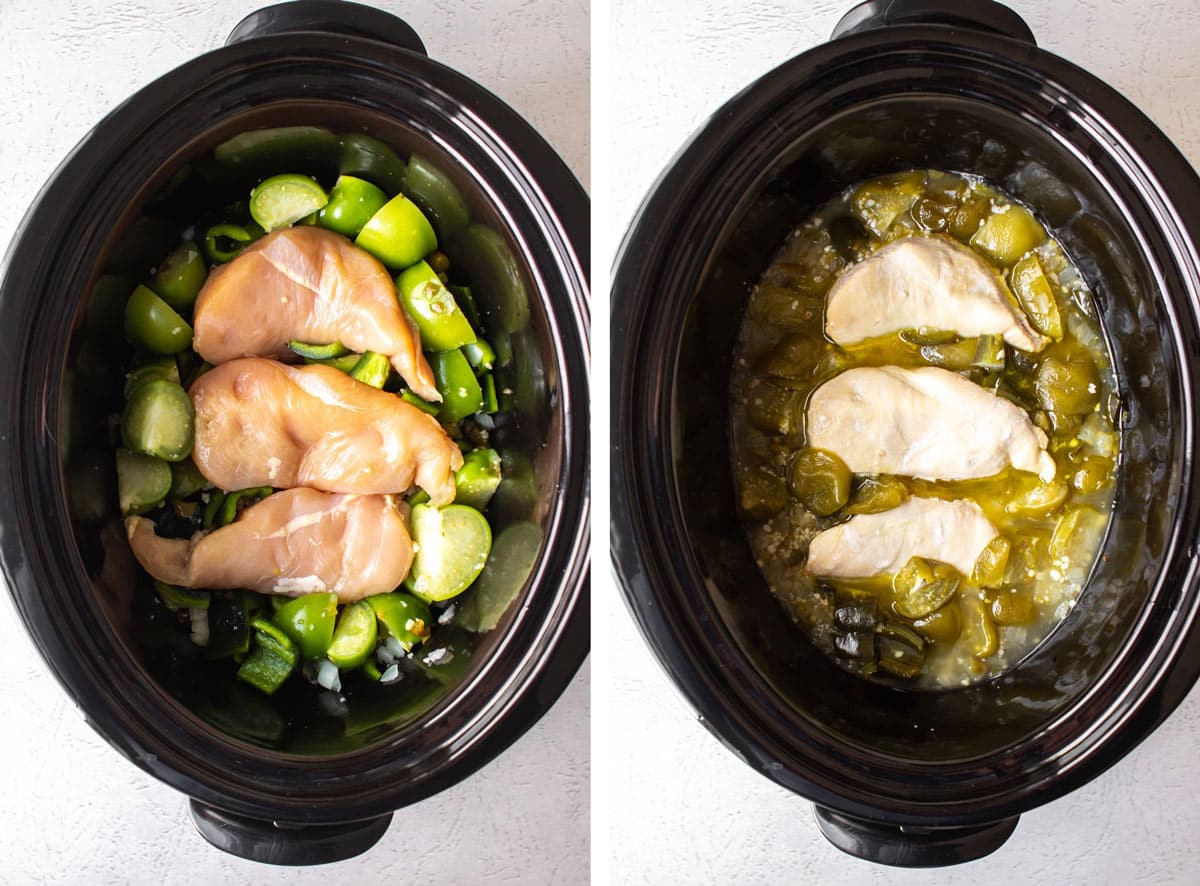 Cook on low for three to four hours or until the chicken is 165°F in the thickest part.
Remove the chicken from the slow cooker and shred it with two forks or cut it into bite-sized pieces.
You can leave the salsa verde chunky or puree it. I like to use an immersion blender to make it really smooth.
Add the chicken back to the sauce along with the lime juice and cilantro. Stir, and it's ready to serve!
Recipe Tips
If the sauce is thin, leave the lid off the slow cooker and set the heat level to high. Let the sauce reduce and thicken for about 10 minutes.
I love this salsa verde chicken in a bowl spooned over rice or cauliflower rice. If you're feeling extra, make some cilantro lime rice to go with it.
Don't forget some toppings! I love guacamole or diced avocado, sliced green onions or cilantro, and a few crunchy tortilla strips.
The leftovers are so good – keep them in an airtight container for several days in the fridge. Or you can store them in the freezer for a few months.
The flavors in this dish are so good – bright, fresh, and light. I hope you try this slow cooker salsa verde chicken recipe soon!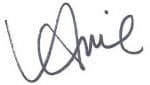 More Easy Slow Cooker Recipes
📣 Do you love this recipe? I would love to know! Leave a comment below the recipe, along with your recipe star rating.
Print
The nutrition is an estimate only. It was calculated using Nutrifox, an online nutrition calculator.