This super easy Slow Cooker Turkey Chili is loaded with flavor from ground turkey, beans, bell peppers, and chili seasonings. It's easy to prep in the morning and then leave it to simmer all day. Serve it up with your favorite toppings for an easy weeknight dinner.
I'm no stranger to chili recipes, and to choose one as a favorite is something I'm not capable of doing – I love them all! But if I'm making one during the week, a slow cooker chili recipe is what I turn to.
Case in point: This crockpot turkey chili. It's so easy, so hands-off, and so delicious. A mixture of ground turkey, chili seasonings, veggies, and some jalapenos for a spicy kick simmers for hours, so when the inevitable dinner hour rolls around, you have a hearty dinner ready to go. Just ladle it up, add your favorite toppings, and dig in.
Ingredients
Olive oil
Lean ground turkey
Tomato paste
Chopped yellow onion – If you don't feel like chopping an onion in the morning, go ahead and use frozen chopped onion. I do, and I love it – you'll need about two cups.
Chopped bell peppers
Minced garlic
Canned diced jalapeno – I like to do one can of spicy and one can of mild, but choose your favorite combo. You could also use green chiles instead.
Canned pinto beans – You can swap them for black beans, cannellini beans, or kidney beans. Or leave them out if you prefer.
Tomato sauce
Chili powder
Ground cumin
Dried oregano
Salt and pepper
How to Make It
Brown the turkey in a large skillet and then transfer it to the slow cooker. Mix in the rest of the ingredients.
Cook the chili on low heat for six to eight hours. Give it a good stir before serving.
Topping Ideas
I love a bowl of chili with all the toppings! Here are some of my favorites:
A dollop of sour cream or guacamole.
Diced avocado.
Sliced green onions, diced red onion, or chopped cilantro.
Shredded cheddar cheese or pepper jack cheese.
Crushed tortilla chips, Fritos, or tortilla strips.
Recipe Tips
This is a thick slow cooker turkey chili recipe. If you want it thinner, you can add more tomato sauce or add some vegetable or chicken broth.
To make things easier, you can brown the turkey and prep all of the veggies the night before and keep them in the refrigerator. The next morning, just mix up the chili, and it's ready to simmer.
It keeps really well! Store it in an airtight container and keep it in the fridge for three to four days or freeze it for several months.
I hope you give it a try soon!
Happy chili-making,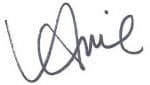 More Chili Recipes
📣 Do you love this recipe? I would love to know! Leave a comment below the recipe, along with your recipe star rating.
Print
The nutrition is an estimate only. It was calculated using Nutrifox, an online nutrition calculator.