This homemade pesto is a twist on the classic with fresh basil, cheese, garlic, olive oil, and walnuts. Using walnuts instead of traditional pine nuts is an easy way to switch up a basic pesto. It's perfect tossed with hot pasta or use it as a sauce for vegetables, grilled chicken, or fish, or thin it to use as a salad dressing. Lots of options with this simple walnut pesto recipe!
If you've been following along, you already know I love some homemade pesto. It's one of my favorite things to make because it's easy and so customizable. This walnut pesto is just a shade off from a traditional pesto – instead of using wallet-busting pine nuts, I used walnuts instead. And it's delicious.
With the season for fresh basil just around the corner, I thought now is the best time to share a new pesto recipe. Use this no-cook sauce on all the summer things like grilled steak, chicken, and fish, or just toss with pasta for a simple and incredibly fresh pasta dish.
What I love best about making pesto is that you can adjust it to your tastes. I have some suggestions for big changes later in the post, but remember you can adjust the amounts listed – always test and adjust before you serve it so it's just right for you.
Ingredients
Fresh basil leaves
Grated Parmesan cheese
Walnuts
Garlic cloves
Olive oil
Kosher salt and black pepper
Recipe Steps
Place all of the ingredients in a food processor and pulse until they are broken down and well combined.
With the food processor running, slowly pour the olive oil in until the pesto reaches your desired consistency.
Store it in an airtight container until you're ready to use it.
Pesto FAQs
Different Ways to Use It
Besides the obvious pesto pasta, there are lots of ways to use this walnut pesto:
I use it as a condiment and spoon it over scrambled eggs, smear it on bread to make sandwiches, or spoon it on pork chops or chicken.
Use it to flavor soups – just add a dollop at the end of the cooking time to add fresh herby flavor.
You can also thin it with olive oil and use it as a salad dressing or dressing for pasta salad.
For even more ideas be sure to browse my how to make pesto post that has more recipe ideas!
It's a simple thing, but this basil walnut pesto will add a punch of flavor to everythng you add it, too. Make a batch and keep it in the fridge – I know you will find all kinds of ways to use it!
Happy pesto-making!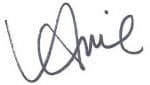 💌 Sign up for the Girl Gone Gourmet Newsletter and get recipes delivered straight to your inbox!
More Creative Pesto Recipes
📣 Do you love this recipe? I would love to know! Leave a comment below the recipe along with your recipe star rating.
Print
The nutrition is an estimate only. It was calculated using Nutrifox, an online nutrition calculator.