For a super easy creamy fettuccine pasta dish, add pesto to a cream sauce. You only need a handful of simple ingredients for this creamy pesto sauce, and it's ready in about 20 minutes. It's perfect for a quick dinner when you're craving pasta.
I'm no stranger to pasta recipes, and quick and simple pasta dishes are among my most favorite recipes on this site. And, today, a new one: creamy pesto sauce with fettuccine.
Like the others, this pesto pasta recipe is easy – 20 minutes easy. It's basically a doctored-up Americanized Alfredo sauce, so it's rich, creamy, and cheesy.
The pesto adds a punch of brightness that balances out the richness. It's pretty darn good if I do say so myself.
Ingredients
Use a long pasta shape like fettuccine, spaghetti, bucatini, or linguini.
Butter and heavy cream is the sauce base.
Basil pesto – you can use homemade fresh basil pesto or store-bought to make it really easy.
Grated Parmesan cheese brings the cheesiness.
Fresh parsely and lemon juice adds a pop of freshness
How to Make It
You can make the pesto sauce while the pasta is boiling. It's quick and easy!
Melt the butter in a large skillet over medium heat, add the cream and whisk to combine. Once the cream is warmed up add the pesto and whisk again.
Cook the sauce for a minute or two – don't let it boil. Add the parsley and Parmesan cheese and stir until the cheese melts into the sauce.
You can keep the sauce on medium-low heat if you're still waiting on the pasta to cook. Just give it a whisk every so often.
Once the fettuccine is al dente, drain it and add it to the pan with the sauce. Use tongs to toss it in the pesto cream sauce. It's okay if a little of the pasta water transfers over with the fettuccine – it will just add to the sauce.
Add a few squeezes of fresh lemon juice, toss again, and serve. It's best enjoyed when it's made.
Change It Up
What I love about this recipe is that you can use any kind of pesto, so it's easy to switch up. I've seen lots of different kinds available at the grocery store or you can make a homemade pesto.
You can also add a protein like cooked chicken or shrimp to make it more filling. If you do, cook it before you make the sauce and then add the cooked chicken or shrimp to the sauce at the end with the pasta.
Or, to make it really easy – just toss in some shredded rotisserie chicken at the end.
Serve It with a Side Dish
Because its so rich, this recipe makes four servings on the smaller side. So, adding a side dish is a good idea.
Or skip the side and treat yourself to a double serving. Just an idea.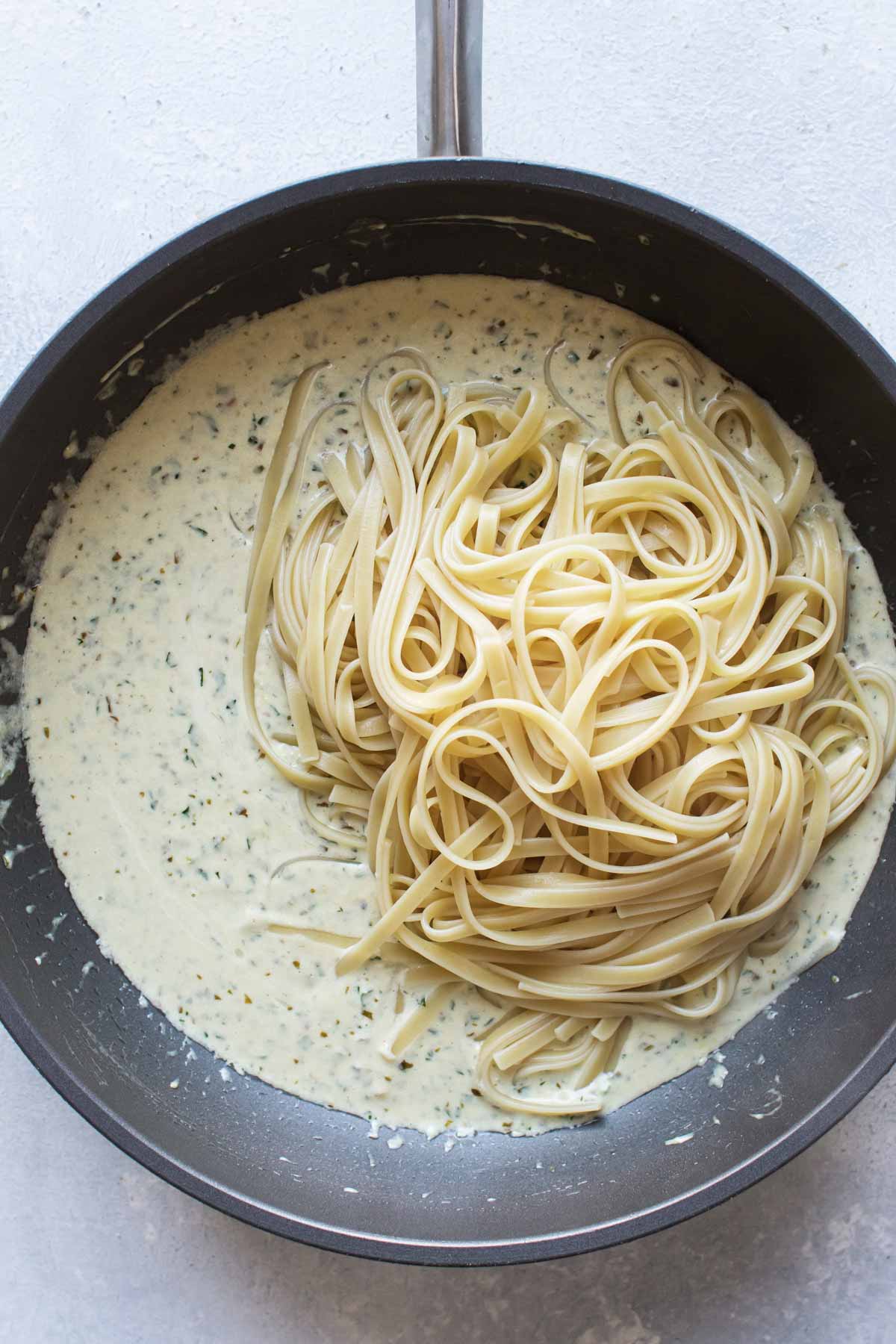 So simple and so delicious. I hope you give this creamy pesto sauce a try!
Happy Cooking,
More Alfredo Recipes
If you like this creamy pesto Alfredo, you need to try some of my other favorite pasta sauce recipes, too:
Print