This Parsley Pesto is a simple and delicious homemade pesto sauce! It's made with a few simple ingredients, including spinach which gives it a healthy boost and a vibrant green color. Toss this easy pesto with pasta or use it as a sauce for fish, chicken, steak, or pork. It also makes a great salad dressing!
Yes, there's traditional basil pesto, but there are so many other ways to make this easy sauce. So, today it's all about parsley pesto with spinach.
Doesn't it look like a bowl of sunshine? So fresh and happy. This spinach parsley pesto is perfect any time of year when you're craving something fresh and bright.
Ingredients
Pine nuts – or you can swap them out for walnuts or almonds.
Garlic cloves
Fresh spinach leaves
Fresh flat-leaf parsley
Shredded asiago cheese or Parmesan cheese
Lemon zest and lemon juice
Kosher salt
Olive oil
Easy Homemade Parsley Pesto: Recipe Steps
Place the nuts, garlic, spinach, parsley, cheese, lemon juice and zest, and salt in the food processor.
Pulse until the mixture is finely chopped. Scrape down the sides of the bowl as needed so everything is well combined.
With the food processor running, slowly pour the olive oil into the mixture. I like about a 1/3 of a cup of oil, but you can add more if you like a thinner sauce.
How long does parsley pesto keep?
This pesto will keep in the fridge for up to a week. Be sure to store it in an airtight container.
You can also freeze it. Place it in a freezer container and drizzle a thin layer of olive oil over the surface of the pesto before securing the lid. You can also freeze small amounts in an ice cube tray and tightly wrap it with a few layers of plastic wrap. Frozen pesto will keep for several months.
How to Use It
There are so many ways to use parsley pesto! Here are just a few ideas:
Toss it with hot pasta and some grated Parmesan cheese.
Make pesto pasta salad.
Use it as a sandwich spread or for wraps like my avocado wrap.
It's great spooned on grilled chicken, pork, steak, or fish.
Spread it on pizza dough before adding other cheese and toppings.
Mix it with cream cheese for bagels or toast.
Thin it with more olive oil and use it as a salad dressing.
I just love the flavors in this spinach parsley pesto! It's bright and fresh – I hope you give it a try soon.
Happy blending,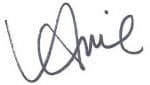 More Homemade Pesto Recipes
📣 Do you love this recipe? I would love to know! Leave a comment below the recipe, along with your recipe star rating.
Print
The nutrition is an estimate only. It was calculated using Nutrifox, an online nutrition calculator.
Photos and post updated from the archives. First published in January 2015.