Chili Nachos topped with a creamy cheddar cheese sauce, cilantro sour cream, and green onions is a great way to use up leftover chili. They're perfect for game-day, parties, or any time you're craving some seriously good nachos!
Nachos are one of my favorite ways to use up whatever odds and ends are in the refrigerator and this version, chili nachos, does not disappoint. They're so good, in fact, it's worth making a batch of homemade chili just so you can pile it all over tortilla chips with plenty of cheese.
In this case, a silky smooth cheddar cheese sauce turns them into chili cheese nachos reminiscent of my favorite baked chili cheese dogs, another favorite leftover chili recipe.
Assemble them on a sheet pan, pop them in the oven until toasty hot, add the garnishes, and then devour. Technically they're an appetizer but, let's be real, nachos for dinner is never a bad thing.
💌 Sign up for the Girl Gone Gourmet Newsletter and get recipes delivered straight to your inbox!
Best Chili for Nachos
Thick chili works best for nachos so you don't end up with soggy chips. Leftover chili is great for this because it naturally thickens up when it's chilled.
The type of chili is up to you, but I like ground beef chili with no beans. That said, I think Texas chili, black bean chili, and chile colorado would all be great, too. Or use your favorite chili recipe – just be sure to make enough to have at least three cups of leftovers to make the nachos.
Ingredients
Cheddar cheese
Cornstarch
Half and half
Kosher salt
Tortilla chips
Prepared chili
Sour cream
Lime juice
Chopped fresh cilantro
Green onions
Recipe Instructions
Heat oven to 375°F and line a large sheet pan with foil.
Make the nacho cheese sauce: Place the shredded cheese and cornstarch in a saucepan. Toss them together so the cornstarch is coating the cheese. Add the half and half and warm the pan over medium heat. Stir until the sauce is smooth and take the pan off the heat.
Assemble the nachos: Spread some tortilla chips in a mostly even layer on a sheet pan lined with foil. Drop 1/3 of the chili by the spoonful over the chips. Drizzle 1/3 of the cheese sauce over the top. Add another layer of chips, add half of the remaining chili and cheese sauce. Repeat this layer one more time so you have three total layers of chips, cheese, and chili.
Sprinkle 1/2 cup of shredded cheese over the top layer.
Bake the nachos for about 10 minutes at 375°F or until the nachos are hot and the shredded cheese is melted. While they bake, make the sour cream sauce.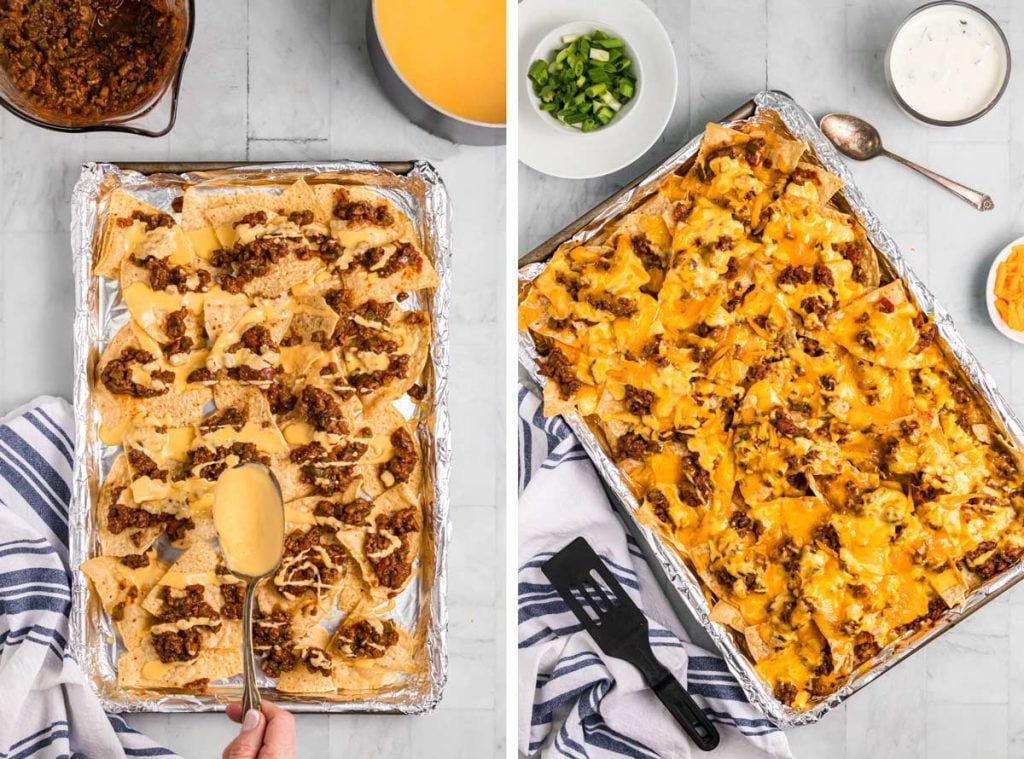 Make the Sour cream sauce: Combine the sour cream, lime juice, and cilantro in a small bowl. When the nachos are done, drizzle the sour cream sauce over the top. Sprinkle the green onions and chopped cilantro over the top for garnish.
Other Garnishes
Serve the nachos with some guacamole and salsa on the side. Or, top sprinkle some pico de gallo over the top.
Try diced jalapeno or switch out the green onions for diced red onion or white onion.
I love the combination of the chili with the creamy cheddar cheese sauce – it's the best way to use up that chili hiding in the freezer. Go look to see if you have any on hand and then give it new life with these chili nachos. Enjoy!
Happy nacho-making,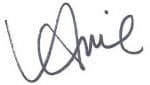 More Recipes to Try
📣 Do you love this recipe? I would love to know! Leave a comment below the recipe along with your recipe star rating.
Print
The nutrition is an estimate only. It was calculated using Nutrifox, an online nutrition calculator.