Creamy pinto bean soup with a kick of smoky heat from adobo sauce and jalapenos! Add your favorite garnishes to dress it up, and you get a cozy bowl of soup that will warm you up on a cold day.
This is not your average pinto soup. No, this is an amped-up bean soup with flavors from peppers, adobo sauce, and spices that combine to make a creamy and hearty soup that is a meal in itself. 
And don't be fooled by "creamy" because there's no cream in this recipe. The texture is created by blending some of the pinto beans, which thickens the soup and gives it a thick, velvety texture. It's completely dairy-free (unless you add a cheese garnish) and meat-free, but you'd never guess. It's so filling and satisfying.
It's a quick-simmer soup that's ready in less than an hour, and it's guaranteed to warm you up on the coldest day. Which, by the way, is basically every day where I'm from – lately, each day seems to be colder than the last. So, yes, soup is in order, and I'll be making this one on repeat. Won't you join me?
💌 Sign up for the Girl Gone Gourmet Newsletter and get recipes delivered straight to your inbox!
Ingredients
Unsalted butter
Vegetable oil
Diced onion
Minced garlic
Thinly sliced serrano peppers or jalapenos
Ground cumin
Kosher salt
Mexican oregano or dried oregano
Chipotle in adobo purée
Canned pinto beans with the liquid
Vegetable broth
Lime juice
Chopped cilantro
Instructions
Heat the butter and oil in a 5-quart or larger Dutch oven until shimmering over medium heat. Add in the onion and cook for 4-5 minutes until translucent, stirring occasionally.
Add in the garlic and serrano and continue to cook another minute before adding in the cumin, sea salt, and oregano and cook, stirring, for another minute until fragrant.
Add in the chipotle puree, pinto beans (liquid and all – don't drain them), vegetable broth. Bring to a simmer, cover, and continue simmering for 20 minutes.
Remove the lid and use an immersion blender to blend the soup to your desired consistency. Continue to cook for 5 minutes until slightly thickened. Add in the lime juice and cilantro. Season to taste with additional salt if desired.
Store leftover soup in an airtight container in the fridge. It warms up well in the microwave. If it thickens up when it's chilled, thin it with a splash or two of broth.
You can also freeze it. Let it cool and then store the soup in a freezer-safe container.
Garnish Ideas
I love to garnish soup and this pinto bean soup is the perfect canvas for all kinds of toppings. Here are a few you might like to try.
Shredded cheese, crumbled feta or queso fresco
Lime wedges
Sliced radish
Pico de gallo or a scoop of guacamole
Diced avocado
Sour cream
Shredded cabbage
Pickled jalapeños or onions
Tortilla chips
Variations
Yes, it's a pinto bean soup but you can swap the pintos for other types of beans like cannellini, navy beans, black beans, great white northern beans, or even chickpeas. So, live on the edge and switch it up.
If you're not worried about keeping it veggie-only feel free to use the same amount of chicken broth in place of the vegetable broth.
If you can't find adobo sauce, you can flavor the soup with regular chili powder or ancho chili powder. 
If you want to tamp down the spiciness, swap the peppers for a can or two of mild green chiles. Or you can leave them all out.
If you're ready for a warm-up, I hope you give this chipotle pinto bean soup a try. The smoky flavor and smooth, creamy texture is so, so good.
Happy soup-making,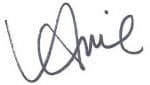 More Cozy Soup Recipes
📣 Do you love this recipe? I would love to know! Leave a comment below the recipe along with your recipe star rating.
Print
The nutrition is an estimate only. It was calculated using Nutrifox, an online nutrition calculator.