Buttered Noodles are an easy side dish recipe ready in about 20 minutes. Egg noodles tossed in butter flavored with garlic, seasonings, herbs, and a little red pepper for heat is a simple comforting side that pairs with so many main dishes.
From the department of "oooh, I loved buttered noodles growing up" I present to you these – guess what! – easy buttered noodles. They're a little retro, really simple, and the best carb-y side dish that takes all of 20 minutes. Plus, you only need six ingredients and one of them is optional.
This buttered noodle recipe is so easy and the flavor conjures up all of the sepia-colored childhood dinner memories for me but, in the spirit of "get to the recipe already", I'll spare you the details. So, here's how you make them…
💌 Sign up for the Girl Gone Gourmet Newsletter and get recipes delivered straight to your inbox!
Ingredients
Egg noodles
Unsalted butter
Smashed garlic cloves – fresh garlic is great, but you can use a 1/2 teaspoon or so of garlic powder.
A pinch or two of red pepper flakes – this is optional, but adds a nice kick.
Kosher salt and black pepper
Chopped fresh parsley
Note: Feel free to add in some grated Parmesan cheese to make them cheesy buttered noodles. It would not be wrong – in fact, it would be very right if you're in the mood.
Instructions
Bring a large pot of water to a boil. Add the noodles and cook them for the recommended time on the package (about 10 to 12 minutes or until al dente).
Slowly melt the butter in a large nonstick skillet over medium-low heat. Add the smashed garlic to the pan and stir the butter as it melts. You don't want it to brown, so keep it on medium-low until it's completely melted. Once melted, add the red pepper flakes, if using, and stir.
Let the butter sauce lightly simmer over medium-low to low heat. Just before the noodles are done boiling, take the garlic cloves out and discard them. Add the salt and pepper and stir.
When the noodles are done, quickly drain them and add them to the pan with the butter. Stir and toss them in the butter sauce. Add the salt, pepper, and parsley and toss to combine again before serving.
Buttery noodles for the warm-fuzzy feelings win – if it's been a while since you've treated yourself to this simple side dish, now's the time. If you need some main dish ideas, keep scrolling – I have a few favorites you'll want to try. Enjoy!
Happy noodle-ing,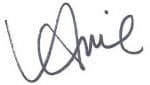 Main Dish Ideas
Serve your buttery noodles with these main dishes for the ultimate comfort food dinner:
📣 Do you love this recipe? I would love to know! Leave a comment below the recipe along with your recipe star rating.
Print
The nutrition is an estimate only. It was calculated using Nutrifox, an online nutrition calculator.