Breakfast enchiladas loaded with eggs, sausage, beans, and green chile are the best weekend breakfast! You can make these enchiladas the day before and just pop them in the oven the next morning. Perfect for brunch, breakfast, and holiday celebrations.
There are quick and easy "every day" breakfasts and then there are the special occasion breakfast recipes like these breakfast enchiladas. This is the recipe for holidays like Christmas morning or Thanksgiving, family brunches, or any time you want a big hearty meal to start the day.
They take some work to assemble, but you can make them ahead. If you do, all you have to do the morning of is preheat the oven and pop them inside.
If you're like me and love a savory, hearty breakfast this breakfast enchilada recipe is the thing to make. Flour tortillas filled with scrambled eggs, breakfast sausage, green chile, and beans and then topped with enchilada sauce and plenty of cheese. What's not to love?
Ingredients
Vegetable oil
Diced yellow onion
Minced garlic
Canned diced green chile
Pinto beans – or try black beans instead.
Sliced breakfast sausage links
Large eggs – beat them in a large bowl
Chopped cilantro
Flour tortillas
Shredded Monterey Jack cheese – pepper jack cheese would work great, too.
Shredded cheddar cheese
How to Make Them
Make the refried beans: Heat the vegetable oil in a large saucepan over medium heat. Add the onions and saute them for about five minutes or so, stirring occasionally until softened. Add the garlic and green chile to the onions and cook for another 2-3 minutes. Add the beans, along with the liquid in the can. Stir and bring to a boil. Reduce to a strong simmer and let it all cook together for 5 minutes. Mash the beans until they are broken down. Lower the heat to low and let them thicken while you make the eggs and sausage.
Make the eggs and sausage: Place the sausage in a large non-stick skillet. Turn the heat to medium and cook the sausage, breaking it up with a spatula, until it's cooked through. Lower the heat to low and add the egg mixture and cilantro. Stir continuously to scramble the eggs cooking them just until they start to form curds and most of the liquid has disappeared. Remove the pan from the heat.
Assemble the enchiladas: Coat the bottom of a 9×13 baking dish with a 1/4 cup of enchilada sauce. Place a little less than a 1/4 cup of the beans and 1/4 cup of the eggs on one side of a tortilla. Roll the tortilla and place it seam side down in the baking dish. Repeat with the remaining tortillas. Pour the rest of the sauce over the enchiladas. Top with the shredded cheese. If making ahead, cover the enchiladas and keep them in the refrigerator for up to a day.
Ready to bake: Preheat the oven to 350°F. Uncover the enchiladas and bake for 30-40 minutes, or until hot and bubbly.
A Few Tips
Serve the enchiladas as they are or add some toppings and garnishes like sour cream, sliced green onions, chopped cilantro, salsa verde, diced jalapeno, salsa, green enchilada sauce, or sliced avocado.
You can use corn tortillas instead, but they are usually smaller so you won't be able to fill them as much and you'll get a lot more enchiladas.
If making them ahead, cover and refrigerate them for up to a day until ready to bake the next day.
If you're not serving a crowd, make and bake the enchiladas and then freeze individual servings for breakfasts later in the week. I've done this several times and it works great.
A bubbling hot pan of breakfast enchiladas is guaranteed to start the day off right. I hope you give them a try!
Happy Cooking,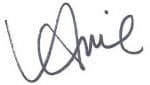 P.S. Looking for enchiladas for dinner? You have to try my poblano chicken enchiladas. They are so good!
More Breakfast Recipes
📣 Do you love this recipe? I would love to know! Leave a comment below the recipe along with your recipe star rating.
Print
The nutrition information in this recipe is an estimate only and was calculated using Nutrifox, an online nutrition calculator.
Post updated from the archives. First published in May 2017.