Learn how to make a buffalo chicken sandwich topped with crispy lettuce and a creamy blue cheese dressing. The crispy chicken is coated in panko and then baked. Dip them in buffalo sauce to give them a spicy kick!
Buffalo wing sauce isn't just for chicken wings and I present exhibit A in defense of this fact. Exhibit A being a crispy baked chicken sandwich coated with the spicy sauce and sandwiched between soft rolls with some cool crisp lettuce and a very creamy blue cheese sauce. Need further evidence? Please see exhibit B: buffalo chicken wraps.
Case closed.
And I like these sandwiches better than wings because 1) it's a main course instead of an app and 2) the spicy chicken sandwich is a lot less messy than a plate of sauced wings. You get all the flavors, spice, and blue cheese wonderfulness all served up in a nice and neat sandwich package.
Ingredients
Boneless skinless chicken breasts
Egg
Panko breadcrumbs
Garlic powder
Onion powder
Kosher salt
Black pepper
Buffalo sauce (I like Frank's Red Hot Sauce)
Sour cream
Mayonnaise
Blue cheese crumbles
Onion powder
Chopped parsley
hamburger buns
Lettuce leaves
How to Make the Sandwiches
Preheat the oven to 400°F and place a wire baking rack on a large sheet pan.
Pound each piece of chicken so it's 1" thick. Slice each piece in half so you have four pieces that are approximately the same size.
Whisk the egg in a shallow dish. In a separate dish, mix the panko with the garlic powder, onion powder, salt, and pepper.
Coat each piece of the chicken in the egg and then place it in the panko. Coat it on all sides with the panko – you may need to lightly press it to get it to stick to the chicken.
Place the coated chicken on the wire rack and place the sheet pan in the oven. Bake the chicken for 20 to 30 minutes or until the internal temperature is 165°F.
While the chicken bakes, make the blue cheese sauce. Mix all of the ingredients in a bowl. Keep it in the refrigerator until the chicken is done baking.
Pour the buffalo sauce in a shallow bowl. Carefully coat each piece of chicken in the hot sauce mixture. Use tongs to move the chicken so you can coat it on all sides. Serve on buns with the lettuce, blue cheese sauce, and extra crumbles, if using.
Tips and Suggestions
Not into blue cheese? Try some ranch dressing on the sandwiches instead.
If you are into blue cheese, but short on time feel free to use blue cheese dressing instead of making the sauce.
For a less spicy experience, skip dipping the whole piece of chicken and just spoon a little sauce on the sandwich instead.
This would completely change the experience, but you can take some shredded chicken, warm it up, and toss it in the buffalo sauce. That's an even easier version if you're craving the flavors but don't have a lot of time.
You could also turn a buffalo chicken sandwich into sliders if you're looking for a great game day snack. Just cut the chicken into eight equal pieces and bread them. They won't need as long to bake and then serve them on slider rolls like my mini crispy chicken sandwich recipe.
Feel free to add other toppings like sliced tomatoes, sliced red onion, or pickles. Or swap the lettuce for coleslaw.
Not a sandwich fan? Try my buffalo chicken tacos or buffalo chicken salad!
If you love buffalo chicken, you know what to do. Give this spicy buffalo chicken sandwich recipe a try ASAP. I hope you love it!
Happy cooking,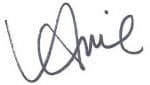 More Sandwich Recipes
📣 Do you love this recipe? I would love to know! Leave a comment below the recipe along with your recipe star rating.
Print
The nutrition is an estimate only. It was calculated using Nutrifox, an online nutrition calculator.