Cool and creamy Blue Cheese Dip is the best dip for buffalo chicken wings, veggie sticks, or crackers. It's easy to make in about ten minutes and can be made ahead. Great for game-day, parties, holidays, or whenever you want a delicious and easy dip!
Snacks are a year-round thing, of course, but snackage definitely increases going into the fall season. With all the game days, holidays, and other merriment it's the time of year when snacks, like this easy blue cheese dip recipe, take center stage.
So, a classic dressing gets a dip make-over and it's absolutely perfect for all the dipping things like wings, meatballs, veg sticks, and crackers. It's a ten-minute wonder and definitely deserves a spot at all of the snacking events. Not only because it tastes great with that tangy blue cheese flavor, but also because it's just so easy there's no reason not to give it a try.
So, let's give this homemade blue cheese dip a try – I think you're going to love it. You don't need anything fancy to make – no food processors, blenders, or other contraptions required. Just a bowl, spoon, and a few simple ingredients separate you from this dreamy, creamy bleu cheese dip.
Ingredients
Sour cream
Mayonnaise
Crumbled blue cheese
Onion powder
Chopped fresh parsley
Hot sauce
Milk
Mix It Up
Combine the sour cream, mayonnaise, crumbled blue cheese, onion powder, parsley, hot sauce, and milk in a medium bowl. If you want the dip thinner slowly add more milk to get your desired consistency.
Chill the dip for at least one hour before serving or make it up to a day in advance. That's it! So easy.
What to Serve it With
You can serve this easy dip with so many things:
Use it as a dipping sauce for buffalo chicken wings, BBQ chicken wings, or any kind of chicken wings you like!
Add some veggies like carrot sticks, celery sticks, broccoli, cauliflower, sliced bell peppers… you could make a whole crudite platter.
It's delicious as a dip for BBQ chicken meatballs.
To make this into blue cheese dressing reduce the sour cream by half and replace it with buttermilk until you reach your desired consistency. It would be great with cobb salad or steak salad.
Use it as a spread for buffalo chicken sandwiches or burgers.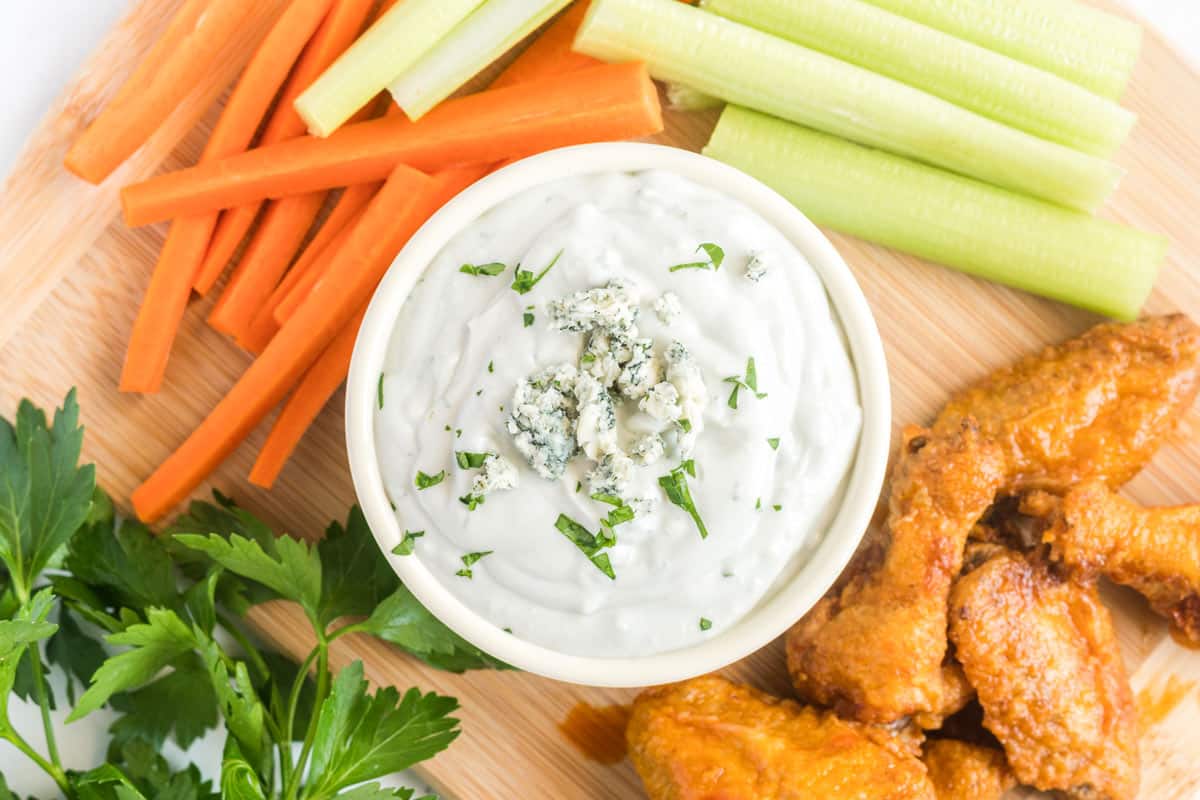 Recipe Tips
You can refrigerate it for up to a week. You may notice some liquid form on top as the ingredients separate. This is normal and you can simply stir the dip to combine again.
Try using fresh chives instead of parsley to change the flavor a bit.
If you want to lighten it up, use the same amount of Greek yogurt in place of the sour cream. You can also make it with light sour cream and mayonnaise.
I've used generic blue cheese crumbles for this recipe and I've also bought a wedge of gorgonzola and crumbled it myself. The gorgonzola is definitely better because the cheese is really creamy. Roquefort would also be great. The pre-crumbled cheese is always a little dry – but it does work and tastes good.
You can make this dip as chunky as you like – just add more blue cheese crumbles. The more the merrier! Or, If you don't want a chunky dip, you can use an immersion blender to turn it into a smooth dip.
Read to get dippin'? I hope you give this blue cheese dip a try!
Happy dip-making!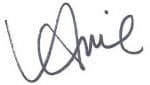 More Snacks and Appetizers
Print