Buffalo Chicken Salad with crispy chicken coated in spicy buffalo sauce tossed with crisp lettuce, cucumber, tomatoes, and celery. Add a creamy blue cheese dressing, and you get a filling salad! Use frozen breaded chicken to make it really easy, and dinner is ready in about 30 minutes.
This buffalo chicken salad is how I like to salad: It has lots of veggies to make it feel "healthy," but the flavor and textures are all about treating yourself. In this case, crispy breaded chicken coated in buffalo sauce with plenty of blue cheese dressing and cheese crumbles to finish it off.
Think of it as a chicken wings platter with a salad make-over. It has it all – the veggie sticks, spicy chicken, and dipping sauce mixed up in a hearty, filling, delicious, comforting salad.
Yes, a comforting salad – there is such a thing and this spicy chicken salad is it. Plus, it's easy! 30ish minutes easy, making it great for weeknight dinners.
Recipe Notes
I love some crispy chicken in a salad, but feel free to use cooked chicken breasts to make it lighter. You can cook them in a pan while you prep the salad and then dice and toss them with the sauce. Or, skip the cooking and use shredded rotisserie chicken. It all works.
We're making a homemade blue cheese dressing and I highly recommend it. That said, you can use your favorite bottled dressing if you want to make it easy.
There's some prep with this recipe, but you can do most of it while the chicken bakes so the salad is ready in about 30 minutes.
💌 Sign up for the Girl Gone Gourmet Newsletter and get recipes delivered straight to your inbox!
Ingredients
Frozen breaded chicken tenders
Buffalo sauce
Sour cream
Mayonnaise
Onion powder
Kosher salt
White pepper
2% milk
Chopped parsley
Blue cheese crumbles
Chopped romaine lettuce
Coleslaw mix
Diced celery
Sliced green onions
Diced cucumber
Cherry tomatoes sliced in half
Dressing Tip: Not a blue cheese fan? I've made this salad with ranch dressing and crumbled feta and it's delicious.
Make-Ahead Tip: You can make the dressing ahead and keep it in an airtight container in the refrigerator.
How to Make It
Bake the chicken tenders and then slice them into bite-sized pieces. Place them in a bowl and drizzle the buffalo wing sauce over the top.
While the chicken bakes, mix the sour cream, mayo, seasonings, milk, and parsley in a bowl. Leave it in the fridge until you're ready to assemble the salad.
To make the salad, place all of the veggies in a large bowl. Toss them together. Add the dressing and lightly toss to coat the veggies. Pile the buffalo chicken on top along with a sprinkle of blue cheese crumbles.
Serving Tip: You can serve this salad in a big bowl all tossed together. Or, serve it on a platter with the dressing on the side and everyone can help themselves.
If you want to satisfy a craving for buffalo wings with something that feels like a dinner instead of an appetizer – this salad is for you. It has all the spicy buffalo flavor and chicken-y goodness wrapped up in a filling salad. I hope you try it soon!
Happy salad making,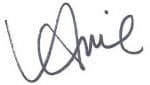 More Buffalo Chicken Recipes
📣 Do you love this recipe? I would love to know! Leave a comment below the recipe along with your recipe star rating.
Print
The nutrition is an estimate only. It was calculated using Nutrifox, an online nutrition calculator.