Buffalo chicken meatballs are a great appetizer recipe with the same flavor as the classic wings but easier to make and less messy. The baked chicken meatballs are tossed in the spicy wing sauce – serve them with blue cheese dip and veggie sticks for a fun game day or party snack.
I love chicken wings, but I hate the mess, so say hello to these buffalo chicken meatballs. They're easier to make (no frying!), and they're easier to eat (no sauce all over your hands, face, and clothes!).
They have the same great spicy flavor but better because they're baked, piled on a plate, and everyone can grab one with a toothpick. So, if neat and tidy is the theme of your next football party, these easy buffalo chicken meatballs need to be on the menu.
💌 Sign up for the Girl Gone Gourmet Newsletter and get recipes delivered straight to your inbox!
Ingredients
Ground chicken
Bread crumbs
Minced onion
Garlic powder
Onion powder
Large egg
Buffalo Sauce – I like Frank's Redhot
Vegetable oil
Unsalted butter
Tip: Ground turkey will work great, too, but then you will need to call them buffalo turkey meatballs. I don't make the rules.
How to Make Them
Preheat oven to 400°F. Line a baking sheet with parchment paper.
Combine the chicken, bread crumbs, onion, garlic powder, onion powder, egg, and two tablespoons of hot sauce.
Form the meat mixture into 2-inch meatballs and place them on the prepared baking sheet. Drizzle the vegetable oil over the top of the meatballs.
Bake the chicken meatballs for 18 to 20 minutes. While they're baking, you can make the sauce.
Combine the hot sauce and butter in a microwave-safe bowl. Cover the bowl with a paper towel or plastic wrap and heat the sauce for about 30 seconds. Whisk until the butter has melted into the sauce.
Place the baked meatballs in a large bowl and pour the sauce over the top. Shake the bowl to toss the meatballs evenly in the sauce and then transfer them to a serving bowl.
Recipe Tips
Add a dipping sauce like blue cheese dip or homemade Ranch dressing.
Add some veggie sticks like sliced peppers, celery, and carrots on the side for dipping.
Feel free to slice some green onions and sprinkle them over the top of the meatballs for garnish.
Keep leftover buffalo chicken meatballs in an airtight container in the fridge. They will keep well for three to four days.
You can also make and bake the meatballs ahead and keep them in the freezer. When you're ready to serve them, warm them up in the microwave, prepare the sauce, and toss them together for a quick snack or appetizer.
Make Them a Meal
Instead of making them an app, make them dinner with a few add-ons:
Serve them over rice or cauliflower rice with a dollop of blue cheese dip on top.
Pile them in soft rolls to make buffalo chicken meatball sandwiches. Add a drizzle of Ranch on top for a sauce.
You can also toss them in a salad or wrap them up in a flour tortilla with lettuce and tomatoes.
Whether you make them to snack on or make them for dinner, I know you're going to love them! The tender, juicy meatballs coated in that spicy sauce is the best combo. Enjoy!
Happy cooking,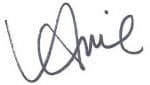 More Meatball Recipes
📣 Do you love this recipe? I would love to know! Leave a comment below the recipe along with your recipe star rating.
Print
The nutrition is an estimate only. It was calculated using Nutrifox, an online nutrition calculator.