This cozy ground beef stroganoff is easy to make and full of savory rich flavors. The beef sauce is flavored with mushrooms, Dijon mustard, and sour cream. Serve it with tender egg noodles for a comforting weeknight dinner.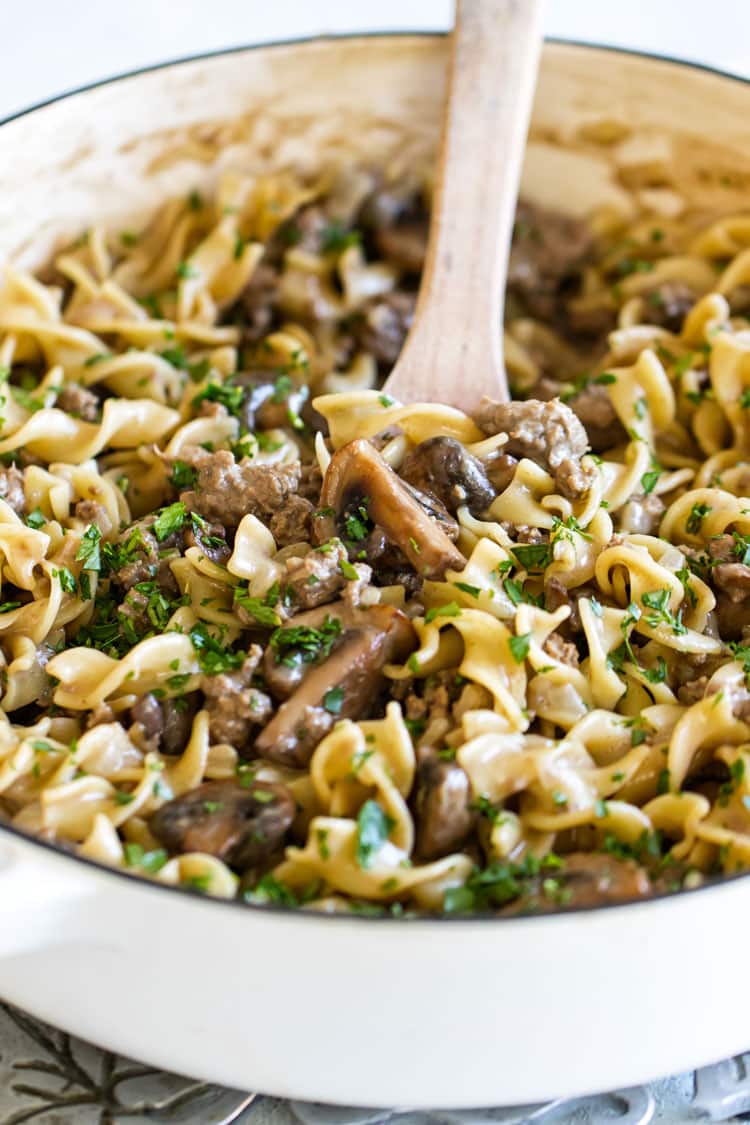 There's a recipe for beef stroganoff in my cookbook that is a scaled-down version for one inspired by the first beef stroganoff I ever made, which happened to be in my 7th grade home economics class. It's one of my favorite recipes in the book, but it's definitely a fancier version of what I made all those years ago. And so, I've had it on my to-do list to make a version more aligned to the original – a bigger batch and simple ground beef stroganoff with mushrooms and egg noodles.
It's family-friendly comfort food that I can pretty much eat on repeat all through the colder months. So, if you're not in cozy dinner mode yet, be sure to tuck this one away for a cooler day. If you're like me and ready to haul out the fuzzy layers for crisp fall days, it might just be perfect timing.
What is Beef Stroganoff?
In a nutshell, it's heavenly comfort food that's made with mushrooms, beef, and a rich gravy/sauce that's thickened with flour and flavored with mustard and sour cream. It has Russian origins, but my version is definitely Americanized. It's often served with egg noodles as I did here, although, for the single-serving version in my book, I recommend serving it with toast. It would also be great spooned over rice.
Other beef stroganoff recipes (including the one in my book) call for tender cuts of beef like sirloin or tenderloin, but I find ground beef is a little easier (and more forgiving) to cook, more economical, and is great for weeknights, so that's what I'm using here.
I remember the first time I made beef stroganoff (as a very opinionated 13-year-old) I thought it was totally weird (sour cream? mushrooms? what is this madness?) but after the first bite, I was hooked. It's cozy, hearty and delicious.
How to Make Ground Beef Stroganoff
There are four main parts of this recipe: the noodles, the mushrooms, the beef, and the sauce. All together it takes about 35 minutes from start to finish which makes it a totally doable weeknight dinner. And it all starts with the noodles and mushrooms…
Mushrooms
I like to get my water boiling for the noodles and, in the meantime, prep the mushrooms and get them ready for the pan. I used basic cremini mushrooms but you could substitute portabello mushrooms or little button mushrooms. You want them all to approximately the same size so I quartered the large ones and halved the smaller ones.

If you are mushroom averse or cooking for someone who is, you may want to consider finely chopping the mushrooms instead. That way they will cook down and will sort of disappear into the sauce instead of taking a starring role as bigger pieces. I love mushrooms and like big bites, but some don't and I get it – finely chop them and proceed ahead.
Don't forget the noodles – Once the water is boiling add your noodles and cook them according to the package directions and then drain them. In the time it takes to boil them you can cook the mushrooms.
Use a large skillet or pan and melt some butter in it over medium-high heat. Add the mushrooms and some salt and cook them, stirring occasionally until they've released their moisture and turn a golden brown. This will take about ten minutes unless you've finely chopped them in which case it may take less time. See all the brown bits on the bottom of the pan? ☝ You want that, too, because it will add lots of flavor to your sauce.
Beef and Sauce
Once the mushrooms are cooked, transfer them to a bowl and set them aside. In the same pan, cook the ground beef with some chopped onion and garlic. I used grass-fed beef which is fairly lean so there is no need to drain off the excess fat. If you use a fattier beef you will want to drain the excess fat once the beef is cooked.
Sprinkle some flour over the top of the cooked beef and onions and stir until you can no longer see it. Add a splash of dry white wine and, as it simmers, stir and scrape up any browned bits off the bottom of the pan.
Turn up the heat and add beef stock and Dijon mustard and bring it all to a boil. Reduce the heat and simmer it until the liquid starts to thicken, about five minutes or so.
Turn off the heat and add some sour cream. Stir until it's incorporated and give the sauce a taste. If needed, add a bit more salt.
Add the noodles to the sauce in the pan and stir to coat them evenly with the sauce. Garnish with fresh chopped parsley and serve.
Happy comfort food cooking ❤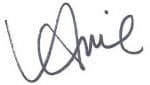 More Comfort Food Dinners
Love comfort food? Here are a few of my favorite dinners to make when it's chilly and I want something cozy and comforting.
Print
Ground Beef Stroganoff
This easy beef stroganoff is a hearty and comforting dinner. The beef is simmered in a savory sauce flavored with mushrooms, mustard and sour cream and served with egg noodles.
Author: April @ Girl Gone Gourmet
Prep Time:

15 minutes

Cook Time:

20 minutes

Total Time:

35 minutes

Yield:

4

servings

1

x
Category:

Dinner

Method:

Stovetop

Cuisine:

American
8 ounces

egg noodles

3 tablespoons

unsalted butter, divided

12 ounces

cremini mushrooms, large ones quartered and small ones halved

1 teaspoon

kosher salt, divided

1 cup

chopped yellow onion (about

1

small onion)

3

large cloves of garlic

1

pound ground beef

2 tablespoons

all-purpose flour

3 tablespoons

dry white wine

1 cup

beef stock

1 tablespoon

Dijon mustard

1/4 cup

sour cream
Chopped parsley, for garnish
Instructions
Boil the egg noodles according to package directions. Drain and set aside.
In a large pan, melt two tablespoons of butter over medium-high heat. Add the mushrooms and 1/2 teaspoon of salt and cook them, stirring occassionally, for about eight minutes or until they have released their moisture and turned golden brown. Add one more tablespoon of butter and stir as it melts to coat the mushrooms. Transfer the mushrooms to a bowl and set aside.
In the same pan, cook the onion, garlic and ground beef until the beef is cooked through, about five minutes or so.
Sprinkle the flour over the beef and stir until you no longer see the flour. Add the wine and simmer it with the beef for a minute or so scrapping up any browned bits off the bottom of the pan while it simmers.
Add the beef stock and mustard. Bring the pan to a boil and then reduce the heat to maintain a simmer. Add the cooked mushrooms back to the pan and simmer until the liquid starts to thicken, about five minutes or so. Turn off the heat and add the sour cream and stir. Add 1/2 teaspoon of salt and the cooked pasta. Stir to coat it evenly in the beef and sauce. To serve, garnish with chopped parsley.
Notes
Recipe Tips
I like the big bites of mushrooms in the dish, but if you aren't a mushroom lover (or cooking for someone who isn't) you can finely chop the mushrooms instead. They will need less time to cook and will sort of disappear into the sauce so you still have the flavor without the big mushroom pieces.
I used grass fed beef which is leaner, so if you use a higher fat beef you may want to drain off some of the fat before adding the flour. Depending on the amount of fat in your beef the nutrition estimate will vary.
Use a dry white wine that you like to drink, like sauvignon blanc or chardonnay. You only need a little for the recipe so save rest to serve with dinner 🥂
Depending on how much sodium your beef stock has you may need to adjust the salt in the recipe. I used regular beef stock and found the amount of added salt in the recipe was just right.
I love beef stroganoff with egg noodles, but you could also serve it with rice.
Nutrition
Serving Size:

1/4 of recipe

Calories:

646

Sugar:

4.6g

Fat:

29.6g

Carbohydrates:

54.7g

Fiber:

3.2g

Protein:

35.5g
Keywords: ground beef stroganoff, easy stroganoff recipe