Creamy Caesar Salad Dressing is so easy to make at home and you can easily customize it to your tastes. Whether you like extra garlicky, thick or thin, or a little cheesy this easy Caesar salad dressing will be a go-to when salad is on the menu.
Yes, you can buy Caesar dressing, but you can also make it yourself, and I'm here to let you know it's worth it. It's rich, creamy, and loaded with flavor. Plus, you can blend up a batch in about ten minutes.
It also keeps for several days in the refrigerator so you can make it ahead and let all the flavors mix and mingle. This means when it's salad time, it's happy time because it's a quick toss, and you're all ready to go.
Caesar Salad Dressing – No Raw Egg Yolk
Classic Caesar salad is made with raw egg yolk, but I'm not into that especially since mayonnaise is such an easy sub. It covers the egg base without the whole raw issue and it make a super creamy dressing.
So, no worries with this one, friends – you can blend and serve this easy Caesar dressing without a care in the world. It's the best dressing for a pasta night side salad situation, or add some chicken and make it chicken Caesar salad night. However you go about it, I know you'll love it.
Ingredients
Mayonnaise – I recommend full-fat mayo for the best flavor. Also, a good-quality one makes all the difference. I love Hellman's but Duke's is also great.
Grated or shredded Parmesan cheese – You only need two tablespoons for the dressing but you'll want extra to toss with the salad.
Worcestershire sauce – This adds a deep savory flavor. A little goes a long way.
Lemon juice
Anchovy paste – I really hope you don't skip this because it really does take Caesar dressing to a whole new level. It adds tons of flavor and I promise it's not fishy. It's just delicious. I buy anchovy paste in a tube which is usually near canned tuna and salmon.
Dijon mustard – Or any bold mustard that you like. I've also made this dressing with grainy mustard and it works great.
Garlic cloves – This dressing is garlic-heavy so feel free to reduce the amount to one clove if you like.
Kosher salt and ground black pepper
How to Make It
Place all ingredients in a food processor fitted with a chopping blade. Pulse several times or until there are no chunks of garlic. That's it – I told you it was easy.
Don't have a food processor? You can finely mince the garlic with a knife – really chop it up and then use your knife to press it against the cutting board to make paste. You could also just buy some garlic paste in the produce section and skip this step, but fresh garlic tastes better. Add it to the rest of the ingredients in a bowl and whisk until combined.
This dressing is pretty thick, but it does thin out when you toss it with lettuce. If you want a thinner dressing, add more lemon juice or water to thin it to a consistency you like. Just start small and add more as needed.
Serving Tips
I like to make a Caesar salad with hearts of Romaine. I cut one in thirds lengthwise and then slice it crosswise.
Spoon the dressing into a bowl, top it with the Romaine lettuce and croutons, and then toss to coat everything in the dressing. Or, you can drizzle the dressing over the top of the salad.
Storage Tips
The dressing is great when it's made, but the flavors develop even more if you chill it for a few hours before serving it.
Leftover Caesar dressing will keep in an airtight container for up to a week in the refrigerator, but I think it's best within two to three days. Just give it a good whisk before serving it.
I hope you skip the bottle and give this homemade Caesar salad dressing a try. It's so easy and delicious – enjoy!
Happy blending,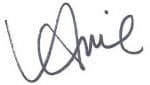 More Salads with Homemade Dressing
📣 Do you love this recipe? I would love to know! Leave a comment below the recipe along with your recipe star rating.
Print
The nutrition is an estimate only. It was calculated using Nutrifox, an online nutrition calculator.