This chicken noodle soup is hearty with a deep flavor that's brightened with a squeeze of fresh lemon. It's loaded with juicy chicken, tender egg noodles, carrots, and other veggies. Treat yourself to a bowl when you need a little comfort.
It's no secret that the very best chicken noodle soup is probably made with homemade chicken broth. I've aspired to this level of cooking, dutifully freezing chicken bones and leftover veggies with every intention to turn it into a broth at some point. But somehow it never happens and I keep on with the boxed chicken broth when I need it.
So, when I set out to make chicken noodle soup I wondered if I could still use my short-cut broth but amp it up somehow. Well, I figured it out and now have a chicken noodle soup that is rich with a deep flavor that might leave people thinking it was made completely from scratch – broth and all.
Almost Homemade Chicken Noodle Soup
The soup is made with store-bought chicken broth, but poaching the chicken in the broth takes it to a whole new flavor level.
The broth is rich and I like offset it with some fresh herbs and a squeeze of fresh lemon juice right at the end. They brighten the flavor in the best possible way.
This isn't a labor-intensive soup recipe – the prep and cooking time is about an hour.
💌 Sign up for the Girl Gone Gourmet Newsletter and get recipes delivered straight to your inbox!
Ingredients
Olive oil
Unsalted butter
Bone-in skin-on chicken breast
Diced yellow onion
Sliced celery
Sliced carrots
Dried oregano
Kosher salt
Low sodium chicken broth
Egg noodles
Lemon juice
Chopped fresh parsley
How to Make It
First, melt the butter with the olive oil in a soup pot. Brown the chicken breast skin-side down over medium-high heat. This will brown the skin and will also create all kinds of delicious browned bits on the bottom of the pan. Once browned, remove the chicken.
Add the vegetables and as they release their moisture, scrape up all the browned bits left behind by the chicken.
Add the oregano, salt, and pepper. Place the chicken back in the pot, skin side down and cover it with the chicken broth. Bring the broth to a strong simmer, lower the heat and gently simmer the chicken breast in the soup for about 20 minutes.
Once the chicken is cooked through, remove it from the soup. Discard the skin and bones and shred or chop the meat into bite-sized pieces. Return the chicken back to the pot.
Bring the soup to a low boil and add the egg noodles. Simmer them in the soup until they're tender.
Check the seasoning and add more salt, if needed. Add the lemon juice and parsley and the soup is ready to serve.
Reader Reviews
I ❤ this chicken noodle soup, but don't take my word for it – check out what other readers have to say about it…
"I made this and it was YUMMO!! so good and not super heavy!!" – Katrina
"This recipe is absolutely AMAZING. I was looking for a chicken soup recipe that was "different" and this fit the bill. " – Kate
"This was my first time making soup. This recipe is delicious and easy to follow. My family loved it!" – Georgia
Recipe Tips
You can use the same amount of bone-in, skin-on chicken thighs but your soup may have a little more fat.
For the herbs, feel free to add fresh thyme when you simmer the soup for extra herbiness. You could also add a bay leaf and fish it out at the end.
If you use regular chicken broth (not low sodium) you may want to dial back the amount of added salt in the recipe.
I hope you love this chicken soup as much as I do! If you want even more chicken soup recipes, be sure to check out my chicken soup recipe round-up with all kinds of ideas!
Happy cooking,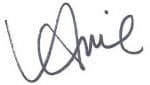 More Soup Recipes
📣 Do you love this recipe? I would love to know! Leave a comment below the recipe along with your recipe star rating.
Print
The nutrition is an estimate only. It was calculated using Nutrifox, an online nutrition calculator.
Post and photos updated from the archives. First published in February 2017.