If mac & cheese and potatoes had a love child its name would be Creamy Potato Casserole. Rich and comforting it's best served with all of your favorite cold weather main dishes.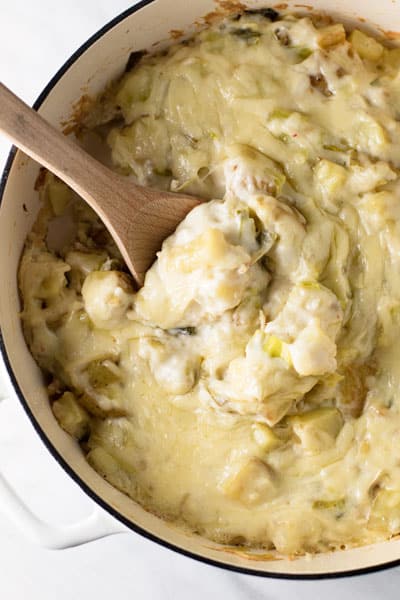 Creamy Potato Casserole with Leeks
It's officially sweater-weather around these parts and I welcome it with open arms appropriately clad in woolly-warm coziness. Unlike other places I've lived, North Carolina has a tendency to ease into fall with the days taking a slow approach to the changing season. It's as if the state itself was contemplating the new season for a few weeks with an occasional cool day like it was trying on the new season unwilling to let go of the summer. Then, this past weekend, it made it's mind up and for the first time since last winter I bundled up with a fat blanket to ward off the morning chill.
And while I welcome the change of season, my personal let go and move on efforts are a struggle. As the trees shed their leaves I'm also trying to shed the stuff that weighs me down to make way for new growth. And, like the trees, I know it's going to take time to see the new buds emerge. I'm in a season of emotional hibernation so I've decided to follow nature's lead. You can't get to spring without enduring the winter.
On Saturday, bundled up in my woolly blanket, I read this advice in an email from someone who understands: "…be really good to yourself this weekend!" For me that meant a doggy play date with a good friend and her adorable dog, a Youtube binge session, lovin' and huggin' on Feynman, and time spent in the kitchen with a preheated oven, a sheet pan of diced potatoes and leeks, and a creamy rich fontina cheese sauce.
And it's in the kitchen that I found a lot of peace. A warm oven filling the air with savory aromas, the rhythmic chopping of vegetables, and the magic of turning butter, flour, and milk into a creamy thick white sauce are all soothing things.
And the result? How does a side dish that takes the best of mac and cheese cozied up with roasted potatoes and leeks sound? It's comforting, cheesy, and rich accompaniment to roast chicken or turkey, ham, pot roast or any other cold weather main dish that loves a spoonful of a creaminess by its side.
Some Ingredients You'll Need
I chose Yukon gold potatoes (the ones with the yellow skins) because they keep their shape well.
Leeks have a mild onion flavor and are roasted alongside the diced potatoes.
I went old school with this recipe and made a traditional bechamel sauce with butter, flour, whole milk. The bechamel comes together in the time it takes to roast the vegetables.
Fontina cheese melts like a dream – look for it where the other specialty cheeses are displayed at the store.
So I say to you what was said to me: Be good to yourself this week. Do the things that make you happy and cook something delicious.
Have a great week, everyone.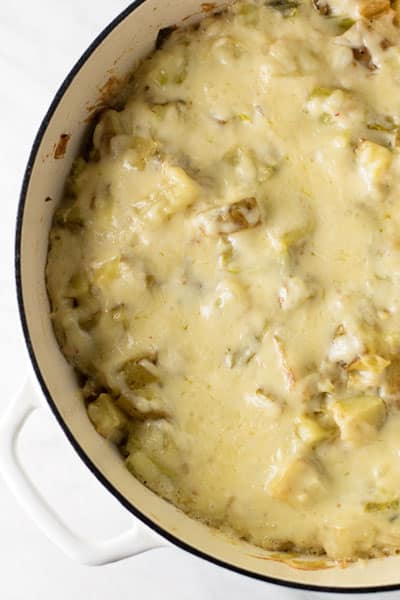 More Decadent Side Dishes
Print
Creamy Potato Casserole with Leeks
If mac & cheese and potatoes had a love child its name would be Creamy Potato Casserole. Rich and comforting it's best served with all of your favorite cold weather main dishes.
Author: April @ Girl Gone Gourmet
Prep Time:

15 minutes

Cook Time:

45 minutes

Total Time:

1 hour

Yield:

8

servings

1

x
Category:

Side Dishes

Cuisine:

American
2 ½

pounds Yukon gold potatoes, cut into

1

-inch cubes

1

whole leek

2 tablespoons

olive oil

2 tablespoons

butter

1/3 cup

all-purpose flour

2 ½ cups

whole milk

1/2

a small yellow onion

2 cups

shredded fontina cheese
Salt and pepper
Instructions
Preheat oven to 425 degrees. Coat the potatoes and leek with the olive oil and spread them out in an even layer on a sheet pan. Sprinkle 1 teaspoon of salt over the top. Roast the potatoes and leek for 30 minutes or until tender.
Melt the butter in a large saucepan over medium heat. Once the butter is frothy, add the flour and whisk to make a paste. Cook the flour and butter for a couple of minutes. Slowly add the milk, whisking continuously, until fully combined with the butter and flour. Add the onion and cook for 10-15 minutes, stirring continuously, until the mixture starts to thicken. It should coat the back of a spoon. Stir in 1 teaspoon of kosher salt and ¼ teaspoon of black pepper. Add 2 cups of the cheese and stir well until the cheese has melted.
Remove the vegetables from the oven and lower the heat to 375 degrees. Transfer the potatoes to a baking dish. Chop the leek and stir into the potatoes. Pour the cheese sauce over the top of the potatoes and leek and stir to combine. Top with the remaining shredded cheese. Bake at 375 degrees for 15-20 minutes or until bubbly and the cheese has melted on top.
Keywords: potato casserole