This Green Chile Chicken Stew is packed with flavor and easy to make! Green chile, chicken, and potatoes are a delicious combo for a cozy and hearty stew. Plus, it's ready in about an hour but tastes like it simmered all day.
Whenever I crave a taste of New Mexico, I make this green chile chicken stew. It's a recipe I've tinkered with over the last five years, and I think I've landed on my favorite version yet.
It's an easy recipe that's ready in about an hour, but it packs a lot of flavor. The green chile really shines and pairs deliciously with the juicy chicken and red potatoes. The previous version I shared for this recipe was a bit complicated, but this new-fangled one, I'm happy to report, is a whole lot easier. Yet, it still tastes like it cooked all day.
Ingredients
Olive oil
Bone-in skin-on split chicken breast
Kosher salt
Unsalted butter
Diced onion
Minced garlic
Diced green chiles
All-purpose flour
Red potatoes
Chicken stock
Fresh lime juice
Fresh cilantro
Chicken: What makes this stew taste like it was cooked longer than it was, is the bone-in skin-on chicken breasts. The chicken skin is browned first, and then the whole thing is cooked in the chicken broth. This method is an easy way to add more flavor to basic store-bought chicken stock. It's not hard to do, and the results are worth it. You can also use the same amount of bone-in skin-on chicken thighs.
Onion: Yellow, white, or red onion will work well in this stew, so use what you have on hand. To make it easy, I often use frozen chopped white onions.
Green chiles: I use canned Hatch green chiles, but you can use freshly roasted green chiles or frozen green chiles. Just be sure to chop them up. When I lived in New Mexico, there were green chile roasters on practically every corner during August and September, and I always stocked up. These days, I stick with the canned ones – they work great, and you can choose between hot and mild (or do a mix of both).
Potatoes: I love red potatoes – they have a nice waxy texture, so they hold their shape. They also add a nice pop of color. You can use Yukon gold potatoes, too. Just cut them into bite-sized pieces.
Chicken stock: Depending on the brand you use, you may need to adjust the amount of added salt in the recipe. If you're not sure, it's always better to wait to season at the end.
How to Make It
Brown the chicken: Place the chicken skin-side-down in a hot pot with oil. Brown the skin until it has a golden crust, and then take the chicken out of the pan and set it aside. It will finish cooking in the stock.
Make the stew base: Melt the butter in the same pan and add the green chiles, onions, and garlic. Stir the vegetables and, as they release moisture, scrape up all the browned bits on the bottom of the pan. Stir the flour into the mixture. It will form a paste.
Add the potatoes and chicken: Add the stock to the pot and stir. Add the potatoes and then place the chicken skin-side down in the broth. It should be almost completely covered. If needed, add a little more stock or water.
Simmer: Bring the stew to a boil and then adjust the heat to medium to medium-low (high enough to maintain a simmer). Simmer the stew for 20 to 30 minutes or until the chicken is 165°F in the thickest part.
Shred: Take the chicken out of the pot and place it on a cutting board. Remove the skin and pull the meat off the bone. Discard the skin and bones and shred or chop the meat. Add the chicken back to the pot and stir.
Ready to serve: Add the lime juice and cilantro and stir. Ladle the stew into bowls and serve!
Recipe Tips
Make-Ahead: This is a great recipe to make ahead – the flavor gets even better. Green chile chicken stew will keep well in the refrigerator for several days, or you can freeze it for several months.
Toppings: The stew is great on its own, or you can add toppings like crushed tortilla chips, diced avocado, or a dollop of sour cream.
Side Idea: A bowl of this stew goes great with some crusty bread on the side to soak up all the delicious broth.
This green chile chicken stew is warming and comforting – I hope you give it a try!
Happy stew-making,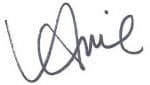 More Recipes with Green Chiles
📣 Do you love this recipe? I would love to know! Leave a comment below the recipe, along with your recipe star rating.
Print
The nutrition is an estimate only. It was calculated using Nutrifox, an online nutrition calculator.
Recipe, photos, and post updated from the archives. First published in December 2014.