Sometimes we need an extra dose of comfort so I've rounded up 26 amazing comfort food recipes for those days when you need something cozy to dig into. There's a little bit of everything: old favorites like pot roast and chicken pot pie, but with updated twists and classics like baked chicken alfredo that never go out of style. Whether you want a low and slow dish or quick and easy recipes for weeknights I'm sure you'll find some new comfort food dishes to try!
Comfort Food Recipes
Meatballs, pasta dishes, easy chicken dinners, and hearty stews are just a few of the comfort food recipes in this post. I've gathered up some of my favorite recipes plus lots of other ones from around the web. Click on the photos or recipe titles to get more details about each recipe!
FRENCH ONION CHICKEN MEATBALLS – Girl Gone Gourmet | These skillet French onion chicken meatballs are a twist on French onion soup and make for a cozy dinner. Caramelized onions are simmered in a rich sauce with chicken meatballs seasoned with herbes de Provence. Serve the meatballs with pasta, rice, or bread on the side or pile them into rolls for decadent meatballs subs.
SHEPHERD'S PIE – Girl Gone Gourmet | Traditional shepherd's pie (or cottage pie, depending on where you're from) is made with lamb, but this version uses ground beef. It's classic comfort food and a favorite comfort food dinner. Make it in a cast iron skillet for a full-on rustic experience.
ROAST CHICKEN WITH PURPLE GARLIC – The View from Great Island | You really can't go wrong with roast chicken. It's fairly easy to do and, as you present your golden roasted bird at the table, you might think you've transported into a Norman Rockwell painting. I love the purple garlic that Sue used in this recipe – according to her post, it's great for roasting. The recipe calls for a lot of garlic, but once it's roasted you can use it in all sorts of ways. Use it like you would raw garlic in other recipes – the caramelized cloves are so delicious.
PERFECT SPAGHETTI BOLOGNESE – Don't Go Bacon My Heart | Like a lot of delicious things, this bolognese has some bacon and red wine. And now that I've typed that last sentence I don't think there's more to say because anything with bacon is a winner in my book. Case closed. You should make this bolognese.
GREEN CHILE MACARONI AND CHEESE – Girl Gone Gourmet | This creamy green chile macaroni cheese with mild cheddar and Monterey jack cheese starts on the stovetop and finishes under the broiler. Serve it with a crisp salad on the side to balance out the richness.
BANGERS AND MASH (DECONSTRUCTED) – Pups with Chopsticks | Get out the stretchy pants because bangers and mash is serious comfort food. Order it in a pub across the pond and most likely you'll get a big plate of sausage links on a bed of mashed potatoes with a thick gravy. This version makes it all a little more manageable: bite-sized pieces of sausage with garlic mashed potatoes and onion gravy perfectly sized for a bowl. Makes it so much easier to eat on the couch for a night of Netflix
TARTIFLETTE – Girl Gone Gourmet | This is my version of a classic dish famous in the French Alps. Living and playing at high altitudes makes for big appetites and the French nailed it with this tartiflette made with potatoes, bacon, white wine, and cheese. It will warm you up on a cold day.
SMALL-BATCH SPINACH LASAGNA – Girl Gone Gourmet | This rich and cheesy spinach lasagna has fresh summer herbs and layers of spinach, cheese, and white sauce. It's a comforting dinner that takes less than an hour to get on the table. It's baked in a small baking dish so you get four generous servings – enough for a cozy dinner for two with some leftover for the next day.
CHUNKY THICK ITALIAN BEEF STEW – An Italian in My Kitchen| Imagine this: a slow and lazy Sunday with nothing else to do but simmer a savory beef stew on the stove. Sounds like a great Sunday, right? Well, Rosemary has the recipe for you. Looks like the perfect cozy supper.
CREAMY CHICKEN AND RICE – Girl Gone Gourmet | An old favorite with a few upgrades! This chicken and rice dish has a creamy Gruyere cheese sauce and fresh broccoli and all of it cooks up in just one pan on the stovetop.
CHICKEN ALFREDO BAKE – Make Ahead Mom | What's better than a comforting baked pasta dish? Oh, I know – a baked pasta dish that can be made ahead like this chicken alfredo bake. It has chicken and pasta in a rich and decadent alfredo sauce – looks like a big hug in a baking dish.
BISCUIT TOPPED CHICKEN POT PIE – Souffle Bombay | I love this updated pot pie. The filling is pretty standard – chicken and veggies in a creamy sauce – but the jalapeno and scallion biscuit topping takes it over the top. Also, it puts a store-bought rotisserie chicken to good use to help cut back on the preparation time. Even with the homemade biscuit topping, this cozy dinner is ready in under an hour.
SLOW COOKER BEEF STEW – Girl Gone Gourmet | This hearty stew has rutabaga instead of potatoes which has a similar texture to potatoes without all the starch and heaviness. The stew is cooked low and slow in a rich gravy along with spring veggies and plenty of fresh herbs, it's a set-it-and-forget-it recipe that simmers all day in your slow cooker.
BAKED PUMPKIN GNOCCHI WITH THYME AND PARMESAN – Sprinkles and Sprouts| Another baked dish but this time with gnocchi, fresh pumpkin, fresh herbs, and two kinds of cheese. Plus, all you need is one pan and less than 15 minutes of hands-on time to get this bubbling hot dinner to the table.
RED WINE POT ROAST – Our Salty Kitchen | During the colder-weather months cranking up the oven to slow cook a comforting dinner is one of the best ways to feel cozy on the weekend. This red wine pot roast doesn't take much time to prep leaving you with plenty of hands-off time to curl up on the couch with a book before it's time to sit down to dinner.
BAKED CHICKEN PARMESAN CASSEROLE – Girl Gone Gourmet | This baked chicken parmesan casserole for two is a low-prep dinner that takes all of ten minutes to get in the oven. All of it – including the pasta and chicken – cook together in one baking dish so there's no need to use different pots and pans to boil the pasta and bread and fry the chicken. It has everything you love about a classic chicken parm – including a crispy breadcrumb and cheese topping – without all the extra work.
TUNA NOODLE CASSEROLE – Strawberry Blondie Kitchen | Many of us have childhood favorite recipes that take us back to those simpler days with just one bite. For me, tuna noodle casserole tops the list – it was always a favorite growing up. This version is lightened-up a bit and can easily be made ahead and kept in the freezer making it a great dinner to take to someone who needs a little comfort.
SPAGHETTI AND MEATBALLS – Girl Gone Gourmet| And about those childhood favorites – spaghetti and meatballs is high on the list, too. I used Marcella Hazan's soaked bread method to make these meatballs which makes them soft and juicy. Piled on pasta with plenty of sauce and cheese these meatballs are so, so good.
SLOW COOKER PORK CHOPS – The Seasoned Mom | Here's another easy prep recipe, but this time it all simmers away in a slow cooker. I love that this pork chop dinner balances a rich and decadent mushroom gravy with a pile of good-for-you veggies.
BEEF BOURGUIGNON – Girl Gone Gourmet | Beef bourguignon is a labor of love that is totally worth the effort. Slow-cooked beef in a red wine sauce with sweet pearl onions and earthy mushrooms is the ultimate comfort food dinner.
CREAMY CAJUN SHRIMP PASTA – The Hungry Bluebird | Blackened shrimp, andouille sausage, and pasta in a creamy cajun-spiced sauce. No need to head south to get this comfort food fix, Kelly has all the details so you can make this at home.
CHEESY BLT PIEROGI SKILLET DINNER – Two Healthy Kitchens| Pierogis are dumplings that are filled with all sorts of things, in this case, cheese, and are to Eastern Europe sort of like what tortellini is to Italy – a delicious excuse to stuff dough with all sorts of tasty fillings. This dish has an American twist borrowing from a classic BLT sandwich resulting in a creamy one-pan dinner. P.S. Look for pre-made pierogis at the store – I know I'll be adding some to my shopping list.
SPICY CHICKEN RAGU (INSTANT POT) – Girl Gone Gourmet | This spicy chicken ragu for two cooks in an Instant Pot making it an easy dinner for busy weeknights. There's no browning or pre-cooking steps required – everything goes into the Instant Pot and in less than 30 minutes dinner is ready to go. Use chicken thighs or boneless, skinless chicken breasts – frozen chicken works, too!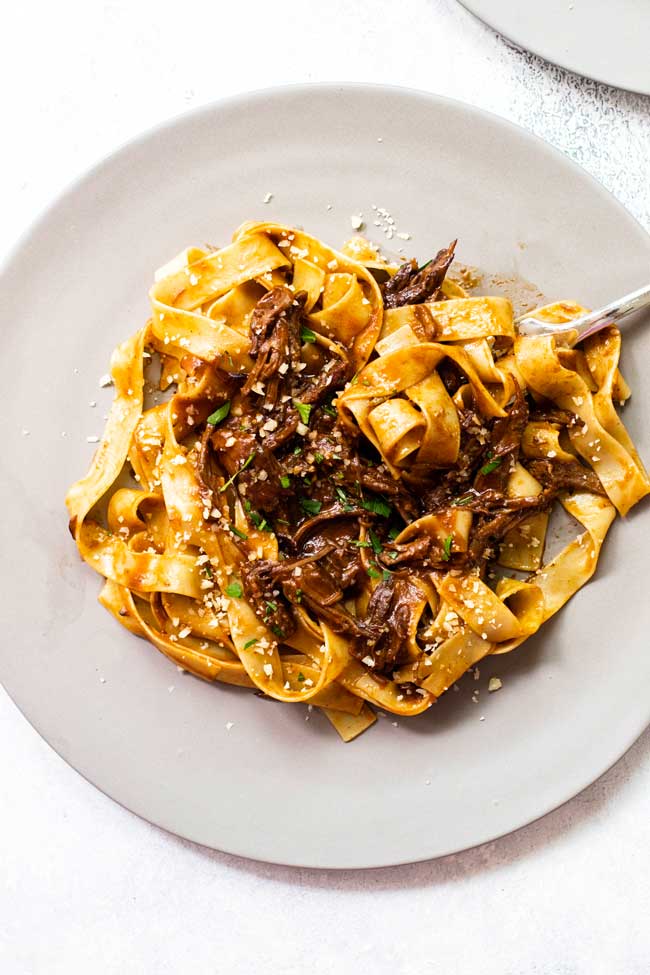 BRAISED SHORT RIB MUSHROOM SAUCE WITH PAPPARDELLE – Girl Gone Gourmet | This braised short rib mushroom sauce is made with red wine and fresh herbs. It slow cooks in the oven until the short ribs are falling apart tender before it's strained and reduced to a velvety smooth sauce. It takes some time, but most of it is hands-off time while the ribs braise in the oven. It's decadent rich comfort food that's totally guest-worthy.
BUFFALO CHICKEN MAC AND CHEESE – Sugar Spun Run| I love a good mash-up and this buffalo chicken mac and cheese combines two favorites into one comforting dish. It's like buffalo wings baked pasta-style.
SLOW-COOKED SHORT RIB RAGU – Girl Gone Gourmet | I love short ribs and this is another favorite ragu recipe. Short ribs simmer in a simple sauce for hours in the oven until they are falling-apart tender. Serve them over parmesan mashed potatoes for a top-rate comfort food experience.