Favorite Comfort Food Recipes
Sometimes we need an extra dose of comfort, so I've rounded up some of my favorite comfort food recipes for those days when you're craving something cozy.
I've rounded up quite a few different recipes for you, so take a browse or jump ahead by clicking the links below!
Creative Comfort Food Recipes
Main Dishes
First up: a few of my favorite comfort food main dishes! There are some classics here and several classics with a twist. Meatballs, chicken parm, baked sausage and peppers, burgers… these are just a few of my favorite recipes!
Pasta Recipes
When I'm craving some comfort, pasta is often what I turn to! If you're like me, you'll want to grab a few (or all!) of these comforting pasta recipes. They won't disappoint!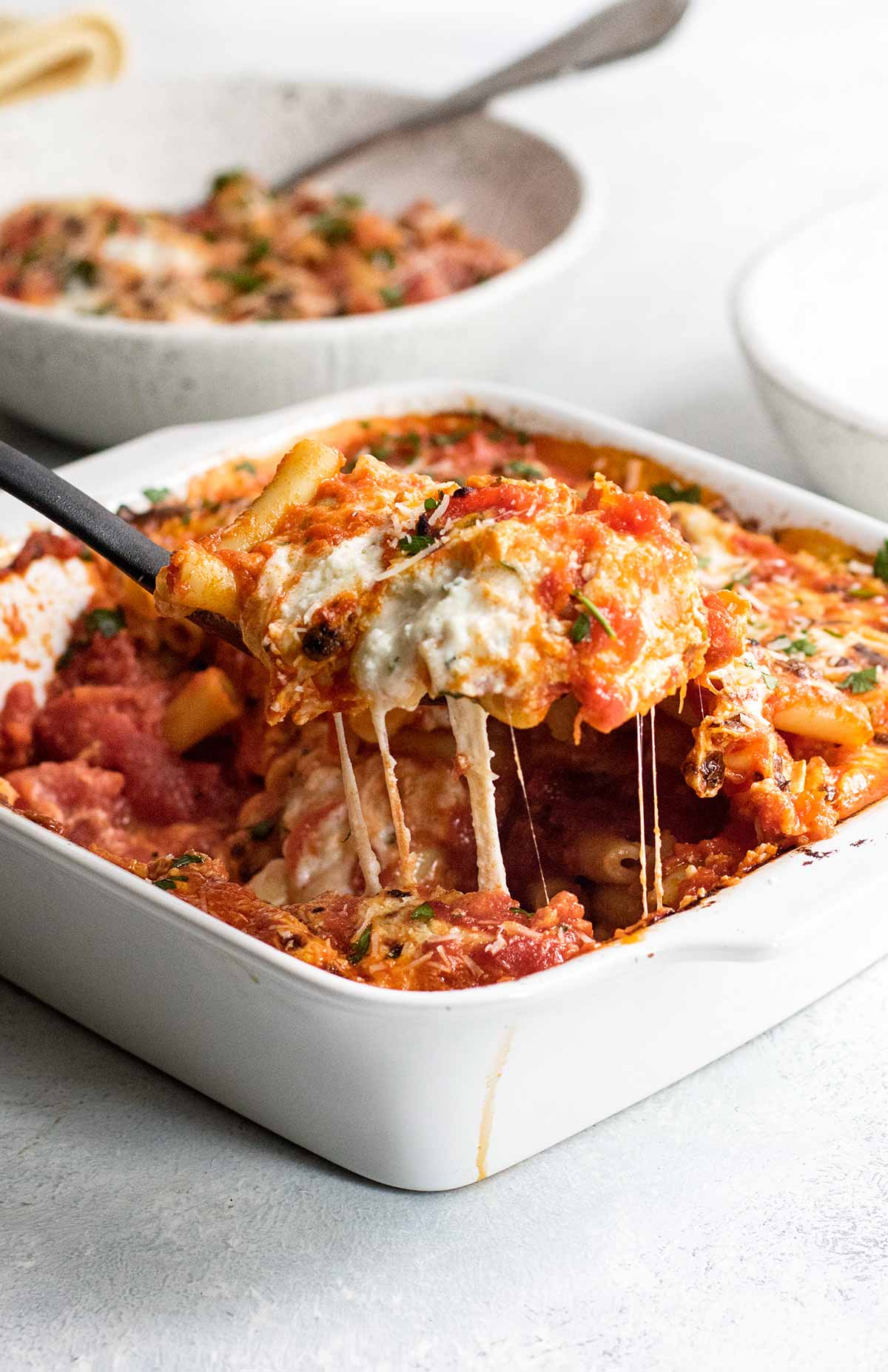 Four Cheese Baked Ziti
Baked Ziti has pockets of melty cheese in every bite! This is a really easy pasta recipe that's always a hit.
Buttered Noodles
Buttered Noodles are an easy side recipe ready in about 20 minutes. Egg noodles tossed in butter flavored with garlic, seasonings, herbs, and a little red pepper for heat is a simple comforting side that pairs with so many main dishes.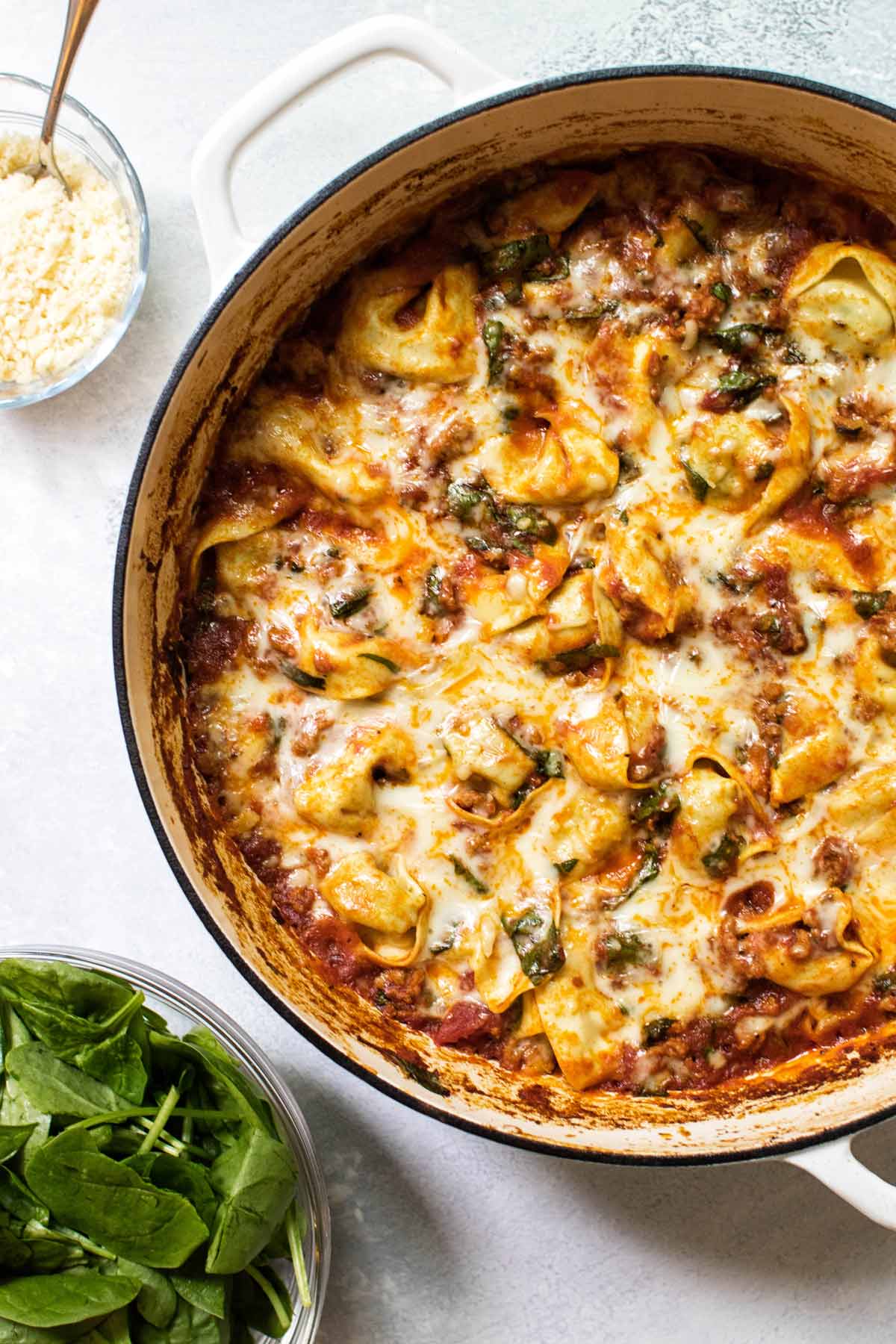 One-Pan Baked Tortellini
This baked tortellini makes good use of simple pantry ingredients and is so easy to make! Cheesy pasta with meat sauce will satisfy a comfort food craving.
White Mac and Cheese
This White Mac and Cheese will soothe your cheese-lovin' soul with its rich and creamy cheddar-Fontina cheese sauce, tender pasta, and quick prep time. This is what to make when you're craving some cheesy pasta comfort.
Easy Stuffed Shells
Jumbo pasta shells stuffed with three different kinds of cheese, baked in marinara sauce, and topped with even more melty mozzarella. It's a classic comfort food dinner that's easy to make.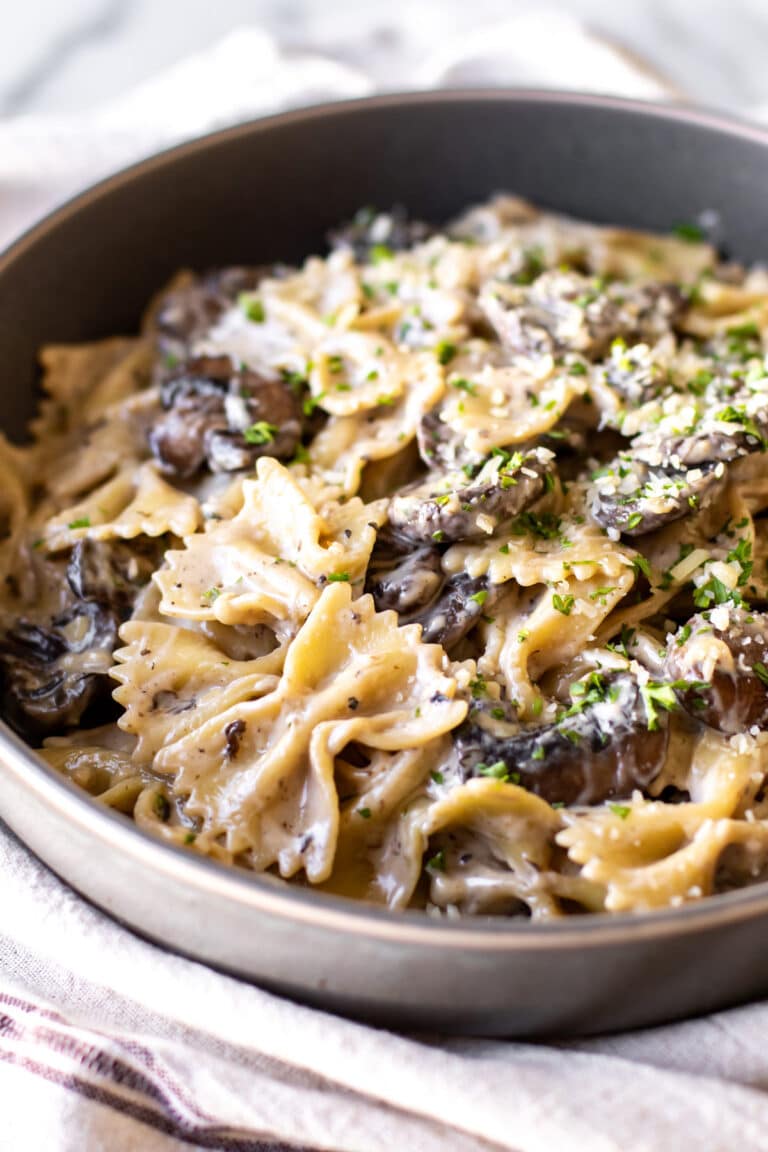 Creamy Mushroom Pasta
This rich and creamy mushroom pasta takes about 30 minutes to make – it's easy enough for weeknight dinners but totally "guest-worthy," too!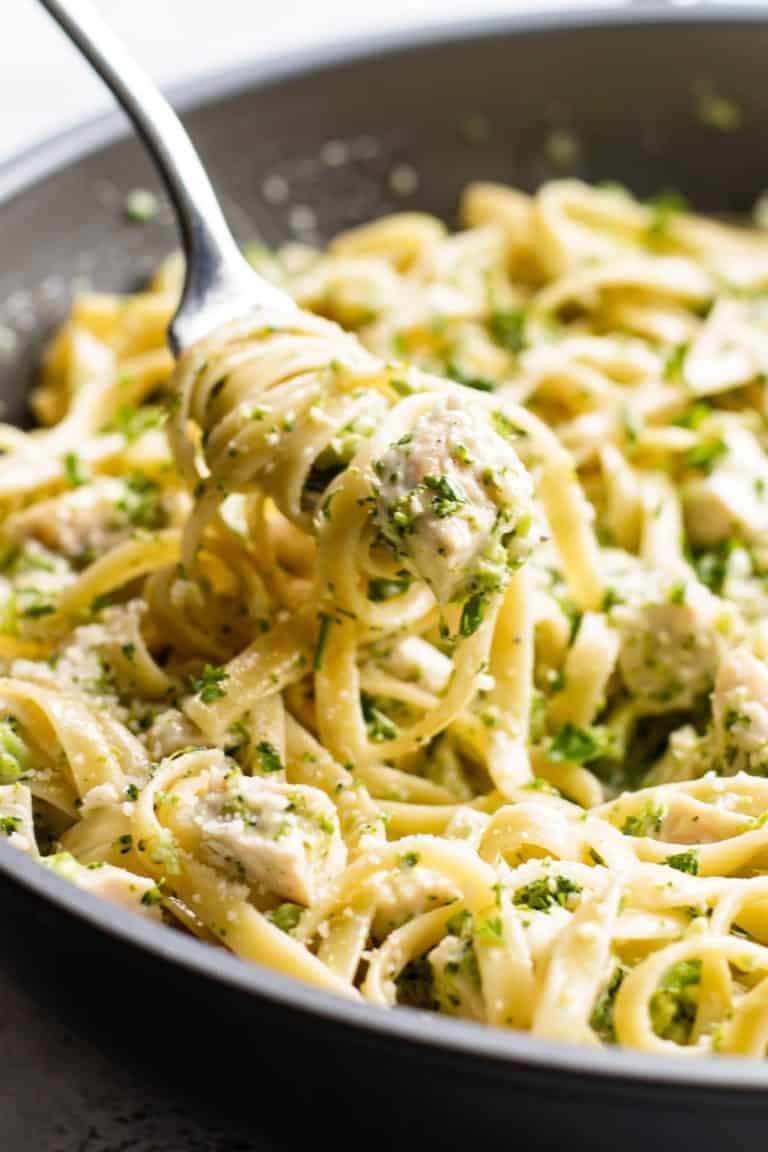 Chicken Broccoli Alfredo
This chicken broccoli Alfredo is a 30-minute dinner that you only need a handful of ingredients to make. Finely chopped broccoli is cooked in the Alfredo sauce so the whole dish is infused with broccoli flavor. It's a creamy and comforting pasta dinner.
Slow Cooker Bolognese
This slow cooker bolognese sauce is made with ground beef, pork, crushed tomatoes, and Italian seasonings. It slow cooks in a crockpot for hours until it's thick and rich. Serve it with pasta for a cozy comfort food dinner.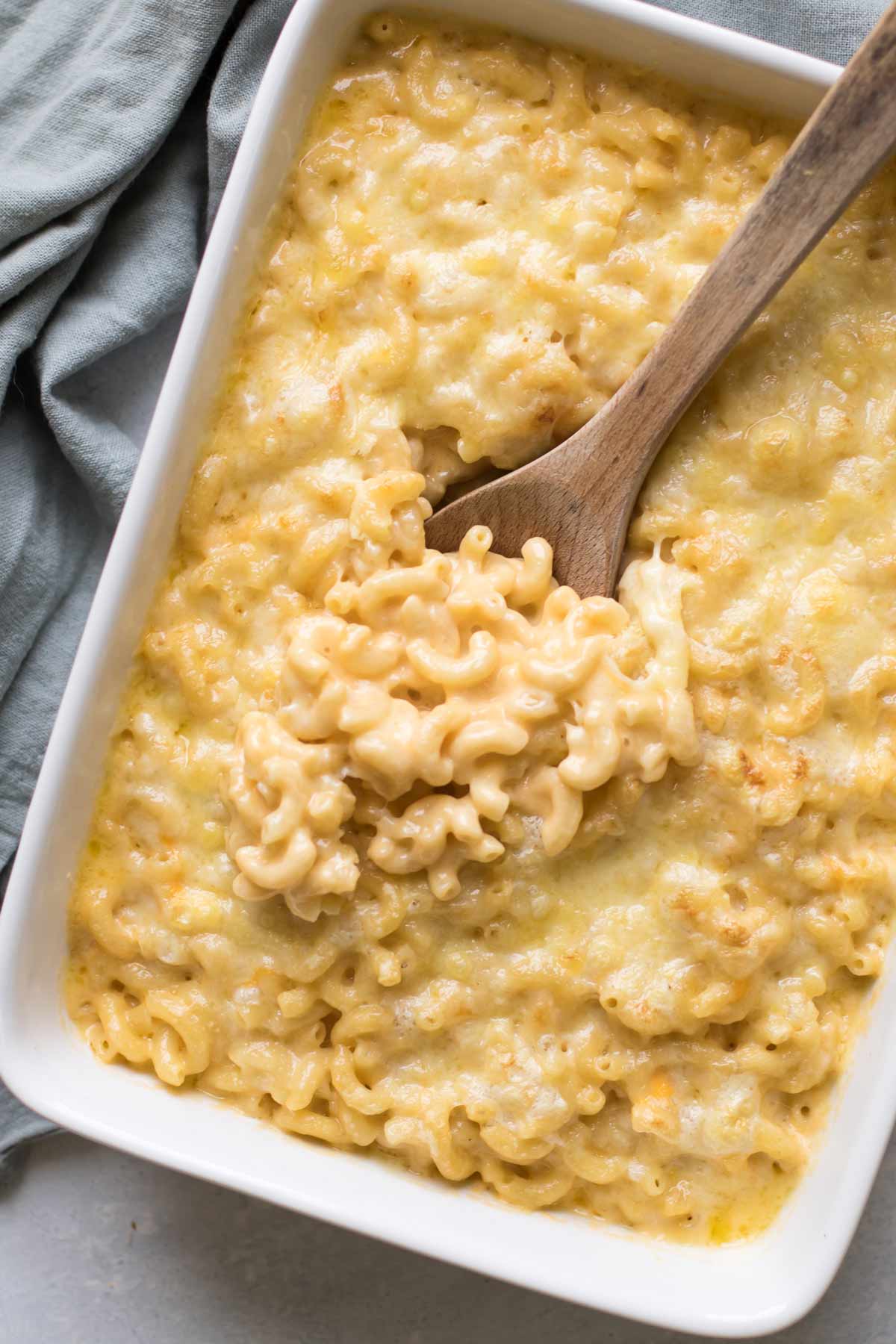 Baked Macaroni and Cheese
Rich and decadent baked macaroni and cheese made with a classic bechamel sauce and two types of cheese. It's rich, creamy, and a perfect side dish for holiday dinners or any time you're craving some serious comfort food.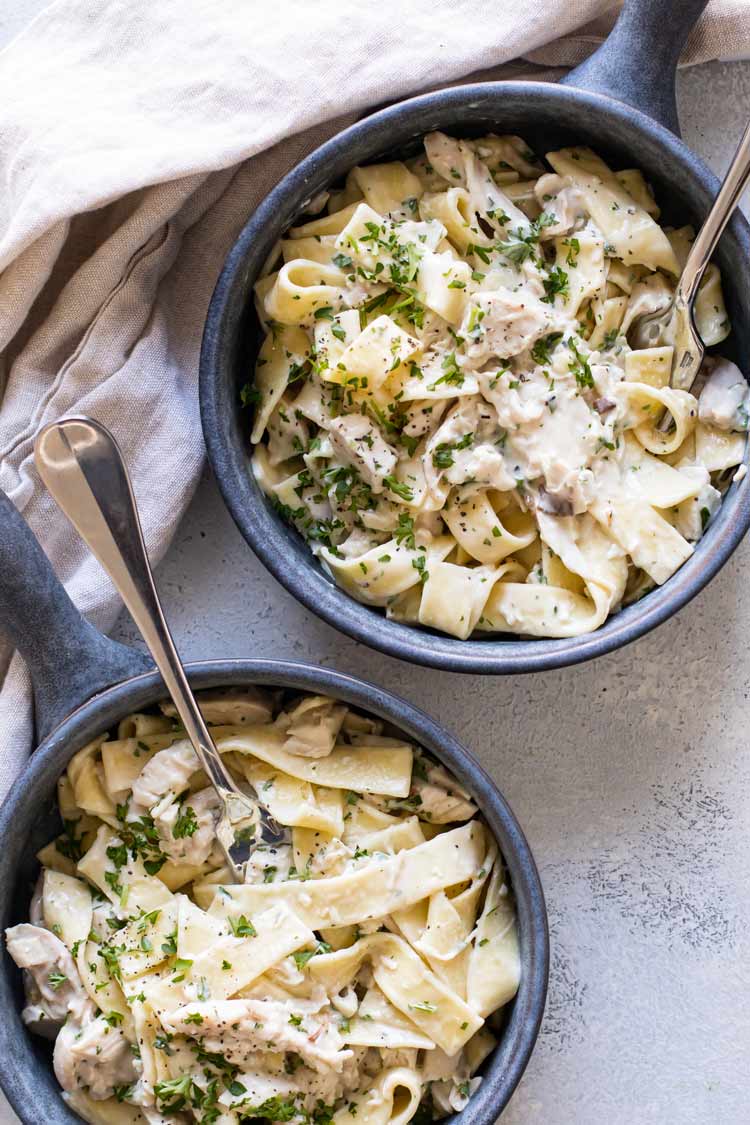 Easy Chicken and Noodles
This chicken and noodles recipe is inspired by Amish chicken and noodles but more dressed up and easy to make with rotisserie chicken. Thick egg noodles are coated in a velvety cream sauce and tossed with shredded chicken. It's a 30-ish minute dinner that will warm you up on a cold night.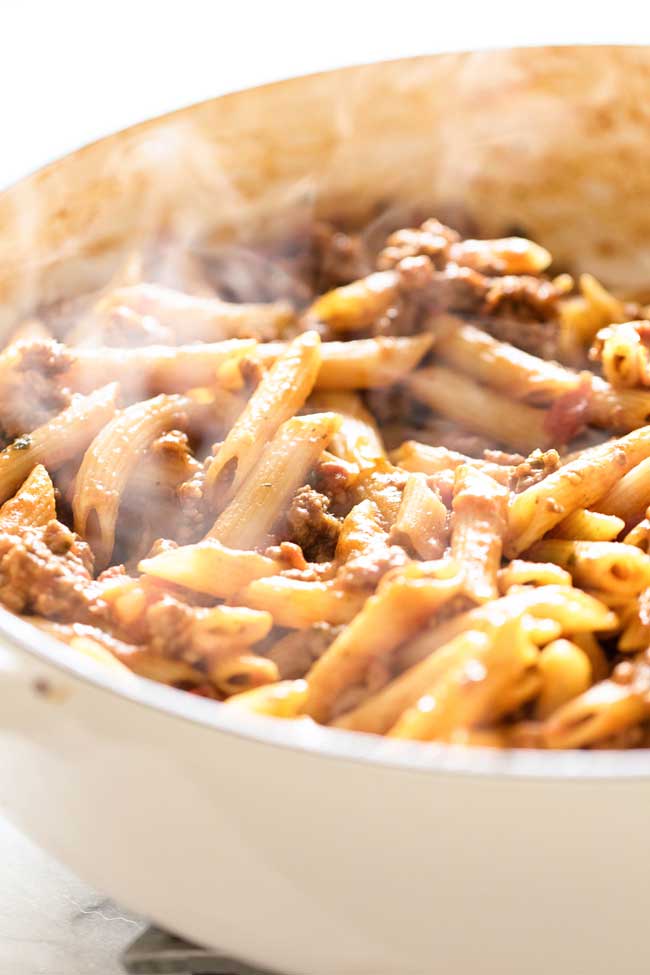 30 Minute One Pan Beef Penne
This is a hearty beef and pasta dinner that is ready in about 30 minutes and uses just one pan for easy clean-up!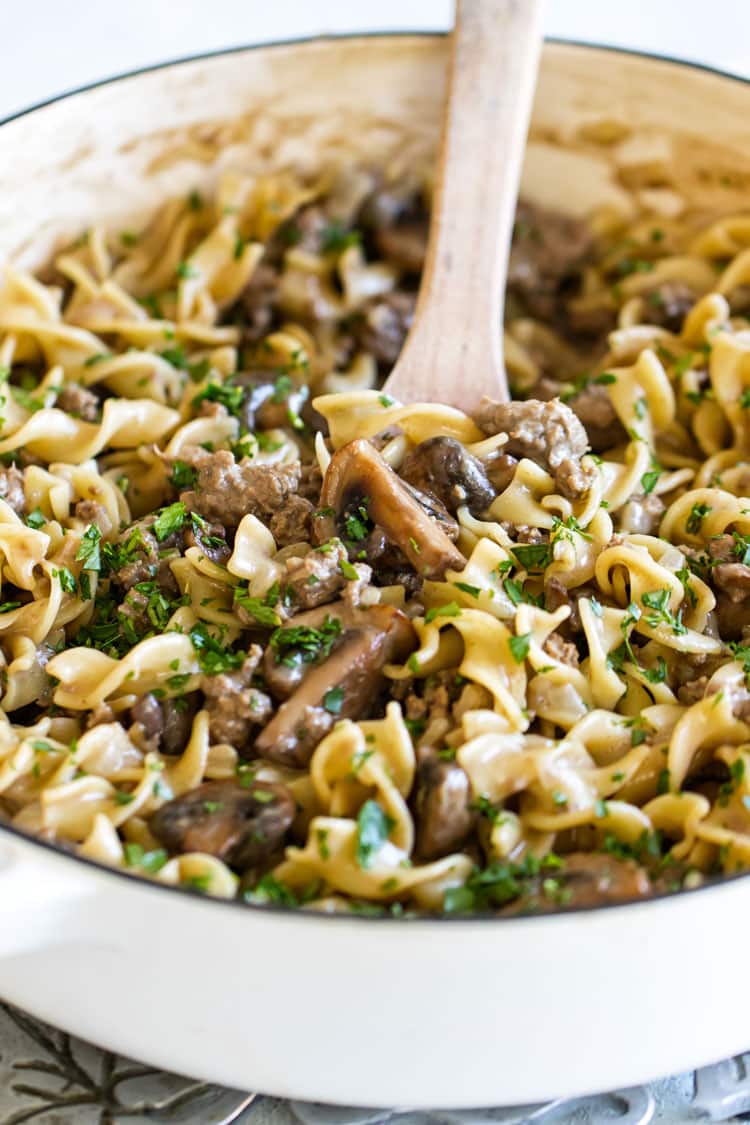 Ground Beef Stroganoff
This easy beef stroganoff is a hearty and comforting dinner. The beef is simmered in a savory sauce flavored with mushrooms, mustard, and sour cream and served with egg noodles.
Soup and Chili Recipes
Sometimes a cozy bowl of soup or chili is all you need to take the edge off the day. It's always good to have some recipes on hand to satisfy that craving, so here are just a few of my most comforting soup recipes for you to try.
Chicken Noodle Soup
Chicken Noodle Soup is a classic, and my version is hearty with a deep flavor. Tender chicken, egg noodles, and veggies simmered together – it's easier to make than you think!
Italian Unstuffed Pepper Soup
This hearty unstuffed soup recipe takes stuffed peppers and turns them into a simmering bowl of goodness. It's a cozy dinner loaded with fresh bell peppers, Italian sausage, and rice.
No Bean Chili (Slow Cooker)
This easy no-bean chili recipe cooks in the slow cooker for an easy weeknight dinner. Lean ground beef, peppers, onions, green chile, and chili seasonings simmer for hours – when it's done, ladle it into bowls with your favorite toppings for a cozy and hearty dinner.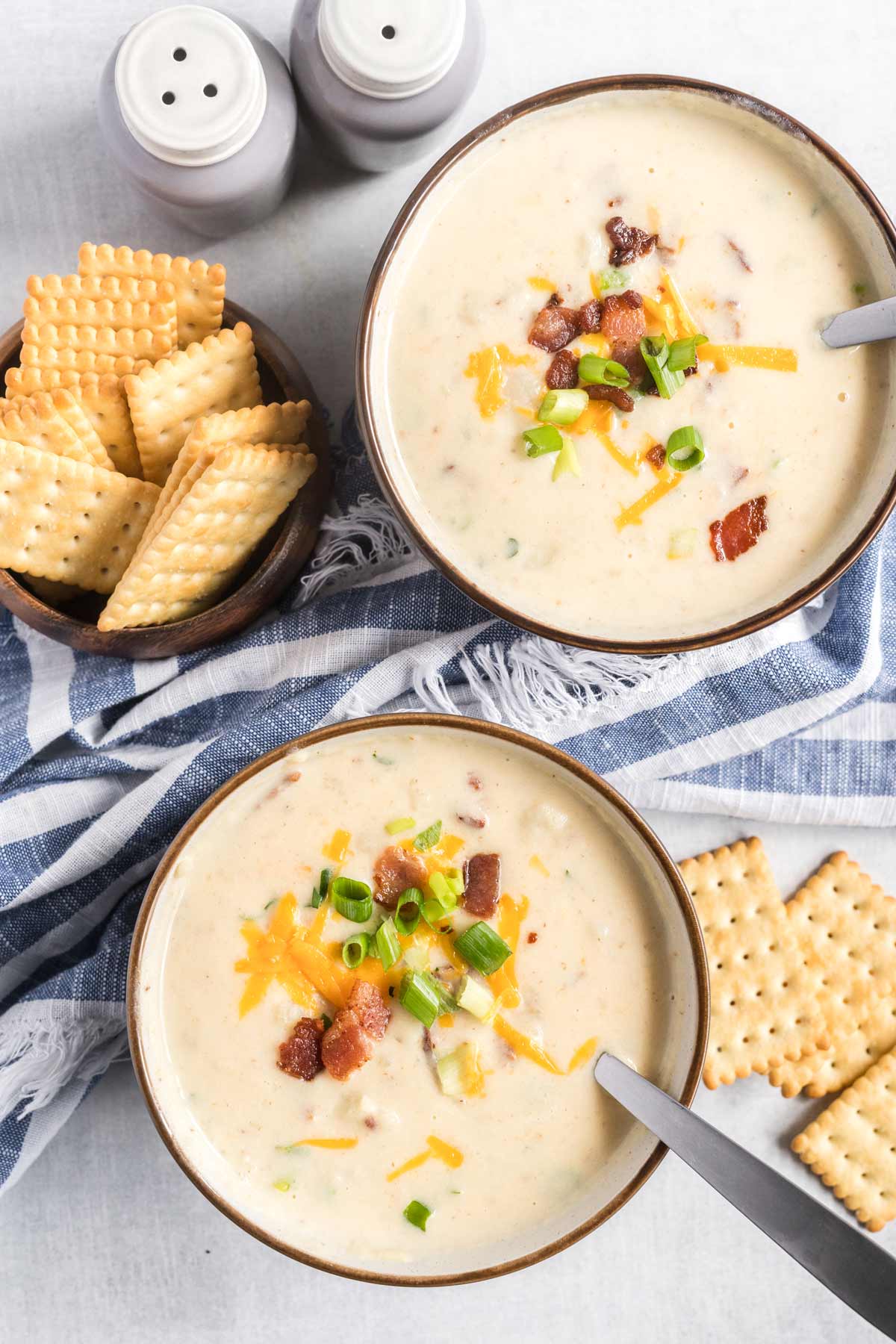 Loaded Potato Soup
Soup meets baked potato in this loaded potato soup! This creamy soup, topped with crispy bacon, shredded cheese, and green onions is a cozy bowl of goodness for a chilly night. If you love baked potatoes or potato skins, you will love this soup recipe.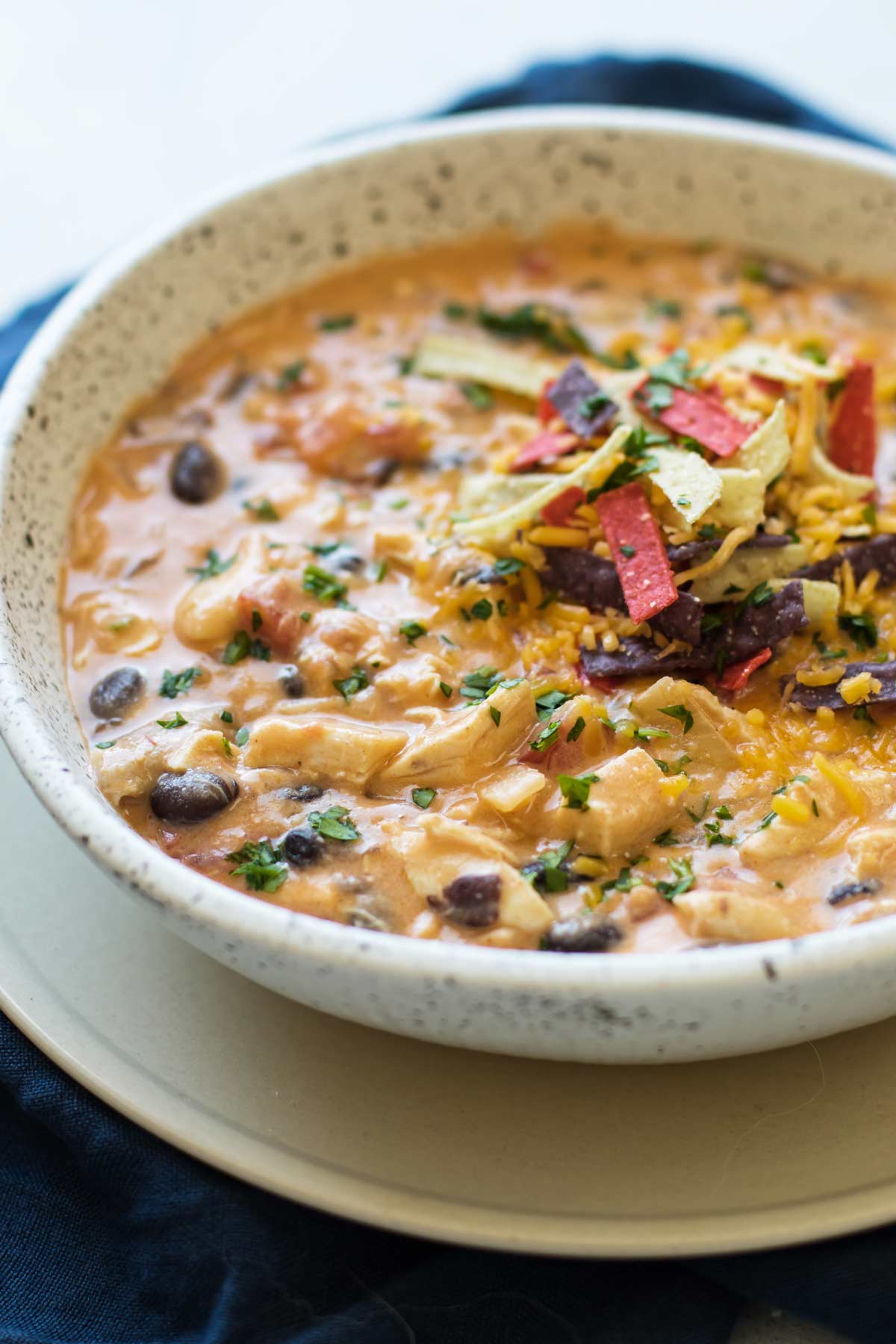 Easy Chicken Enchilada Soup
Quick and easy chicken enchilada soup! It takes 30 minutes to make and has the best creamy texture. Serve it with crunchy tortilla chips and cheese on top for an easy weeknight dinner.
Easy Tomato Basil Soup
This simple tomato basil soup for one takes just ten minutes to make and has six simple ingredients. It's a great easy lunch or light dinner.
Vegetable Beef Soup
Vegetable beef soup loaded with tender potatoes, carrots, fresh green beans and chunks of tender sirloin. This hearty beef soup doesn't need to simmer for hours since it's made with tender sirloin instead of a tougher cut that needs a longer cook time.
Winter Minestrone
A warm and cozy winter minestrone soup full of good-for-you veggies and beans. This recipe makes a big batch of soup that freezes well.
I hope you give some of these comfort food recipes a try soon!
Happy cooking,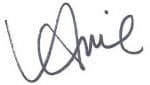 More Recipe Collections
Post updated from the archives. First published in October 2017.