Easy Recipes with Ground Beef
If you have a package of ground beef on hand but are tired of the same-old recipes, here are some fantastic ground beef recipes that are easy to make.
There are many ways to cook up a package of ground beef, whether it's pasta dishes, meatballs, soups, or comfort food classics. So, take a look and find some recipe inspiration – there are lots of great choices!
💌 Sign up for the Girl Gone Gourmet Newsletter and get recipes delivered straight to your inbox!
I hope you found some delicious ground beef recipes to make for dinner tonight!
Happy cooking,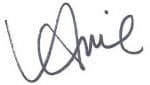 More Recipe Collections