Loaded pizza sandwiches for four. All it takes is some bread, some classic pizza toppings, sauce, and plenty of cheese to serve up your favorite pizza in sandwich form.
Loaded Pizza Sandwiches
Since the Earl of Sandwich first asked for some meat nestled in between two slices of bread (although there is evidence that his idea was not completely original) it's safe to say that sandwiches have won the hearts of many. I mean, do you know anyone who hates sandwiches? If you do, I don't think they're worthy of your trust.
And while my choice of sandwich mostly runs the simple roast-beef-on-wheat-with-mayo-and-mustard variety with some crisp lettuce and a juicy tomato slice, sometimes I crave something a little more substantial.
About the Bread
Using plain old sandwich bread is fine, but when sandwich special-ness is in order I prefer a big loaf of soft white bread. You know the totally generic kind found in the specialty bread section at the store. Sure, you could go all artisan and get a loaf with a crusty outside and chewy inside, and more power to you if you do, but I like to go a little more pedestrian and stick to my soft, white bread.
Build It Up
This loaded pizza sandwich is a love letter to my teenage self when I was employed as a "Sandwich Artist" at a certain fast food chain. I probably ate as many as I made for customers thanks to the generous free sandwich-per-shift policy. These days, thanks to my 40-year-old metabolism, I save loaded pizza sandwiches for special occasions, like watching the US Gymnastics team win Gold in the team competition.
Anyway, using a large loaf of bread means building pizza sandwiches for four takes no time at all. I like to start with a generous drizzle of olive oil followed by slices of provolone cheese. Next, layer on Genoa salami followed by plenty of pepperonis.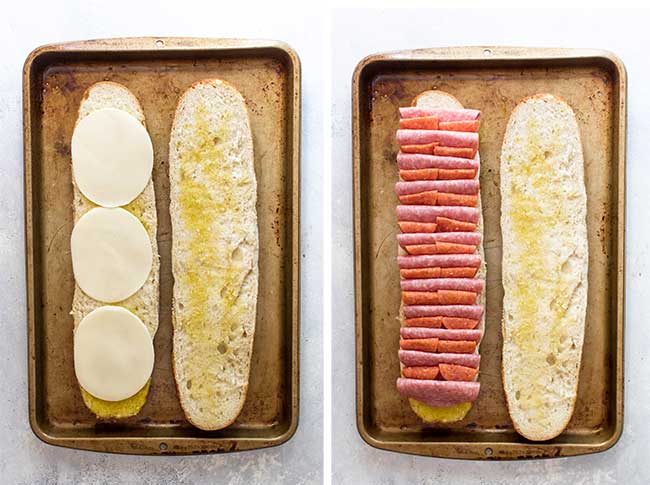 And there's more! Briny kalamata olives, fresh parsley, thyme and green peppers are favorite toppings, but think about what you love on a pizza and add whatever makes your heart sing – maybe some banana peppers, artichoke hearts, or diced tomatoes?
Your sandwich is your canvas. Don't hold back.
What makes this a true pizza sandwich is a sauce. I like to spoon just enough sauce over the toppings so that it barely oozes out over the sides when it's sliced. Any more and it turns into a mess, so about 1/3 cup of your favorite marinara sauce will do.
Lastly, some cheese. Sliced fresh mozzarella tops it all off.
Pop it under the broiler to melt the cheese and toast the bread. You may need to rotate the baking sheet to ensure that everything toasts evenly and keep an eye on it! The sandwich can go from perfectly toasted to burned in a heartbeat.
Slice the pizza sandwich into four pieces and, if you want a little easier eating situation, slice each again in half. It really is like your favorite pizza pie in sandwich form – no "Sandwich Artist" credentials required.
More Sandwich Recipes
Print
Loaded Pizza Sandwiches
---
Description
Loaded pizza sandwiches with salami, pepperoni, provolone and mozzarella cheese, olives, green peppers, and fresh herbs. Everything is optional or trade it out with your favorite pizza toppings, just don't overload the bread otherwise your pizza sandwich may become a pizza mess.
---
1

12 inch loaf of french bread, sliced horizontally in half

2 tablespoons

olive oil

3

slices provolone cheese

3 ounces

Genoa salami slices

2 ounces

pepperoni slices

1/2 tablespoon

fresh herbs (thyme, parsley, basil or combination)

1/4 cup

sliced kalamata olives

1/2

green pepper, cut into strips

1/3 cup

jarred marinara sauce

6 ounces

fresh mozzarella slices
---
Instructions
Turn the oven to broil. Place the sliced bread open-faced on a baking sheet.
Starting with the olive oil, drizzle it over both slices of bread. Layer the cheese and meat on the bottom slice. Sprinkle the herbs over both slices. Layer the olives, green peppers, marinara sauce, and mozzarella cheese on the bottom slice of bread.
Stick the sandwich under the broiler. Keep an eye on it and rotate the baking sheet, if necessary, to ensure the cheese melts evenly. Broil just until the bread is toasted and the mozzarella has melted. Place the top sliced bread on top of the bottom one and, using a serrated knife, slice into four sandwiches. Serve hot.
Notes
Depending on the bread you use the nutrition estimate will vary.
Prep Time:

10 minutes

Cook Time:

5 minutes

Category:

Burgers and Sandwiches

Cuisine:

American
Nutrition
Calories:

721

Sugar:

6.2g

Fat:

40.4g

Carbohydrates:

49g

Fiber:

2.8g

Protein:

40.3g
Keywords: loaded pizza sandwich