Learn how to froth milk without a frother or fancy espresso machine. You can use a hand-held immersion blender, a regular stand blender, or just a jar with a lid to make frothy milk like your favorite coffee shop.
Sometimes it's the simple things that bring a little brightness to each day, and, for me, that's adding a little frothed milk to my morning cup of coffee. It's a little thing, but dressing up a plain-Jane cup of joe with a frothy, foamy cap of milk helps kick the day off in the right direction.
Frothed Milk Without a Frother
It isn't hard to do, and you can totally do a DIY version with a microwave and a blender or a jar with a lid. You also don't have to make shots of espresso to make an "authentic" coffee drink. I use my regular old drip coffee and dress it up with frothed milk.
I modeled this after a cafe au lait, which is equal parts coffee and milk. So I like about 1/2 cup of each per serving.
What kind of milk is best for frothing?
For the best froth, I recommend using whole milk, but it will work with 2% milk, too.
I have also tested it with non-dairy milk, like unsweetened almond milk, which sort of works. You will get some froth, but not as much as regular milk. Sweetened almond milk works better. Sweetened oat milk should work well, too. One thing I like about the almond milk version is that it has a really wonderful nutty scent when you warm it up.
Instead of steaming the milk, I warm it up in the microwave first. It takes between one and two minutes, depending on the amount – you want it steaming hot but not to the point that it starts to boil. Depending on your microwave, you may need more or less time. You can also warm it on the stove.
How to Froth with a Blender
Once it's hot, you can froth it using an immersion blender, a regular stand blender, or just in a jar.
If you use an immersion blender (or stick blender), the head will need to be completely immersed in the milk, so use a tall narrow container. The tall sides will prevent the milk from splashing out.
Blend continuously until it starts to foam – it only takes about a minute.
You can also use a regular blender. Just pour the milk in and process until it turns foamy.
How to Froth Milk in a Jar
There is also the jar method – use a microwave-safe canning jar (a small mason jar works great). Microwave the milk in it (without the lid) for about a minute – the milk should be hot but not boiling.
Secure the lid and shake until the milk is frothy. The jar will be hot, so you may need to hold it with a towel while you shake.
To get that nice, frothy top pour the milk into your coffee using a spoon or knife to hold back the foam. Then, spoon the foam on top.
Of course, you can gussy-up your drinks with a dusting of cinnamon over the top or a sprinkle of grated chocolate if you're feeling fancy-like.
Happy frothing ☕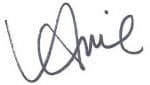 More Recipes to Try
📣 Do you love this recipe? I would love to know! Leave a comment below the recipe, along with your recipe star rating.
Print
The nutrition is an estimate only. It was calculated using Nutrifox, an online nutrition calculator.
Post updated from the archives. First published in April 2020.