In about fifteen minutes you can make the best hot chocolate mix! This gourmet hot chocolate mix is made with real chocolate for the best flavor. Plus, it keeps for up to six months making it a great gift for the holiday season. Or, keep it all to yourself – I won't tell!
Even now, as a certified grown-up, I love a mug of hot chocolate when it's cold. It summons all the childhood nostalgia and memories of snowy cold Wyoming winters, red plastic sleds, and afternoons sliding down a hill blanketed in powdery white snow.
So for the holidays, I like to make a big batch of this gourmet hot chocolate mix. What makes it gourmet? It's all about the chocolate – it's made with two kinds of chopped chocolate bars. So, it's not the bland powdery stuff you get from a Swiss Miss packet. It's the real deal, friends.
The mix is made with just four ingredients
It's shelf-stable for up to six months
This hot chocolate mix is better than any packet of store-bought mix.
Portioned in containers adorned with holiday bows this hot chocolate mix is a sweet (and easy!) gift for friends and family.
I adapted the recipe from the Epicurious Cookbook – my version is a little easier and in about 15 minutes it all comes together.
Hot Chocolate Mix Ingredients
Because there are so few ingredients quality matters so I recommend buying high-quality chocolate bars for the best experience. For the cocoa powder, I use Hershey's unsweetened cocoa powder.
Bittersweet chocolate bar
Milk chocolate bar
Unsweetened cocoa powder
Granulated sugar
How to Make It
A food processor makes chopping the chocolate very easy. Technically, you could chop the chocolate with a knife but I imagine it would take quite a while. The chocolate needs to be finely chopped.
Once you've chopped the chocolate, transfer it to a large resealable storage bag. Add the baking cocoa and sugar, seal the bag, and shake it until all of the ingredients are well mixed.
How to Store It
Store the hot chocolate mix in an airtight container in a cool, dark place like a cabinet or pantry. It will keep well up to six months at room temperature.
If you are gifting the mix, divide it into airtight containers (mason jars work great). I like to add a little card with the storage instructions and steps for making a mug of hot chocolate.
How to Make a Mug of Hot Chocolate
Warm eight ounces of milk in a small saucepan over medium heat. I like to use whole milk, but 2% is good, too. Don't boil the milk, just slowly warm it up and, once it's steaming, it's ready.
I like to add two tablespoons of the mix for every eight ounces of milk, but you can adjust the amount to your taste.
Whisk the hot chocolate mix into the hot milk until it's melted.
Garnish with whipped cream, frothed milk, marshmallows or just enjoy it as is!
More Christmas Recipes
Happy sipping,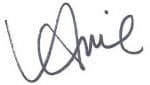 📣 Do you love this recipe? I would love to know! Leave a comment below the recipe along with your recipe star rating.
Print
The nutrition is an estimate only. It was calculated using Nutrifox, an online nutrition calculator.
Post updated from the archives. First published in December 2012.