Bacon-Wrapped Jalapeno Poppers
Jalapeno peppers stuffed with a zingy cilantro-lime cream cheese filling and wrapped up in crispy bacon. These baked bacon-wrapped jalapeno poppers are always a favorite appetizer.
[cmtoc_table_of_contents]
Ah, jalapeno poppers. Denizen of the appetizer table and frequent snack choice for all sorts of get-togethers, particularly sports-focused gatherings.
These savory snacks – in this case, peppers stuffed with a cilantro-lime cream cheese filling and baked up with bacon – have come into my life in a big way in the last year as they are the go-to snacky-treat of someone I've been spending a lot of time with since last fall. Both he and his teen-aged kids love them and we've made batches of jalapeno poppers for birthday parties, Super Bowl parties, and office potlucks.
Until now, I haven't always been a fan because have you ever bitten into a jalapeno and experienced a five-alarm fire in your mouth? I have, which is why I've mostly avoided eating whole jalapenos until now.
It wasn't until I helped make batches of poppers earlier this year that I discovered that not all jalapenos are super spicy. The poppers we made were quite mild and so I got curious and did a little studying up on the matter.
How to Choose Jalapenos for Poppers
Here's the deal on the spicy factor: the older a jalapeno is the hotter it is. Younger jalapeno peppers with smooth and unblemished skins are usually milder than ones that are older. You can tell one that has been sitting in the bin at the store for a while because its skin will be sort of blemished and flecked with white.
I learned this from a helpful article on Simply Recipes all about jalapeno peppers and since reading it I've had good luck picking ones that are smooth-skinned and blemish free that don't burn my face off when I eat them.
As far as size, I like to choose peppers that are about 3 to 4 inches long for my bacon wrapped jalapeno poppers. This is a good size for an appetizer. Any bigger and they get a bit cumbersome. For this recipe, I used 10 jalapeno peppers.
How to Prep Jalapeno Peppers for Poppers
If there's anything I already knew about jalapeno peppers – or any potentially spicy pepper, for that matter – is that I have to wear gloves when I prep them. I've burned my eyes one too many times when I've gone without gloves (even hours after handling them). So word to the wise: wear gloves when you make these jalapeno poppers. Even the mild peppers ones have spicy little insides.
Slice the stem off each jalapeno.
Slice each pepper in half lengthwise.
I like to remove all of the ribs and seeds, but if you want a little kick of heat you can leave some in.
At this point I like to rinse the prepped peppers in water to remove any stubborn seeds and to clean them up.
Pat them dry and they are ready to be stuffed with the filling.
Cilantro-Lime Cream Cheese Filling
Most of the jalapeno poppers I've had in the past were stuffed with just a simple cream cheese sans any bells and whistles. They are delicious, but for my version I wanted to step-up the filling a bit and make it a little more zingy. Here's what you need:
Fresh lime juice and zest
Honey
Kosher salt
Cream cheese
Fresh cilantro
The lime adds a nice pop of citrus flavor to the cheese and the honey gives it just a touch of sweetness both of which pair very nicely with the peppers and bacon.
How to Assemble the Poppers
Once you have your prepped peppers and cream cheese filling you are ready to stuff and wrap the peppers.
I recommend 10 ( 3 to 4 inch) peppers because you will have just enough filling to stuff them. If your peppers are bigger you may need extra filling.
A little under one tablespoon of filling is enough to stuff each pepper. So start by filling each with that amount. You can always adjust as you go as some peppers may need a little more or less filling.
You will need 10 slices of bacon, sliced in half so you have 20 shorter strips. Wrap each stuffed pepper in a strip of bacon. I tried to wrap mine so that the ends of the bacon met underneath the pepper. That way, the bacon will stay in place while the poppers bake.
I like to use a baking rack to bake the poppers. That way, as the bacon releases its fat it drips down into the pan. The poppers aren't sitting in it so the bacon crisps up all over instead of just frying in the fat accumulated in the pan.
I also like to line the pan with foil for easy clean-up.
Bake the poppers at 400°F for 20 to 25 minutes or until the bacon is crispy and cooked through.
I love how the cheese filling gets a little toasty in the oven. There's just enough honey to add a touch of sweet caramelization that's delicious with the zingy lime and smoky bacon. Add some friends, some drinks and pass around the jalapeno poppers!
Happy popper-making,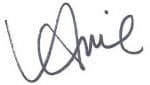 P.S. If you love jalapeno poppers, you might like my jalapeno popper dip, too!
More Appetizer Recipes
Looking for more party food? Here are three more of my favorite appetizer recipes…
Want more delicious recipes? Sign up for the Weekly Newsletter!
Print
Bacon-Wrapped Jalapeno Poppers
Oven-baked jalapeno poppers wrapped up in crispy bacon and stuffed with a zingy cilantro-lime cream cheese filling. These are the quintessential party food and always a hit.
Scared of spicy peppers? See the recipe notes for tips on buying jalapenos that won't burn your face off!
Author: April @ Girl Gone Gourmet
Prep Time:

20 minutes

Cook Time:

20 minutes

Total Time:

40 minutes

Yield:

20

poppers

1

x
Category:

Appetizers

Method:

Baking

Cuisine:

American
10

(3 to 4-inch long) jalapeno peppers

4 teaspoons

lime juice
Zest of

one

lime

2 teaspoons

honey

1/4 teaspoon

kosher salt

1

(8-ounce) package cream cheese, softened to room temperature

1 tablespoon

finely chopped fresh cilantro

10

slices of bacon
Instructions
Preheat the oven to 400°F. Line a large baking sheet with foil and place an oven-safe baking rack on top of the foil.
Prep the peppers by slicing off the stems. Slice each pepper in half lengthwise and clean out the ribs and seeds. Rinse the peppers in water to remove any stubborn seeds.
In a medium bowl, combine the lime juice with the honey. Add the salt, cream cheese and cilantro. Using an electric mixer, mix it all together until well combined. You can do this by hand with a spoon, but I find it's much easier with a mixer.
Slice each piece of bacon in half so you have 20 shorter strips. Fill each pepper with approximately 1 tablespoon of the filling. Depending on the size of your peppers you may need a little more or less, so wait to wrap them with the bacon until you've filled them. That way, if you need to steal some filling from one to top off another you can do that.
Once all of the peppers are filled with cheese, wrap each with a piece of bacon. I like to wrap them so the ends of the bacon meet underneath the pepper. That way the peppers stay wrapped while they bake. If you're worried you can always secure the bacon with toothpicks – just remember to remove them when you serve the poppers.
Place the bacon-wrapped peppers on top of the baking rack. While they bake the bacon fat will drip into the baking sheet and your poppers won't get soggy sitting in the grease.
Bake the poppers for 20 to 25 minutes or until the bacon is cooked through and crispy. 
Notes
If you don't love a lot of spice look for jalapeno peppers that have smooth unblemished skins. Jalapeno peppers get spicier as they age, so you can tell if they've been sitting around for a while if they have white flecks and blemished skins. 
Removing the ribs and seeds will also reduce the heat factor. That said if you like a little kick leave some of the seeds and ribs in.
Be sure to buy peppers that are 3 to 4 inches long. Any bigger than that and you won't have enough of the filling and will need to make extra.
Nutrition
Serving Size:

1 popper

Calories:

103

Sugar:

1.5g

Sodium:

186.8mg

Fat:

9.5g

Saturated Fat:

4.2g

Carbohydrates:

1.9g

Fiber:

0.2g

Protein:

2.5g

Cholesterol:

20.7mg
Keywords: jalapeno poppers, bacon-wrapped poppers, baked poppers recipe