A quick 10-minute pimento cheese dip is a must-make for game-day, holidays and other get-togethers. It's a simple mix-and-serve appetizer made with sharp cheddar cheese, cream cheese, peppers and mayonnaise otherwise know as a combination of flavors that's hard to resist.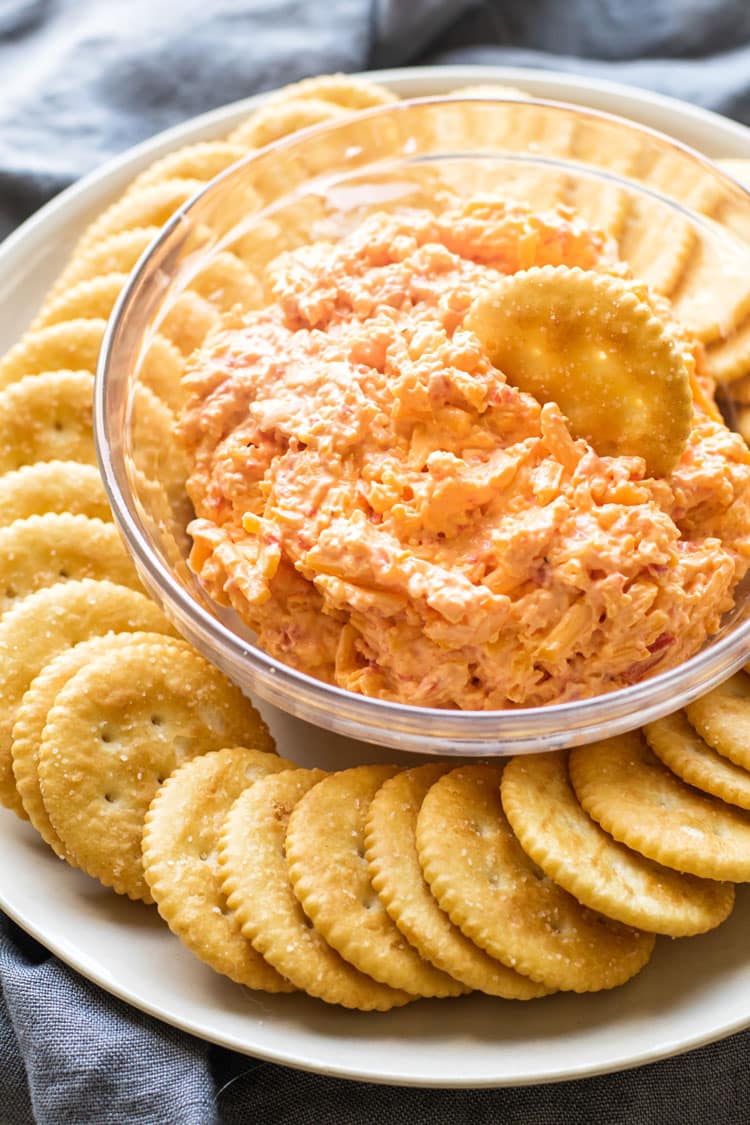 I spent most of my life afraid of pimento cheese in the same way I was afraid of that lunch meat speckled with red and green ingredients unfamiliar to me. I later learned those speckles are pimento and olives and that particular lunchtime delicacy was sliced from what is called a pimento loaf. I guess it was the word "pimento" that was the root cause of my fear because I loved bologna, so it wasn't the idea of meat mush pressed together to make a food product that scared me. It was those red flecks of unknown origin.
So, it wasn't until five or six years ago that I first tried pimento cheese at a restaurant in North Carolina and it was mostly by accident. I'd ordered a BBQ chicken flatbread pizza and didn't notice it was topped with pimento cheese. Well, long story short, I loved it. It was rich, creamy, cheddary and tangy. I couldn't stop thinking about long after we left the restaurant.
From that moment, I looked for it everywhere and, seeing as it was the South, it wasn't hard to find. Let's just say I made up for a lot of lost time and indulged every time pimento cheese crossed my path.
What is Pimento Cheese?
Pimento cheese is a cheese spread made with cheddar cheese, mayonnaise and the aforementioned pimentos. Pimentos are (not scary) sweet cherry peppers. and are the same thing that little green olives are stuffed with.
Mix it all together and you get a rich cheese spread that's great as a dip, or sandwich filling, or pizza topping as was the case when I first tried it. Pimento cheese is a southern thing and not something I was exposed to growing up in Wyoming which is decidedly not southern.
Homemade pimento cheese dip, like a lot of things, has been on my list for a few years now and my only hesitation in making it and sharing it here is, "what if it's not authentic?". Southern cuisine is a specific thing and an emotional one – classic southern dishes are classic for a reason. I was worried about messing with it.
But what would life be like if we never took chances? So, I'm taking one here. After experimenting, this is my current favorite way to make pimento cheese dip. Like a lot of things, there are many variations – in my research, I don't think I found any identical recipes, but, rather, variations on a theme – and my version, adapted from The New York Times, is a quick 10ish-minute appetizer that tends to disappear fast when you serve it.
Ingredients
Cheddar cheese: Now's not the time for pre-shredded cheese. The cheddar is a lead character in this dip, so buy a good quality block and shred it yourself. I used sharp cheddar cheese and used my food processor to shred it which takes about 30 seconds.
Cream cheese: Since I usually add the cream cheese straight from the fridge, I like to cut it into cubes. It makes it much easier to blend it with the other ingredients and you don't have to wait for it to soften before you make the dip.
Mayonnaise: Quality matters here, too. I'm a die-hard Hellman's fan.
Pimento or roasted red pepper: Jarred pimento is not always available at regular grocery stores, so folks often use regular roasted red bell peppers instead, which is what I opted for, too, since I can't find pimento. You can also use pappadew peppers.
Kosher salt
How to Make Pimento Cheese Dip
Place half of the shredded cheese and all of the other ingredients in a food processor fitted with a chopping blade. Process until smooth.
Transfer the mixture to a bowl and add the rest of the shredded cheese. Stir to combine.
Cover and chill the pimento cheese for a few hours before serving. This allows all of the flavors to develop.
You can, of course, blend all of the cheddar cheese with the other ingredients and make a smooth dip, but I love the texture the shredded cheese gives the finished dip.
How to Store Pimento Cheese
You can make pimento cheese ahead (up to a few days before is good) and leftovers will keep in the refrigerator for up to two weeks, although I find it's best within a week. Be sure to store it in an airtight container.
Seeing as football season is upon us there's no better time to make a batch of pimento cheese dip. Serve it with crackers (I love Ritz) and watch it disappear.
Happy dip-making!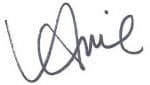 More Dip Recipes to Try
Bring on all the dips! It's my favorite part of football season, so here are a few more dip recipes for you to try…
P.S. Want more recipes? 📩 Sign up for the Girl Gone Gourmet Newsletter!
Print
Pimento Cheese Dip
---
Description
Pimento cheese is a classic Southern cheese spread made with simple ingredients that, when combined, is hard to resist. If you can't find pimento you can substitute roasted red peppers. This recipe is heavy on the cream cheese which makes the dip extra creamy, but you can easily customize the amounts to suit your own tastes.
---
8 ounces

sharp cheddar cheese, shredded

4 ounces

cream cheese, cut into pieces

1/4 cup

mayonnaise

7 ounce

jar pimento or roasted red peppers, drained

1 teaspoon

kosher salt
---
Instructions
Place half of the shredded cheese in a food processor. Add the cream cheese, mayonnaise, peppers, and salt. Process until combined and smooth.
Transfer the mixture  to a bowl, add the rest of the shredded cheese, and stir to combine. Cover the bowl and chill the pimento cheese for at least an hour or so to allow the flavors to develop.
Notes
You can make pimento cheese ahead (up to a few days before is good) and leftovers will keep in the refridgerator for up to two weeks, although I find it's best to use it up within a week. Be sure to keep in an airtight container.
Recipe adapted from The New York Times
Category:

Appetizer

Method:

No Cook

Cuisine:

American
Nutrition
Serving Size:

1/8 of recipe

Calories:

218

Sugar:

1.8g

Fat:

19.5g

Carbohydrates:

3.4g

Fiber:

0.3g

Protein:

7.7g
Keywords: pimento cheese, cheese dip recipe, homemade pimento cheese
The nutrition information in this recipe is an estimate only and was calculated using Nutrifox, an online nutrition calculator.