Easy bite-sized meatballs in a two-ingredient sweet and spicy sauce! These sweet and spicy meatballs are so easy to make and great for parties, game days, and holiday meals.
Gather 'round, friends, because today we have some sweet and spicy meatballs simmered in a two ingredients sauce! They're savory little meatballs that take about 30 minutes from start to finish, and you can make them ahead, which is a welcomed relief this time of year when holiday craziness is in full swing.
And, let's face it. Cocktail meatballs are a staple this time of year – can you even call it the holidays without a bowl of saucy meatballs with toothpicks on the side for serving? Perhaps, but the season won't be as delicious.
We're making a super easy homemade meatball recipe – no chopping, I promise! – and forming the mixture into cute bite-sized meatballs. Simmer them in that sweet and spicy sauce, and I'm pretty sure there won't be any leftovers after everyone has a taste – they're that good.
Ingredients
Dried breadcrumbs
Kosher salt and black pepper
Garlic powder
Large egg
Ground beef
Olive oil
Water
BBQ sauce
Pepper jelly
Substitutions
Meat: I like 85% lean ground beef for the meatballs, but feel free to substitute ground turkey, pork, or chicken.
Frozen meatballs: Short on time? You can skip the homemade meatballs and use frozen ones. Try to find ones that aren't too big that they can't be served as an appetizer.
Pepper jelly: There are usually a few different kinds of pepper jelly at the store – some are spicier than others, so choose your favorite heat level. Not into pepper jelly? Try using apricot, strawberry, or even grape jelly with the BBQ sauce to make sweet and tangy meatballs.
How to Make Them
Mix: Combine all of the meatball ingredients in a large mixing bowl. Scoop one tablespoon of the meat mixture to form each meatball.
Brown: Place the meatballs in a hot pan with oil and brown them all over until they are cooked through. Take them out of the pan while you make the sauce.
Simmer: Combine the sauce ingredients in the same pan. Stir and scrape up any browned bits off the bottom of the pan. Add the meatballs to the sauce and stir to coat them evenly.
Serve: You can serve them straight from the pan or pile them in a bowl with some toothpicks on the side.
Recipe Tips
Frozen Meatball Tips: If you skip the homemade meatballs, just warm up the sauce in a pan and then add the frozen meatballs. Once they're heated through, they're ready to serve.
Make Ahead: You can make this recipe a day in advance and store the meatballs in an airtight container in the refrigerator. Warm the meatballs and sauce up in the microwave or on the stove before serving them.
Leftovers: If you have leftovers (doubtful), they will keep in the refrigerator for three to four days.
Everyone will love the sweet and spicy flavors in these meatballs – the holidays aren't complete without at least one batch. Enjoy!
Happy meatball-making,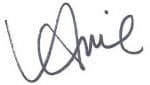 More Meatballs Recipes
📣 Do you love this recipe? I would love to know! Leave a comment below the recipe along with your recipe star rating.
Print
The nutrition is an estimate only. It was calculated using Nutrifox, an online nutrition calculator.
Post updated from the archives. First published in October 2018.