Homemade Mozzarella Sticks
Learn how to make homemade mozzarella sticks at home with this easy-to-follow recipe! These mozzarella sticks are a great make-ahead snack or appetizer that can be frozen and fried whenever you have a craving.
I'll admit, making homemade mozzarella sticks always seemed like too much of a fuss, especially when you can get yourself to a restaurant to indulge. However, when I realized I was paying $9 for just six fried cheese sticks, I knew it was time to try making them myself. Also, leaving the house is hard, even if mozzarella sticks are the prize.
So, stay in your comfy clothes because you don't have to go anywhere to get your fix. Hot and crispy cheese sticks at home are just a few steps away.
When I tested and tweaked this mozzarella sticks recipe, I learned a few things: the best way to slice the cheese, the best way to bread the cheese, and the best way to fry the mozzarella sticks, so you get crispy breading with melty cheese inside.
Now that I've mastered the technique, I love stocking the freezer with ready-to-fry mozzarella sticks.
Ingredients
Low-moisture mozzarella cheese
Italian seasoning breadcrumbs
Grated Parmesan cheese
Garlic powder
Large eggs
Vegetable oil
Step-by-Step Guide to Making Mozzarella Sticks
The Best Cheese: For the perfect mozzarella sticks, with the right ratio of cheese to breading, cut a 16-ounce block of low-moisture mozzarella cheese into 1/2″ thick sticks. This will yield 33 sticks that are ideal for frying.
I slice the block of cheese into 11 slices and then cut each slice into three sticks.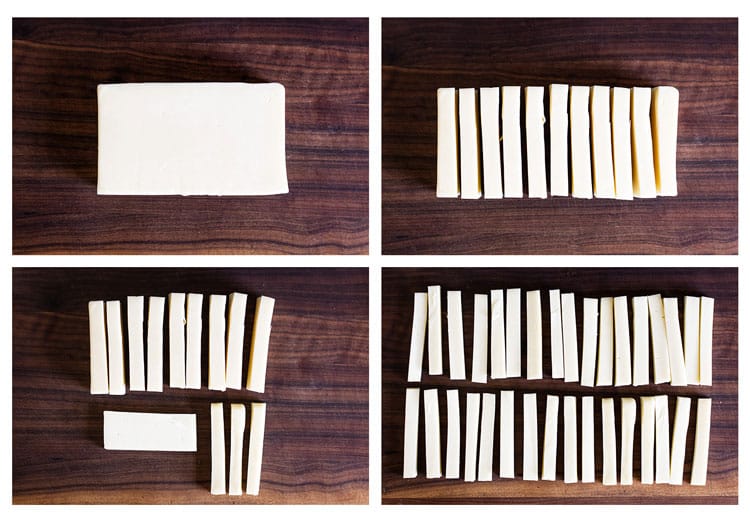 Breading the Cheese Sticks: Set up a breading station with whisked eggs in one bowl and a mix of Italian-style bread crumbs, garlic powder, and grated Parmesan cheese in another shallow dish. Bread the cheese sticks twice to ensure a thick enough coating to prevent cheese leakage during frying. Use one hand for the egg wash and the other for the breadcrumb mixture to minimize clumping.
Freezing Before Frying: Place the breaded mozzarella cheese sticks on a baking sheet and freeze them for 15-20 minutes. This will help the breading adhere to the cheese, reducing the risk of it falling off during frying.
Tips for Frying Mozzarella Sticks: Use a thermometer to maintain an oil temperature between 350°F and 375°F when frying your mozzarella sticks. Make sure to fry in small batches to avoid overcrowding, and remember that the oil's temperature will drop as you add more sticks. If the temperature drops, wait until it increases before adding more sticks.
Cooking Time: Mozzarella sticks only need 30 seconds to 1 minute to cook to a delicious golden brown. Once fried, transfer them to a plate lined with a paper towel to absorb excess oil. If you freeze the sticks for later, you may need to add a couple of extra minutes to the frying time. If they are frozen solid, they will take longer.
Dipping Sauce Ideas: Serve your homemade mozzarella sticks with your favorite sauces, like marinara sauce, pizza sauce, Alfredo sauce, ranch dressing, or even salsa, for a unique twist.
Important Tips
Don't skip the second coating of breadcrumbs. The double breading ensures that the cheese won't leak out while the sticks are frying. It also makes a super crispy coating!
For the best results, you will need a deep-fry thermometer. It takes away all of the guesswork! Maintaining the oil temperature between 350°F and 375° will get you golden crispy breading and ooey-gooey melted cheese.
The amount of oil you need will depend on the size of the pan you use. I like to fry small batches of cheese sticks in a 3-quart pan. 24 ounces of oil is enough to fully submerge the sticks in this size pan. If you use a larger pot or pan, you will need more oil.
If you freeze the mozzarella sticks for later, store them in a freezer container or freezer bag. They will keep well for several months. You don't need to thaw them before frying – just add one to three minutes more of cooking time.
Can you air-fry mozzarella sticks?
I have tested this recipe in the air fryer, and I didn't love the results. If there is even the littlest amount of cheese exposed (not completely coated in breadcrumbs), it will leak out and get all over the air fryer basket.
The only way to prevent this is to coat the cheese in even more egg and breadcrumbs – at least three coats. If you want to try air fryer mozzarella sticks, I recommend lightly coating them with cooking spray and air frying them at 400°F for about 10 minutes or so. Be sure to flip them halfway through the cooking time.
Can you bake them in the oven?
I also tested them in the oven with similar results to the air fryer tests. One issue is oven temperature – you need it hot enough so the breading crisps up, but if the cheese melts too fast, it will leak out. Most of the ones I tested ended up in a melted mess on the sheet pan.

Also, it's very difficult to achieve the right kind of crispiness for the breading. The few I baked that managed to stay together weren't crispy enough.

Plus, let's face it, mozzarella sticks really are a once-in-a-while treat, so if you're going to make them, you might as well fry them for the best results.
More Fried Mozzarella Sticks FAQs
How do you freeze mozzarella sticks?
What I love best about this recipe is that you can prep a big batch of mozzarella sticks, freeze them, and they're ready to fry them when you want them.

Freeze them on a sheet pan first for 20 to 30 minutes. Then transfer them to a large freezer bag. Squeeze out the air and then keep them in the freezer for up to 3 months.

When you're ready to fry a batch, you can fry them from frozen, following the instructions in the recipe.
Can you use mozzarella string cheese sticks?
You can, but I haven't tested this recipe with mozzarella string cheese. If the size of the sticks are significantly bigger or smaller than cutting a block of cheese, the cooking time will vary.
What's the best oil for deep frying?
I use vegetable oil, but any high smoke point oil will work, like peanut oil or canola oil.
Can you reuse deep-frying oil?
Yes, but it's a bit of a hassle, and there are quite a few things to consider before reusing it. Epicurious has a great article about reusing cooking oil if you want to learn more.
How do you dispose of deep-fry oil?
This is another reason I use a smaller pan to deep fry – there's less oil to toss out. Cooking oil can be recycled depending on where you live, and a quick Google search will let you know if it's available in your community.

If you can't recycle it, the best way to dispose of cooking oil is to cool it, transfer it to a container with a lid (it should be non-breakable), and toss it in the trash. I use empty peanut butter jars. Don't pour cooking oil down the drain because it can cause all kinds of issues!
Once you know how to make homemade mozzarella sticks, you'll skip the restaurant ones! I hope you give this recipe a try soon.
Happy frying!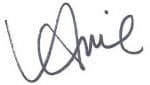 More Appetizer Recipes
Here are a few favorite appetizers, but for even more ideas, be sure to check out my Game-Day Recipes round-up!
📣 Do you love this recipe? I would love to know! Leave a comment below the recipe, along with your recipe star rating.
Print
Homemade Mozzarella Sticks
Hot and crispy homemade mozzarella sticks! This recipe makes a big batch of cheese sticks that can be frozen and fried in small batches whenever you get a craving. The mozzarella sticks are crispy on the outside with melted oozing cheese on the inside. They're a must make for football season.
You will need a thermometer that hooks on the side of the pan for this recipe, which I discuss in the post along with lots of other tips and tricks, so be sure to check it out!
Author: April Anderson
Prep Time:

30 minutes

Cook Time:

10 minutes (for 12 sticks)

Total Time:

40 minutes

Yield:

33

mozzarella sticks

1

x
Category:

Appetizers

Method:

Deep Fry

Cuisine:

Italian-American
1

(16-oz) block low-moisture mozzarella cheese

1 1/2 cups

Italian-style breadcrumbs

1/3 cup

grated Parmesan cheese

2 teaspoons

garlic powder

6

eggs
Vegetable oil, for frying (see note)
Instructions
First, slice across the block of cheese so you have eleven 1/2″-inch thick slices. Cut each slice into thirds so you end up with 33 cheese sticks. See the photos and notes in the post for more tips on slicing the cheese.
In a shallow bowl, combine the breadcrumbs, cheese, and garlic powder. In a seperate shallow bowl, beat the eggs with a fork until uniform in color. Using one hand for the eggs and the other hand for the breadcrumbs, dip a cheesestick in the eggs to coat it. Transfer it to the breadcrumbs and coat it evenly. Dip it again in the egg, coating it evenly, and then coat it again in the breadcrumbs. Place the breaded cheese stick on a sheet pan. Repeat with the rest of the cheese sticks. See the recipe notes section for more tips about the breading step.
Place the sheet pan in the freezer for 15 to 20 minutes. This will allow the breading to firm up. While you wait, you can get the oil ready for frying.
I used a 3-quart pan to fry my mozzarella sticks (see note). Add enough oil to the pan so that the mozzarella sticks will be fully covered as they fry (about 24 ounces of oil). You can fry two to three sticks at a time with this set-up. If you want to fry more at a time you will need to use a bigger pan and more oil.
The ideal temperature to deep fry is between 350°F to 375°F. Use a thermometer to measure the temperature as it will fluctuate as you fry the sticks. Fry the mozzarella stick for 30 seconds to a minute or until the breading is golden brown and crispy. Transfer the sticks to a plate lined with a paper towel to absorb the excess oil.
Serve the mozzarella sticks with dipping sauce on the side.  
Notes
I used vegetable oil for frying, but any high-smoke oil (not olive oil!) will work, like canola or peanut oil. 
Breading tips: This is optional, but I like to start with half of the breadcrumb mixture and half of the eggs. That way, if the breadcrumbs get too wet from the eggs, I can refresh them with dry breadcrumbs, which makes it easier to bread the cheese sticks. 
I usually fry six to twelve mozzarella sticks, so the smaller pan works well because I don't have to use as much oil. I cook them in batches of three sticks. If you're serving a crowd and want to cook more sticks at a time, you'll want to use a bigger pan and more oil.
How to freeze mozzarella sticks for later: bread and freeze the sticks on a sheet pan for 15 to 20 minutes. Transfer the cheese sticks to a freezer bag, squeeze the to remove the air, and pop them in the freezer. They will keep well for up to 3 months. When you fry them, they will need more time to cook, so plan to add an extra couple of minutes for each mozzarella stick.
Note about nutrition: I did not include nutrition because depending on the amount of oil you use and how much the cheese sticks absorb, it's almost impossible to measure.
Keywords: fried cheese sticks, mozzarella sticks, homemade cheese sticks
Post updated from the archives. First published in September 2019.