Learn how to make hot and crispy mozzarella sticks at home! These mozzarella sticks are a great make-ahead snack or appetizer that can be frozen and fried whenever you have a craving.
Homemade mozzarella sticks have been on my cooking list for years but it always seemed a little fussy and unnecessary considering practically every restaurant has them on their menu and, despite my love for home-cooking, I often fall prey to the path of least resistance. Why make them when I can just go out and order some?
But, recently, I paid $9 for six fried cheese sticks and something snapped. $9 for six pieces of fried cheese? It seemed ridiculous to me and it was the push I needed to get in the kitchen to make my own.
And now I'm in trouble because I have a freezer stocked with ready-to-fry mozzarella sticks which means the path is even less resistant than it was before I learned how to make them. The only thing standing between me and a plate of hot and crispy mozzarella cheese sticks is about ten minutes.
You see, you can prep a whole bunch of mozzarella sticks, pop them in the freezer and you can have them whenever you want. Seeing as football season is upon us (aka appetizer time!), there's no time better than now to have some delicious snacks on hand for game-watching.
Ingredients
Low-moisture mozzarella cheese
Italian seasoning breadcrumbs
Grated Parmesan cheese
Garlic powder
Large eggs
Vegetable oil
How to Make Mozzarella Sticks
So, for the last several weeks I've tested batches of mozzarella sticks. I know, it's tough work, but I've learned a few things: the best way to slice the cheese, the best way to bread the cheese, and the best way to fry the mozzarella sticks so you get crispy breading with melty cheese inside. So, let's get to it:
The Best Cheese
You want just the right amount of cheese for mozzarella sticks. If the sticks are too big (as I learned early on) the sticks won't fry properly (you'll end up with not quite melted cheese with overcooked breading). If the sticks are too small, you get way too much breading with barely a smidge of cheese inside. I learned the best size is 1/2″ thick sticks.
For this recipe, I used a 16-ounce block of low-moisture mozzarella cheese. This yields 33 sticks. Because you can freeze the breaded sticks and fry them from frozen I figured I'd make a big batch to keep on hand in the freezer.
The easiest way to slice the cheese into sticks is to first slice across the block of cheese so you end up with eleven 1/2″ wide pieces (as shown in the top two photos).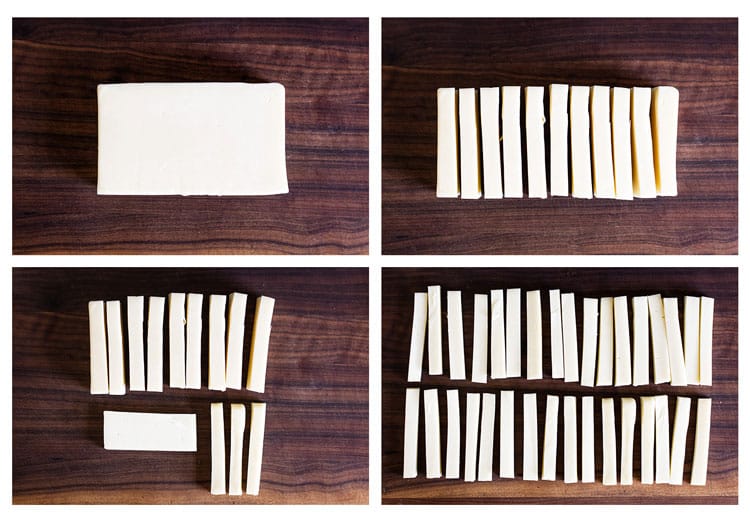 Once you have the eleven slices, you can cut each of them into thirds (bottom two photos) and that's it! Your cheese sticks are ready for breading.
Breading Tips
For the breading, you'll need eggs, Italian-style breadcrumbs, garlic powder, and grated parmesan cheese. Whisk the eggs in one small bowl, combine the other ingredients in a separate bowl and your breading station is ready to go.
It's important to bread the cheese sticks twice. This will ensure that they have enough breading so there's no risk of cheese leaking out while you fry them.
I recommend starting with half of the eggs and half of the breadcrumb mixture. If your breadcrumbs get too wet from the eggs it will clump up and it will be difficult to coat the cheese sticks evenly. Start with half and then refresh them with a new mixture when you've breaded half of the sticks.
The other thing that makes it easier is using one hand to coat the piece of cheese in the egg and the other to coat them in the breadcrumbs. It's easier said than done, I kept messing it up and using the wrong hands, but you can always rinse and dry your hands if your breading hand accidentally gets in the egg mixture.
So, dip the stick in the egg, coat it with breadcrumbs, coat it again in the egg and back to the breadcrumbs. Place the breaded sticks on a sheet pan and repeat until all of the cheese sticks are breaded.
Place the baking sheet in the freezer for 15 to 20 minutes. This will firm up the breading so there's less risk of it falling off when you fry the sticks.
Tips for Frying Mozzarella Sticks
In testing this recipe, I figured out you need a thermometer for deep frying. I'd researched various recipes that made suggestions like, "heat the oil over medium heat and fry the mozzarella sticks", "heat the oil until it shimmers", and other variations that did not include a specific temperature to heat the oil. I tried them all and didn't get great results.
Not specifying an oil temperature is risky. If the oil is not hot enough, the mozzarella sticks will absorb too much oil. If it's too hot the breading will burn before the cheese is melted. Also, depending on whether you have an electric stove or gas stove maintaining the correct heat without a thermometer is almost impossible. So, use a thermometer. One that hooks on the side of the pan, like in the photos, works really great.
Technically, the recommended deep-fry temperature is 375°F, but I got the best results in maintaining the temperature between 350°F and 375°F. I have an electric stove, so even when I adjust the burner heat it takes time for it to have an effect, so the temperature would fluctuate a lot. Keeping it in the range of 350°F and 375°F worked fine.
Keep in mind, every time you add a mozzarella stick it will lower the temperature of the oil. This is why the thermometer is so helpful. It takes all the guesswork out. If the temperature dips too low, wait until it's back to temperature before you add more sticks.
Because I was only frying a few sticks at a time I used my 3-quart pan to fry them. I used about 24 ounces of vegetable oil, which is enough to fully submerge the sticks. If I used less oil, the sticks tended to stick on the bottom of the pan.
Once the oil is at temperature, fry a few sticks at a time. With a 3-quart pan, I fried three at a time in the hot oil with no problems. They only need 30 seconds to 1 minute to cook to a delicious golden brown, so you can fry up a decent batch pretty quickly.
Once fried, transfer the mozzarella sticks to a plate lined with a paper towel to absorb the excess oil.
Fried Mozzarella Sticks FAQs
Can you bake mozzarella sticks instead of frying?
Technically, yes. I actually tested several batches in the oven with very mixed results. One issue is oven temperature – you need it hot enough so the breading crisps up, but if the cheese melts too fast it will leak out. Most of the ones I tested ended up a melted mess on the sheet pan.

Also, it's very difficult to achieve the right kind of crispiness for the breading. The few I baked that managed to stay together weren't crispy enough.

There are recipes out there for baked mozzarella sticks, but I opted not to include a baked version only because there are too many ways they can go wrong. If you try it, please share your experience in the comments – I would love to hear how it goes!

Plus, let's face it, mozzarella sticks really are a once in a while treat, so if you're going to make them you might as well fry them for best results.
How do you freeze mozzarella sticks?
What I love best about this recipe is that you can prep a big batch of mozzarella sticks, freeze them and they're ready to fry them when you want them.

Freeze them on a sheet pan first for 20 to 30 minutes. Then transfer them to a large freezer bag. Squeeze out the air and then keep them in the freezer for up to 3 months.

When you're ready to fry a batch, you can fry them from frozen following the instructions in the recipe.
Can you substitute string cheese for mozzarella?
You can, but I haven't tested this recipe with mozzarella string cheese. If the size of the sticks are significantly bigger or smaller than cutting a block of cheese the cook time will vary.
What's the best oil for deep frying?
I used vegetable oil, but any high smoke point oil will work like peanut oil or canola oil. This does not include olive oil which does not have a high smoke point.
Can you reuse deep-frying oil?
Technically, yes, but it's a bit of hassle and there are quite a few things to consider before reusing oil you've used for deep frying. Epicurious has a great article about reusing oil if you want to learn more.
How do you dispose of deep-fry oil?
This is another reason I use a smaller pan to deep fry – there's less oil to toss out. Cooking oil can be recycled depending on where you live and a quick google search will let you know if it's available in your community.

If you can't recycle it, the best way to dispose of cooking oil is to first completely cool it. Transfer it to a container with a lid (it should be non-breakable) and toss it in the trash. I use empty peanut butter jars. Don't pour cooking oil down the drain because it can cause all kinds of issues!
Can you fry them in an air fryer?
I haven't' tested these in an air fryer, but I expect that you could cook them the same way you would for store-bought frozen mozzarella sticks.
Dipping Sauce Ideas
I love to go Italian-style with some marinara sauce on the side for dipping. For a richer, thicker dip try pizza sauce. Or, some decadent Alfredo sauce would be so good, too.
Ranch dressing would also be great!
Maybe this is a radical idea but a side of salsa would work well for a different flavor.
Like a lot of restaurant offerings, these crispy delicious cheese sticks are less expensive and not super complicated to make at home. So give this mozzarella sticks recipe a try – Football season is looking a whole lot more delicious, now 🏈
Happy cooking!
More Appetizer Recipes
Here are a few favorite appetizers, but for even more ideas be sure to check out my Game-Day Recipes round-up!
Print
Homemade Mozzarella Sticks
Hot and crispy homemade mozzarella sticks! This recipe makes a big batch of cheese sticks that can be frozen and fried in small batches whenever you get a craving. The mozzarella sticks are crispy on the outside with melted oozing cheese on the inside. They're a must make for football season.
You will need a thermometer that hooks on the side of the pan for this recipe, which I discuss in the post along with lots of other tips and tricks, so be sure to check it out!
Author: April Anderson
Prep Time:

30 minutes

Cook Time:

10 minutes (for 12 sticks)

Total Time:

40 minutes

Yield:

33

mozzarella sticks

1

x
Category:

Appetizers

Method:

Deep Fry

Cuisine:

Italian-American
1

(16-oz) block low-moisture mozzarella cheese

1 1/2 cups

Italian-style breadcrumbs

1/3 cup

grated Parmesan cheese

2 teaspoons

garlic powder

6

eggs
Vegetable oil, for frying (see note)
Instructions
First, slice across the block of cheese so you have eleven 1/2″-inch thick slices. Cut each slice into thirds so you end up with 33 cheese sticks. See the photos and notes in the post for more tips on slicing the cheese.
In a shallow bowl, combine the breadcrumbs, cheese, and garlic powder. In a seperate shallow bowl, beat the eggs with a fork until uniform in color. Using one hand for the eggs and the other hand for the breadcrumbs, dip a cheesestick in the eggs to coat it. Transfer it to the breadcrumbs and coat it evenly. Dip it again in the egg, coating it evenly, and then coat it again in the breadcrumbs. Place the breaded cheese stick on a sheet pan. Repeat with the rest of the cheese sticks. See the recipe notes section for more tips about the breading step.
Place the sheet pan in the freezer for 15 to 20 minutes. This will allow the breading to firm up. While you wait, you can get the oil ready for frying.
I used a 3-quart pan to fry my mozzarella sticks (see note). Add enough oil to the pan so that the mozzarella sticks will be fully covered as they fry (about 24 ounces of oil). You can fry two to three sticks at a time with this set-up. If you want to fry more at a time you will need to use a bigger pan and more oil.
The ideal temperature to deep fry is between 350°F to 375°F. Use a thermometer to measure the temperature as it will fluctuate as you fry the sticks. Fry the mozzarella stick for 30 seconds to a minute or until the breading is golden brown and crispy. Transfer the sticks to a plate lined with a paper towel to absorb the excess oil.
Serve the mozzarella sticks with dipping sauce on the side.  
Notes
I used vegetable oil for frying, but any high-smoke oil (not olive oil!) will work like canola or peanut oil. 
Breading tips: This is optional, but I like to start with half of the breadcrumb mixture and half of the eggs. That way, if the breadcrumbs get too wet from the eggs I can refresh them with dry breadcrumbs which makes it easier to bread the cheese sticks. 
I usually fry six to twelve mozzarella sticks at a time, so the smaller pan works well because I don't have to use as much oil. If you're serving a crowd and want to cook more sticks at a time you'll want to use a bigger pan and more oil.
How to freeze mozzarella sticks for later: bread and freeze the sticks on a sheet pan for 15 to 20 minutes. Transfer the cheese sticks to a freezer bag, squeeze the to remove the air and pop them in the freezer. They will keep well for up to 3 months. When you fry them they will need more time to cook so plan to add an extra couple of minutes for each mozzarella stick.
Note about nutrition: I did not include nutrition because depending on the amount of oil you use and how much the cheese sticks absorb it's almost impossible to measure.
Keywords: fried cheese sticks, mozzarella sticks, homemade cheese sticks
Post updated from the archives. First published in September 2019.