Make-Ahead Breakfast Recipes
For the weekend, there's nothing better than waking up to a hearty breakfast, especially one that can be prepped the night before. Here we have beautiful and delicious make-ahead breakfast recipes perfect for a special weekend breakfast or brunch. There are a few savory ideas and a few sweet ones, so I hope you find something new to try!
Click on the recipe titles to get the full recipes for all these make-ahead breakfast ideas! They're great for Easter, Thanksgiving, Mother's Day, Christmas, busy mornings, or just a special weekend brunch ❤
MAKE-AHEAD BREAKFAST ENCHILADAS | Tortillas filled with breakfast sausage, scrambled eggs, and easy green chile refried beans. Make them a day in a advance and then just pop them in the oven in the morning. These enchiladas are the ultimate savory breakfast.
BLUEBERRY BREAKFAST CASSEROLE | This blueberry breakfast casserole recipe is perfect for a holiday brunch or breakfast. It's a breakfast bake with blueberry bagels, cream cheese, and frozen blueberries that bake together in a rich custard. The top is toasty and the inside is custardy-soft and it feeds a crowd.
APPLE FRITTER CASSEROLE – Num's the Word | A favorite donut gets a casserole make-over! Cooked apples, croissants, and icing combine to make a seriously sweet breakfast treat.
MAKE-AHEAD VEGETARIAN BREAKFAST CASSEROLE – Umami Girl | This breakfast casserole is packed full of veggies like mushrooms, peppers, and broccoli and decadent gruyere cheese plus Carolyn shares all her holiday brunch entertaining tips so consider this your one-stop shop if you're at a loss on how to tackle a big holiday breakfast.
MAKE AHEAD QUICHE LORRAINE – The Savvy Mama Lifestyle | You can assemble this quiche the night before for an easy breakfast the next morning.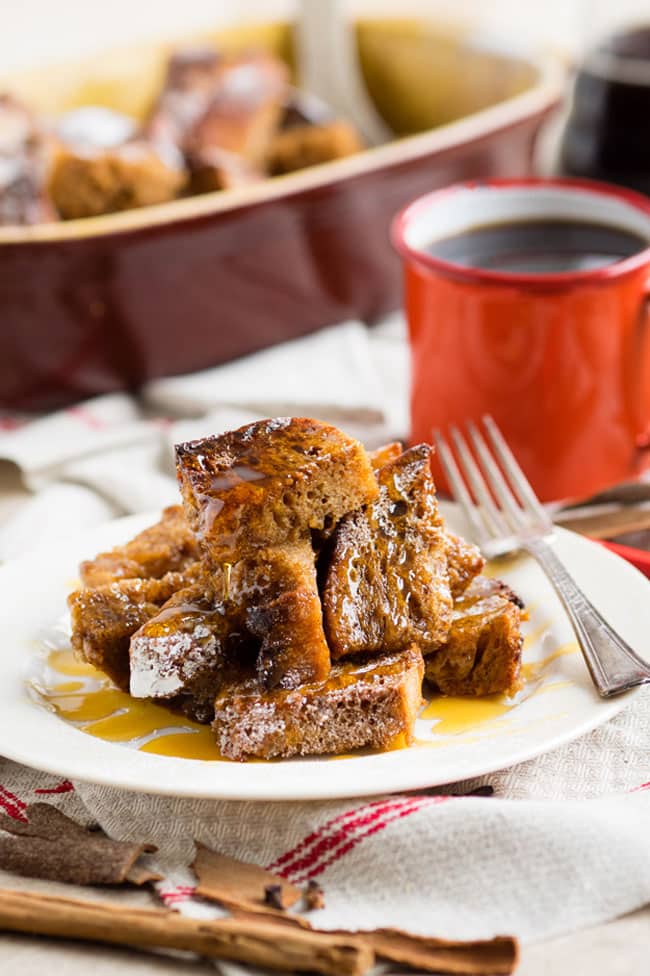 BAKED GINGERBREAD FRENCH TOAST – The Worktop | If you love French toast but hate standing at the stove flipping bread in a skillet then you must give a baked french toast a try. It's basically the same thing minus the high-maintenance prep and cooking. Tina shows you how to make this oh-so-holiday-appropriate gingerbread version that's perfect for this time of year.
BAKED OVERNIGHT OATS – Flavor the Moments | This easy recipe looks like a crisp, but is a delicious and hearty breakfast dish.
EVERYTHING BAGEL BREAKFAST CASSEROLE – Homemade Interest | No need to toast individual bagels just to have them go cold before they're even served – make this everything bagel casserole instead. There's lots of bacon and gruyere cheese and it all bakes up together and served hot (unlike that plate of cold bagels 🙂 ).
CHEESY HASHBROWN BREAKFAST CASSEROLE – The Kitchn | Savory, hearty, and delicious! This is an easy recipe to prep ahead.
TATOR TOT BREAKFAST CASSEROLE – Spoonful of Flavor | Tots for breakfast! I love this recipe because you can make it in advance and bake it for a great weekend breakfast or make it and bake it and keep it in the fridge to reheat for breakfasts during the week.
OVERNIGHT SLOW COOKER BREAKFAST CASSEROLE – Real Housemoms | Assemble this one before bedtime and let it cook overnight. Breakfast is ready to serve the next morning!
OVERNIGHT FRENCH TOAST CASSEROLE | This is the easiest way to make French Toast! Prep it the night before and then pop it in the oven in the morning. Serve it with warm maple syrup and fresh fruit.
SPINACH, ONION, AND CHEESE BREAKFAST STRATA – Saving Room for Dessert | This egg casserole has fresh spinach, tomatoes, and sweet onions. I like that it's a scaled-back recipe that serves four for breakfast.
ENGLISH BREAKFAST BAKED OMELETTE – The Worktop | A savory baked omelette with eggs, sausage, mushrooms, fresh tomatoes, herbs, and cheddar cheese. It's a play on a classic English breakfast and looks like a wonderful way to celebrate the holidays.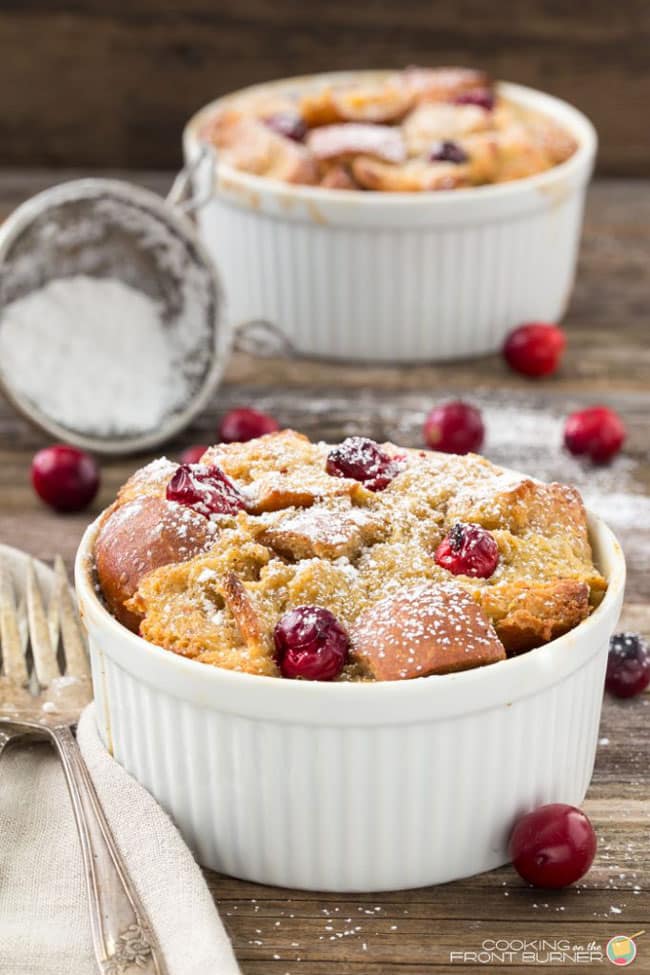 OVERNIGHT EGGNOG CRANBERRY FRENCH TOAST – Cooking On the Front Burner | More baked French toast but instead of a baking dish everyone gets their own individual serving in a ramekin. I love the eggnog/cranberry combo. So fun for Christmas morning.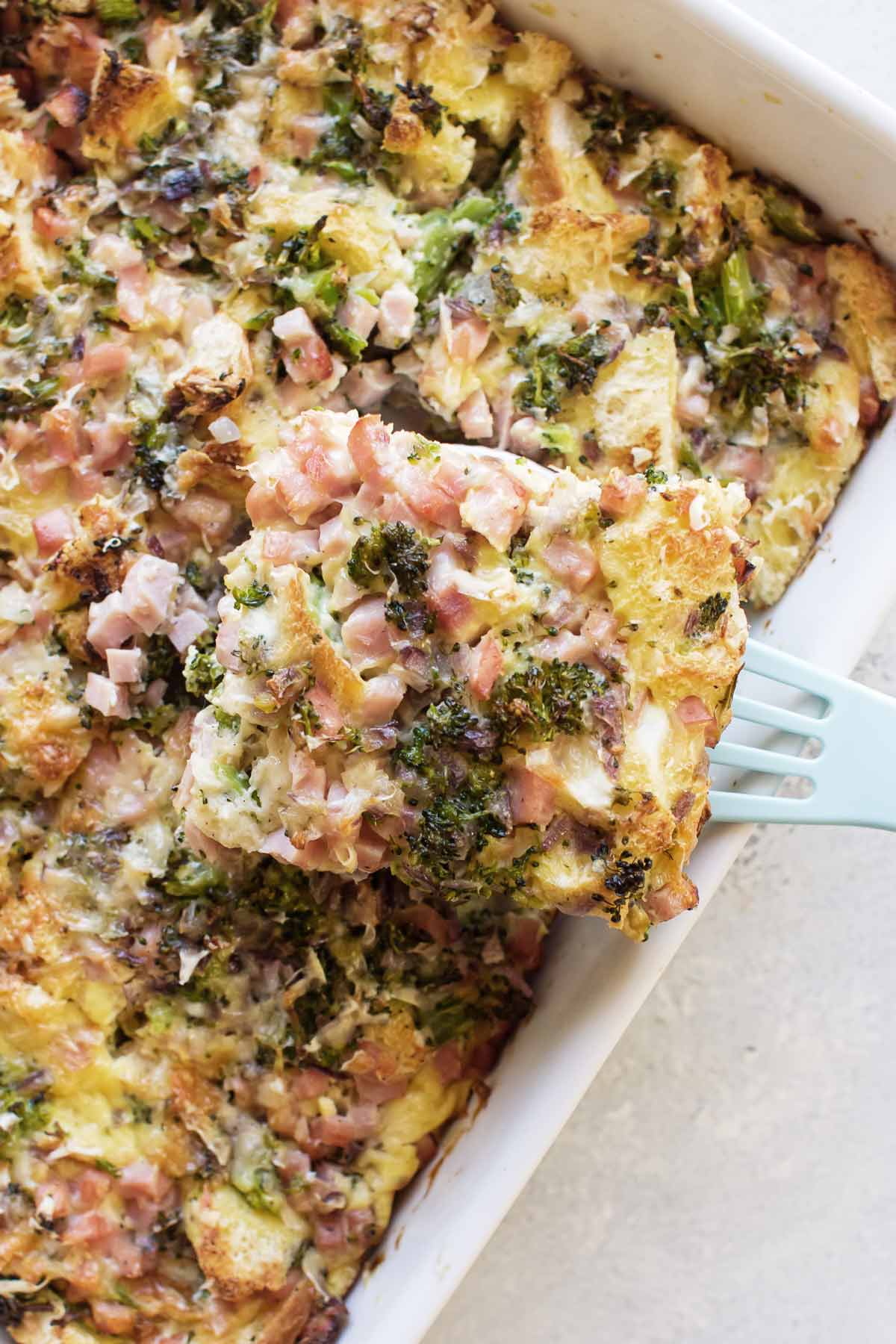 HAM AND BROCCOLI BREAKFAST CASSEROLE | this baked dish has bread, ham, cheese, and broccoli. You make it the night before to give the bread a chance to absorb the eggs and then bake it in the morning. You get some crispy, toasted bread on top while the middle is more eggy and soft.
I hope you enjoy these make-ahead breakfast dishes!
Happy Brunching!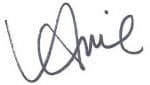 More Recipe Collections
Post update from the archives. First published in December 2017.