Because it's the holidays and I am a sucker for nostalgia, here are all kinds of classic Christmas cookies. Think of this post as a virtual cookie platter piled high with sweet treats that are sure to win hearts this time of year. There's a little bit of everything – sugar cookies, stained-glass cookie ornaments, and gingerbread men, and maybe a few new-to-you ones, too. I hope you find a few to try!
Classic Christmas Cookies
I looked high and low for the best Christmas cookies, and I think there are a few in this post you'll want to add to your baking list this year!
Click on the recipe titles to get the recipes for these classic Christmas cookies!
GINGERSNAPS – Girl Gone Gourmet | These gingersnaps are one of few of my own personal cookie recipes that I make during the holidays. They are so simple to make, freeze well, and are the perfect coffee companion.
CLASSIC THUMBPRINT COOKIES – Simply Recipes | You can't go wrong with buttery cookies filled with jam! These beauties are a Christmas classic for a reason.
LEMON SHORTBREAD COOKIES – An Italian in My Kitchen | These melt-in-your-mouth lemon shortbread cut out cookies are a light and buttery option for the Christmas cookie platter.
BUTTER PECAN COOKIES – The Country Cook | These sweet morsels are fluffy, buttery, and nutty. A great treat for the cookie exhange.
HOLIDAY SUGAR COOKIES – The View From Great Island | No cookie platter is complete without a classic sugar cookie with icing and sprinkles and I love these sweet Christmas tree cookies that Sue shared on her blog several years ago. Not only do you get the amazing sugar cookie recipe, but she also shows you how to make your own colored sugar for decorating.
WHITE CHOCOLATE CRANBERRY COOKIES – Ahead of Thyme | Soft and chewy, sweet and festive! This looks like the perfect cookie recipe for the holiday season.
PEANUT BUTTER BLOSSOMS – House of Nash Eats | Amy describes these sweet treats as 'iconic' and I have to agree – I'm pretty sure every cookie platter I've been gifted includes a few peanut butter cookies adorned with a chocolate kiss.
PISTACHIO DROP COOKIES – Sally's Baking Addiction | You are only six ingredients and one bowl away from these nutty melt-in-your-mouth treats!
ROLO CHOCOLATE CRACKLE COOKIES – Girl Gone Gourmet | Chocolate crinkle cookies are a go-to baking project during the holidays and adding a chocolate rolo in the middle of each cookie takes the classic Christmas cookie to a whole new level. If you love rich chocolate cookies stuffed with melted caramel these cookies are for you!
CLASSIC SNOWBALL COOKIES – A Pretty Life | Snowballs, Mexican Wedding Cookies, Russian Tea Cake… whatever you choose to call them, they deserve a place in your cookie line-up this year.
CRESCENT COOKIES – An Italian In My Kitchen | A few years ago, a neighbor gave me a batch of homemade crescent cookies – a melt-in-your-mouth almond shortbread cookie dusted with powdered sugar – and I think they all disappeared within a day. Now I have Rosemary's recipe and I can't wait to make them myself this year.
PINWHEEL COOKIES – Crazy for Crust | You don't get just one recipe in this post, you get four! Pinwheels for everyone this year!
COCONUT CHOCOLATE CHIP COOKIES | These are a twist on classic chocolate chips cookies! Every bite has chocolate, toasted coconut, and almonds for a nutty coconut cookie inspired by a Mounds candy bar.
CHRISTMAS SANDWICH COOKIES – Flour On My Face | Butter cookies sandwiched with buttercream are so cute. Add a little sparkly sugar and they'll be the star of the cookie platter.
RASPBERRY BOW TIE COOKIES – Beyond the Chicken Coop | Creating a beautiful cookie tray is like making a cheeseboard – you want a variety of colors, textures, and shapes – and these bow tie cookies are the perfect addition. I love that pop of red from the raspberry filling.
SOFT & CHEWY GINGERBREAD MEN – House of Nash Eats | Gingerbread men are right up there with Santa and Frosty in the ranks of Christmas characters and I love, love, love that this recipe is for soft and chewy cookies instead of the hard and brittle gingerbread cookies I've seen passed around at some cookie exchanges.
MOLASSES COOKIES | My most favorite cookie recipes are ones that use melted butter instead of softened so I can make a batch on a whim without having to wait. These molasses cookies are great if you need a last minute batch of cookies – they're soft and chewy and so easy to make.
DARK CHOCOLATE CANDY CANE COOKIES – Liv for Cake | I love the cookies (chocolate cookies dipped in white candy coating and crushed candy canes? Yes, please) and I love them stacked up with the festive string – perfect for gifting!
ICED PUMPKIN COOKIES | These pumpkin cookies are soft, lightly spiced, and topped with cream cheese frosting. Plus, this no-chill pumpkin cookie recipe is ready in less than an hour.
HOLIDAY SPICED PEANUT BUTTER COOKIES | Peanut butter cookies are a year-round favorite, but when the holidays roll around I like them dressed up in a little holiday spice instead of just plain-old sugar. Plus, they fill the house with a wonderful scent as they bake – double win 🙂
CLASSIC SPRITZ COOKIES – A Kitchen Addiction | It wasn't until a few years ago that I learned the name of these little classics. Growing up, they were always called the little buttery cookies that I couldn't stop eating. Now, I know they're called spritz cookies and Jessica has a whole post about how to make them with a cookie press.
WINE COOKIES | These wine cookies may not be classic holiday cookies, but they should be! Made with white wine and meant to be served with wine, these lightly sweetened and crunchy cookies would make a great gift for any wine lover on your list.
CHOCOLATE CINNAMON STARS – Eat Little Bird | Cinnamon stars are a Christmas cookie tradition in Switzerland and traditionally are made with nuts, in this case, almond. Thahn puts her own special spin on this classic by making her stars chocolate with a dusting of powdered sugar.
Cantucci (Italian Almond Cookies) | So, I don't remember many biscotti on cookie platters growing up, but considering they are the best cookie for your coffee and are the perfect excuse to have cookies for breakfast I think they deserve a place. These almond biscotti are easy to make and keep well for weeks, so they're great for holiday gifting.
CORNFLAKE WREATH COOKIES – She Saved | Christmas wreath cookies! Classic, nostalgic, and a must-make for a cookie exchange.
SNICKERDOODLES | It doesn't get any easier than butter, sugar, eggs, vanilla, flour, baking soda, and a pinch of salt. Oh, and cinnamon! This recipe for snickerdoodles uses a mix of brown and granulated sugar, which produces a cookie with crispy edges and a nice chewy center.
STAINED GLASS COOKIES – Liv for Cake | Cookies so pretty they double as ornaments! Liv walks you through this fun baking project and in the end, you'll have cookies almost too pretty to eat.
BUTTER COOKIES WITH HAZELNUTS – Happy Foods Tube | Another European classic! These buttery cookies require some advanced planning – the dough needs time to rest – but once the dough is ready you just slice and bake. Each cookie is studded with hazelnuts and look like they'll just melt in your mouth.
PEPPERMINT MELTING MOMENTS – The View From Great Island | Sue shares her old family recipe for these little shortbread cookie bites topped with a cap of frosting and crushed candy canes. I can see why these are a family favorite!
HOLIDAY LINZER COOKIES – Umami Girl | Raspberry jam sandwiched between two shortbread cookies – these Linzer cookies are all about the holidays!
CHOCOLATE CHUNK OATMEAL COOKIES | Maybe these aren't a traditional festive cookie, but they're delicious. Hearty, oaty cookies with melted chocolate chunks in every bite!
I hope you've found some new Christmas cookie recipes to try this season! Whether you make them for yourself as a holiday treat or give them all away, I know they'll be a hit. Enjoy!
Happy baking,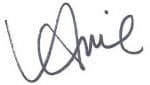 Post updated from the archives. First published in December 2017.