Roasted Acorn Squash Soup
This roasted acorn squash soup is a cozy fall soup. Roasting brings out the natural sweetness of the squash and it's then simmered into a creamy soup flavored with herbs. I love it with toasted bread on the side.
I'd been meaning to revisit this acorn squash soup ever since I made it for the first time waaaay back in the ye olde days of this blog, also known as the fall of 2009, but it somehow slipped through the cracks the last few years. Probably because I was quite taken with its more popular cousin, butternut squash soup, a soup I make it at least once every fall.
So, I'm here today to rally for acorn squash. It has a bad rep in some circles – It's difficult to peel! It's stringy when you cook it! – both of which I don't find to be true. When roasted, it makes a wonderful soup – buttery and lightly sweet – and the color is beautiful. As far as prepping the squash, I think it's way easier to handle than butternut squash, which is bigger and more awkward.
So, it's finally getting its day in the sun and I'm kicking myself for not bringing this cozy fall soup to the front sooner. Make it for lunch, or a light dinner or make it as an appetizer for a holiday meal – just be sure to make it at some point this fall and winter season. I think you'll be glad you did.
Recipe Highlights
There are three main steps: roast the acorn squash, simmer all of the ingredients and puree the soup.
You can roast the squash ahead of time if you want to spread out the work. None of it's complicated but start to finish it takes just over an hour.
It's a vegetarian soup flavored with onion, garlic, and Herbes de Provence. It's delicious in that simple form, but I like to add some cream just at the end for richness.
A splash of apple cider vinegar, added just before serving, gives the soup a touch of brightness.
Ingredients
Acorn squash
Olive oil
Yellow onion cut into chunks
Chopped garlic cloves
Herbes de Provence
Kosher salt
Black pepper
Vegetable broth, chicken broth, or chicken stock
Chopped fresh parsley
Apple cider vinegar
Heavy cream or half and half
How to Roast Acorn Squash
Acorn squash is considered a winter squash because of the nutty and slightly sweet flavor. It gets its name from its shape because it looks like (surprise!) an acorn.
Roasting acorn squash serves two purposes: first, it brings out its natural sweetness and, two, it's a whole lot easier to deal with when it's nice and soft after roasting.
To prep your acorn squash (and you'll need two for this soup recipe):
Use a very sharp knife to slice the squash the whole acorn squash in half. The stem is pretty tough, so I like to slice it on one side of the stem (not through the stem).
Scoop out the seeds and stringy stuff inside and discard them.
To roast the squash:
Preheat the oven to 425°F.
Place the squash halves cut-side up on your baking sheet. Rub some olive oil on the flesh.
Roast the squash, flesh-side-up, for 20 minutes in the oven. Turn the squash flesh-side-down and roast it for 20 minutes more.
Once you can easily insert a fork into the flesh without much resistance, it's ready.
Once it's roasted, allow it to cool until you can handle it with your hands. I like to slice the pieces in half and then remove the peel. Roasting softens the skin and makes it very easy to pull it off.
I can eat the squash just like this, seasoned with just some salt and black pepper. It's so sweet and delicious when it's roasted. But, we're making soup so…
Once the acorn squash is roasted and peeled you can keep it in the refrigerator for two to three days. Or, you can freeze it for up to three months.
How to Make the Soup
Once you have your roasted squash it's time to make soup! Since the soup is pureed you don't have to worry too much about chopping the onions and garlic. No perfectly diced veggies are required! Slice the onions into chunks and roughly chop the garlic.
Saute the onion and garlic with olive oil in a large pot or Dutch oven over medium heat until they start to soften.
Add the roasted squash – I cut it into chunks before adding it to the pot. Give it all a good stir.
Add the salt, pepper, and Herbes de Provence which is a dried herb mix common in French cooking.
Add vegetable broth (you can also use chicken broth) and bring the soup to a simmer over high heat. Lower the heat and leave it be, stirring occasionally, for about ten minutes or so.
Puree the soup with an immersion blender and then add some heavy cream and fresh parsley. Add a splash of apple cider vinegar and the soup is ready to serve.
You can make this soup ahead and keep it in the refrigerator, but if you want to freeze the soup I recommend leaving the cream out. It doesn't freeze well. When you thaw and warm the soup to serve you can add it then and it will be delicious.
Garnishes
The soup is great all on its own, but adding a few garnishes makes it just a little more special:
I made some Gruyere toasts to go on the side. Just slice a baguette, top each slice with shredded Gruyere cheese and pop them under the broiler for a few minutes. Or try some Parmesan crostini or some plain croutons.
For the soup, a drizzle of cream along with a sprinkling of grated Gruyere (or parm if that's your choice) and fresh parsley adds a nice flavor, freshness and texture. Not to mention it's purty.
For some crunch, some toasted pumpkin seeds would be nice, too.
I hope you love this acorn squash soup recipe! It's perfect for fall 🍂
Happy soup-making!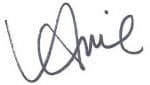 More Soup Recipes
Print
Roasted Acorn Squash Soup
This roasted acorn squash soup is a cozy fall soup. Roasting brings out the natural sweetness of the squash and it's then simmered into a creamy soup flavored with herbs. I like to serve this soup with toasted bread on the side.
Author: April Anderson
Prep Time:

15 minutes

Cook Time:

1 hour

Total Time:

1 hour 15 minutes

Yield:

4

servings

1

x
Category:

Dinner

Method:

Simmer

Cuisine:

American
For the Soup
2

medium acorn squash (about

2 1/2

pounds total), sliced in half

2 tablespoons

olive oil, divided

1

medium yellow onion, cut into chunks

3

large garlic cloves, roughly chopped

1 teaspoon

herbes de Provence

1 teaspoon

kosher salt

1/4

teapsoon black pepper

1

(32-ounce) vegetable broth

1/4 cup

roughly chopped fresh parsley

1 tablespoon

apple cider vinegar

1/2 cup

heavy cream
Optional Garnishes
Grated Gruyere cheese
Chopped fresh parsley
Toasted bread
Instructions
Preheat oven to 425°F. Place the acorn squash on a baking sheet, flesh side up. Drizzle one tablespoon of olive over the tops of the squash and, using your hands, rub it over the flesh so it's coated evenly.
Roast the squash for 20 minutes. Using tongs, turn the squash flesh-side-down on the baking sheet and roast for another 20 minutes or until the flesh is fork tender. Cool the roasted squash before removing and discarding the skin (you can roast the squash up to a day in advance and keep it in the refridgerator). To peel, cut each piece in half and pull the skin off.
Heat one tablespoon of olive oil in a large pot over medium heat. Add the roasted sqaush, onion, garlic, herbes de Provence, salt and pepper. Stir it all together and cook them for four to five minutes. 
Add the vegetable broth and adjust the heat to medium-high. Once the soup is simmering, simmer it for 10 minutes. .
Add the parsley and puree the soup until it's smooth. I like to use an immersion blender and puree it right in the pot. If you use a stand blender, it's a good idea to cool the soup a bit and blend it in batches.
Once the soup is pureed, stir in the apple cider vinegar. Add the cream and stir to combine. Give the soup a taste and add more salt, if desired. Top each serving with the garnishes, if using, and serve.
Nutrition
Serving Size:

1/4 of recipe

Calories:

226

Sugar:

3g

Sodium:

1281mg

Fat:

12.9g

Saturated Fat:

4.6g

Unsaturated Fat:

7.5g

Trans Fat:

0.2g

Carbohydrates:

28.9g

Fiber:

4g

Protein:

3.3g

Cholesterol:

17mg
Keywords: roasted acorn squash soup, vegetarian soup recipe, creamy acorn squash soup
Post updated from the archives. First published in November 2009.