All you need is a slow cooker and five ingredients to make these honey garlic meatballs. They are a great appetizer for parties, game days, and the holidays! Just mix the sauce ingredients in a crockpot, add the frozen meatballs, and leave it all to simmer. Serve them as an appetizer or turn them into an easy dinner. It's so, so easy.
Ridiculously easy slow cooker honey garlic meatballs are a five-ingredient and five-minute prep time appetizer situation that will take the edge off all the party prep stress.
Whether you're hosting a game-day soiree, a Thanksgiving extravaganza, or a bangin' holiday party, these tangy-sweet meatball bites need to be on the menu. No one can resist a savory appetizer bite speared on a toothpick. And you won't be able to resist how stupidly simple they are to make. So it's a win-win for everyone, host and guests alike.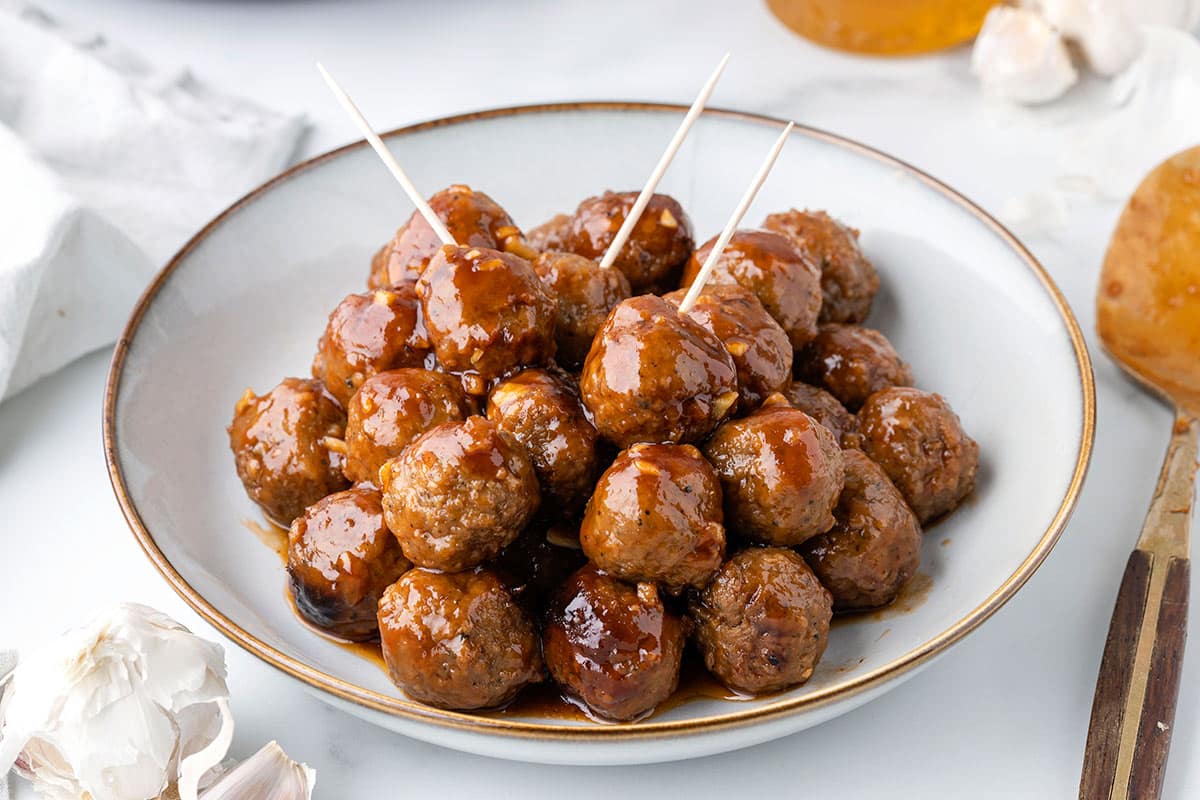 Watch the Video
Yes, we could make the meatballs from scratch, bottle our own homemade ketchup, and fetch the honey from our beehives in the backyard, but for this recipe, we're skipping all of that. Instead, we're going full-on anti-homemade and saving time, our sanity, and mixing up five pantry ingredients with a bag of frozen meatballs and calling it good.
Although the result is better than good – it's great. The meatballs coated in the honey garlic sauce will have everyone diving in for seconds and thirds. Cocktail meatballs are a party classic, and this version, despite its simplicity, is guaranteed to be a winner.
Ingredients
Ketchup
Honey
Low-sodium soy sauce
Minced garlic
Frozen meatballs
For the meatballs, feel free to use frozen turkey meatballs, Italian meatballs, or make homemade meatballs if you want a from-scratch experience.
Recipe Instructions
Whisk the ketchup, honey, soy sauce, and garlic in the slow cooker. Add the frozen meatballs and stir to coat them in the sauce.
Cover and cook on high for two to three hours or low for five to six hours.
Transfer them to a serving dish or serve them straight from the crockpot set on warm. Don't forget the toothpicks!
Tips
If you opt for homemade ground beef or turkey meatballs, you will want to brown them first and then mix them with the sauce in the slow cooker. On the other hand, if you use frozen from-scratch cooked meatballs, just pop those bad boys in the slow cooker straight from the freezer.
Feel free to swap the honey with the same amount of brown sugar if that's what you have on hand.
A crockpot makes this recipe a hands-off experience, but you can make it on the stovetop, too. The cooking time will be shorter, but you'll need to keep an eye on them. Just combine everything in a large pot and bring it to a simmer. Cover the pot and keep it on medium heat to lowish heat and stir every so often until the meatballs are hot.
Leftovers, if there are any, will keep in the refrigerator for three to four days.
Make It a Main Dish
You don't need to wait for a party or potluck to make this honey garlic meatball recipe – it doubles as an easy weeknight main dish. As we say in the biz, it's a dinner the whole family will love!
Serve the glazed meatballs over white rice or cauliflower rice.
Add some roasted broccoli for a pop of color.
Sprinkle some sesame seeds over the top a little crunch.
Garnish with sliced green onions for the grand finale.
This time of year, the super easy recipes will save the day and these easy honey garlic meatballs are the hero we all need. I hope you give them a try!
Happy easy cooking,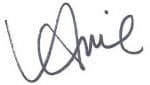 More Appetizer Recipes
📣 Do you love this recipe? I would love to know! Leave a comment below the recipe along with your recipe star rating.
Print
The nutrition is an estimate only. It was calculated using Nutrifox, an online nutrition calculator.