These southwest-style stuffed poblano peppers are easy to make thanks to some shortcuts! The peppers are stuffed with chicken and rice and topped with enchilada sauce and cheese. With this recipe, you don't have to worry about overcooked or undercooked baked peppers – I'm sharing my best tips so they turn out perfect every time.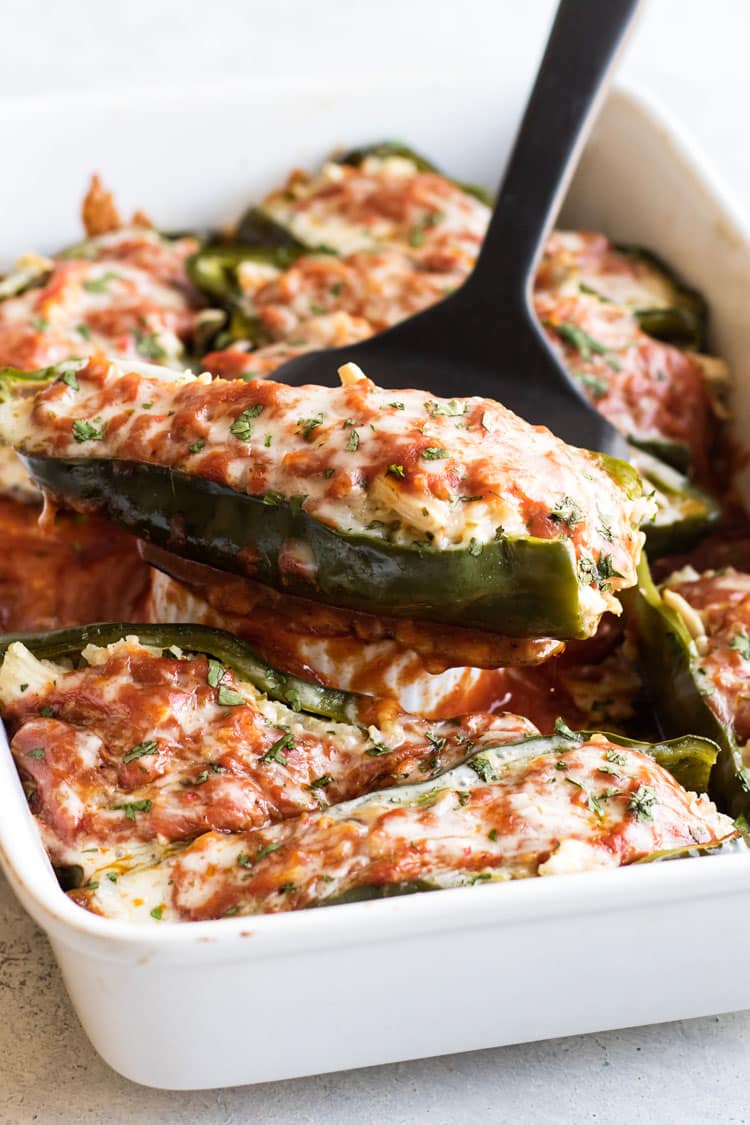 It's probably no surprise to learn that I cook a lot and when you cook a lot you get used to a stuffed fridge cluttered with containers of leftovers and eating the same thing for three or four meals in a row.
So, it helps to have people to share the leftovers with – I'd like to say I share to be nice, but I mostly share leftovers because a) wasting food is sad and b) I want the feedback. Recipients of my leftovers are stalked and then peppered with hard-hitting questions of the soul-searching variety. It's not enough to say something is good or bad, I need to know how it makes them feel. It's tough work and a reminder that there is, in fact, no such thing as a free lunch.
Case in point: when I got a text about these stuffed poblano peppers that read, and I'm quoting here, "OMG those peppers were so F$&@ing good!" The feeling about the peppers just popped through the text message like a bolt. Hard-hitting follow-up wasn't necessary – I knew I had a winner.
Some Notes about Stuffed Peppers
Stuffed peppers are tricky. Anytime you cook something "stuffed" you run the risk of the vessel that holds the stuffing – in this case, peppers – ending up either overcooked or undercooked.
In my research, which was mostly reading reader comments on the plethora of stuffed peppers recipes on the interwebs, under and overcooked peppers were the main complaint. The same goes for the stuffing. It's a delicate balance and one I've spent quite a bit of time thinking about, which I tend to do. I've been thinking about stuffed poblano peppers for at least six months, so this recipe has been in the works for a while now.
Here's what you need to know about these poblano stuffed peppers:
They have a Southwest-y flavor: Instead of using bell peppers I opted for fresh poblano peppers. They're meaty like bell peppers, but with an earthy (aka more interesting) flavor. They're a mild pepper, so if you're heat-adverse there's nothing to worry about in the spicy department.
Keeping with the southwest theme, they're stuffed with cilantro-lime brown rice, shredded chicken and topped with enchilada sauce and pepper jack cheese.
I precook the peppers so when they go in the oven with their stuffing you don't have to bake them forever until they're tender. When it's all said and done, the finished peppers are softened, but with a crisp bite. If you want them extra soft, I recommend adding three to four more minutes when you precook them.
To make things extra easy I used a rotisserie chicken, minute rice, and a quick homemade enchilada sauce. In other words, these stuffed poblano peppers are low-maintenance. Like, weeknight low-maintenance.
The stuffed peppers keep well, so the leftovers are a happy thing and not a "cluttering-up-your-fridge" annoying sort of thing.
How to Prep the Peppers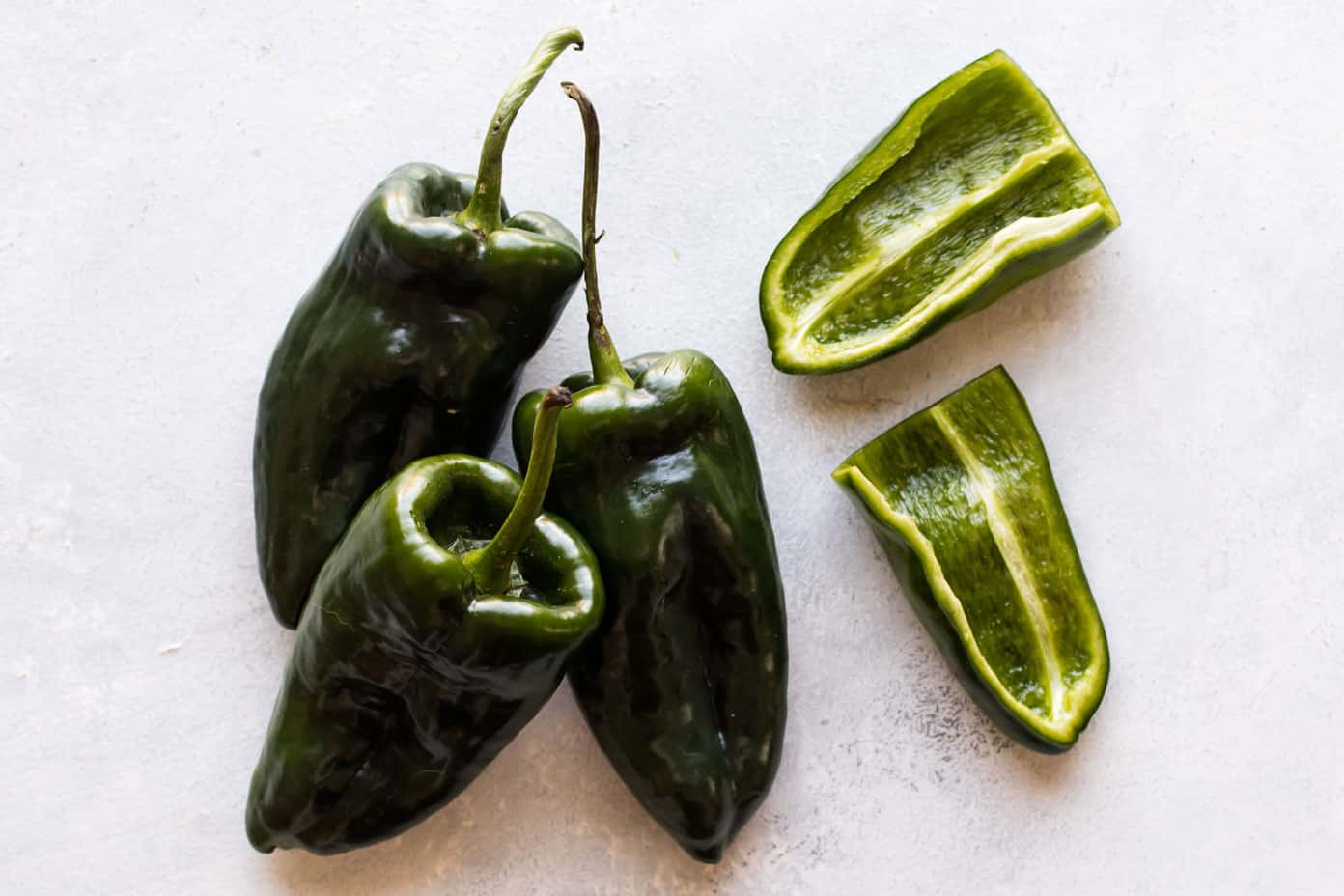 First, choose big poblano peppers. We are slicing them lengthwise, so you want ones that are wide enough to hold the stuffing.
Once you slice them and remove the stems and seeds, place the peppers in a microwave-safe bowl and cover it with plastic wrap.
Poke a few holes in the top, to allow steam to escape, and nuke them for five minutes. The steam will soften them giving them a headstart. Precooking them means less bake time and you don't run the risk of pulling the peppers out of the oven only to discover they're barely cooked through.
Precooking them also helps rid them of some excess moisture so you don't end up with a bunch of liquid on the bottom of your baking dish.
How to Make the Filling
I took some shortcuts with the filling…
Rotisserie chicken is our friend for these stuffed peppers. Of course, you can cook and shred chicken breasts or thighs and add about 15 minutes to the cook time, but let's not.
You can cook any type of rice you want for these stuffed peppers. That said, I went the minute rice route – you know, the rice that only takes 5 minutes to cook? It works well for this recipe. I used brown rice.
Instead of cooking the rice in water, cook it in some chicken stock and lime juice to give the rice more flavor. Add fresh cilantro at the end and the filling is done. If you work fast, you can have the filling ready in the time it takes to precook the peppers.
Assemble the Stuffed Peppers
You have the precooked peppers, the chicken and rice filling so all that's left is the enchilada sauce. I use a quick homemade enchilada sauce, but you can use your favorite store-bought sauce, too.
Coat the bottom of a baking dish with some of the enchilada sauce. Stuff each pepper with the filling and place them in the dish.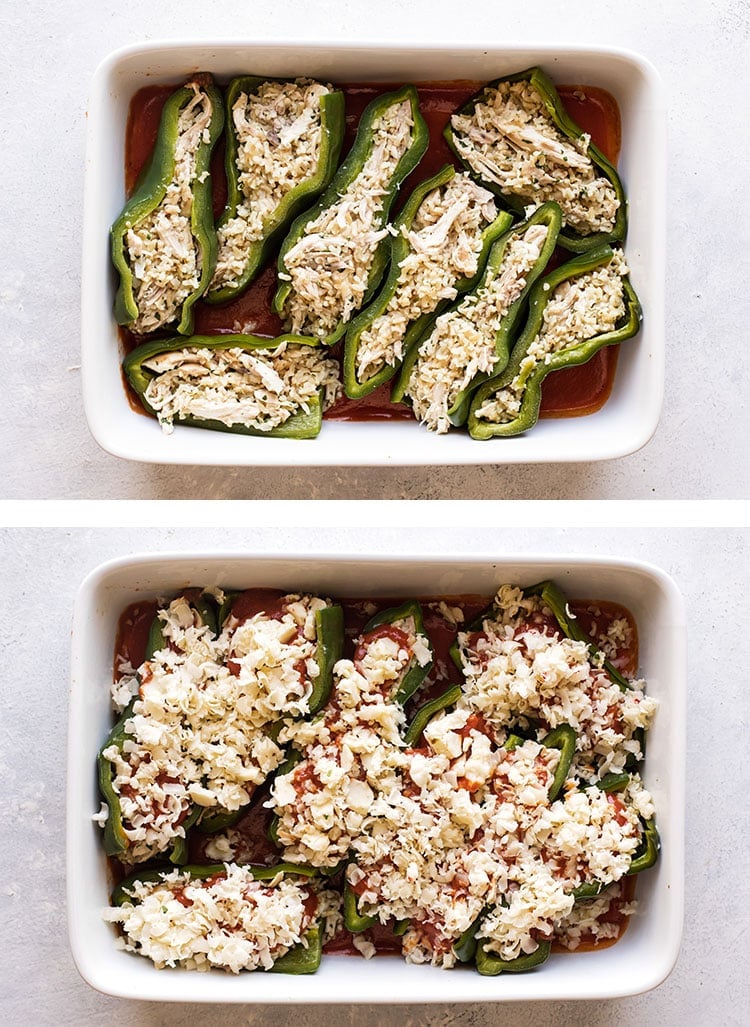 I like to spoon some more enchilada sauce over the tops of the peppers, but if you like things extra saucy you can completely cover the peppers in sauce, too.
Sprinkle some shredded pepper jack cheese over the top and the peppers are ready for the oven.
Cover the dish with foil and bake the peppers for 20 minutes at 375°F. Remove the foil and bake them for another 5 to 10 minutes.
Can I use bell peppers?
Sure, if that's what you want! Substitute your favorite bell peppers (red, yellow, and orange ones tend to be sweeter than green bell peppers) and have at it. I would still precook them as instructed in the recipe. As far as the filling, you may need more or less depending on the size of your peppers.
Can I use something besides chicken?
I have only tested these stuffed peppers with chicken and rice, but I think using cooked ground beef or ground turkey would work well with the rice, too. Just be sure to season the meat when you cook it (simple salt and pepper or add some chili or taco seasoning).
Happy pepper-stuffing!
More Chicken Recipes
Print
Stuffed Poblano Peppers
These southwest-style stuffed poblano peppers are easy to make thanks to some shortcuts like rotisserie chicken and quick cooking rice. Unlike other stuffed pepper recipes, you don't have to worry about overcooked or undercooked peppers – precooking the peppers ensures they come out of the oven perfectly crisp-tender.
Author: April @ Girl Gone Gourmet
Prep Time:

15 minutes

Cook Time:

30 minutes

Total Time:

45 minutes

Yield:

8

stuffed peppers

1

x
Category:

Dinner

Method:

Baking

Cuisine:

Mexican-American
4

large poblano peppers, sliced in half lengthwise with stems, seeds, and ribs removed

1 cup

minute brown rice (see note)

1 cup

chicken stock
juice of

1

lime

1/2 teaspoon

kosher salt

1/4 teaspoon

black pepper

2 tablespoons

chopped cilantro, divided

2 cups

shredded rotisserie chicken

11/2 cups

store-bought or homemade enchilada sauce

8 ounces

pepper jack cheese, shredded
Instructions
Preheat the oven to 375°F.
Place the peppers in a large microwave-safe bowl. Cover the bowl with plastic wrap and pop a few holes in the top to allow steam to escape. Microwave the peppers for 5 minutes. Keep them covered in the bowl while you make the filling. (see note)
Bring the stock, lime juice, salt and pepper to a boil in a small saucepan. Once boiling add the rice, cover the pan and remove it from the heat. Let the rice stand until the liquid is almost completely absorbed, about 5 minutes. Add the shredded chicken and 1 tablespoon of chopped cilantro to the rice and stir to combine.
Coat the bottom of a 9×13 baking dish with 1/2 of the enchilada sauce. Fill each pepper with some filling and place it in the pan. Spoon the rest of the enchilada sauce over the peppers and top with the shredded cheese.
Cover the baking dish with foil. Bake the peppers for 20 minutes. Uncover the dish and bake for another 10 minutes.
Notes
You can use any kind of rice, but I like minute rice for this recipe because it cuts the cook time down significantly. 
If you like your peppers extra-soft I recommend cooking them three to four minutes longer in the microwave. 
Nutrition
Serving Size:

1 stuffed pepper

Calories:

296

Sugar:

3.3g

Fat:

3.8g

Saturated Fat:

1g

Carbohydrates:

25.5g

Fiber:

2.5g

Protein:

19.3g

Cholesterol:

52.2mg
Keywords: stuffed peppers recipe, stuffed poblano peppers, mexican stuffed peppers