Tomato bisque is a creamy tomato soup recipe that's easy to make. Serve it all on its own or add some crunchy croutons on top or some crusty bread or a hot grilled cheese sandwich on the side for dunking. It's simple comfort food that will warm you up on a chilly day.
It's all about tomato soup today which happens to be one of my all-time favorite comfort food dishes. It's cozy, it's delicious, it is the best way to warm up on a cold day. This is the fourth tomato soup recipe I've shared on ye olde blog and today's creation is a creamy tomato bisque.
It's a wholesome and simple soup with some basic ingredients that evolve to more than the sum of their parts. The cream balances out the acidity from the tomatoes, a touch of tomato paste adds richness, and there's a hint of garlic.
In less than an hour, you'll have a bowl of this simmering savory soup in hand. Your worries may just evaporate with the steam after the first spoonful… at least for a little while. Some days need a big o' bowl of tomato bisque soup if you know what I mean.
Ingredients
Olive oil
Diced carrot
Diced celery
Diced yellow onion
Kosher salt
Chopped garlic cloves
Tomato paste
Canned whole San Marzano tomatoes or crushed tomatoes
Low-sodium chicken broth – you can also use chicken stock or vegetable broth.
Roughly chopped fresh basil leaves
Dried oregano – or try dried basil, parsley, or an Italian dried herb mix.
Ground black pepper
Heavy cream
Recipe Steps
Heat the oil in a large pot over medium heat. Add the carrot, celery, onion, and salt. Saute the veggies until the onions are translucent and carrots have softened.
Stir in the garlic and tomato paste and cook them for 30 seconds.
Add the canned tomatoes and broth. Bring the soup to a boil and then reduce the heat to a simmer. Simmer the soup uncovered for 30 minutes, stirring occasionally. As it cooks, use a spoon to break up the tomatoes.
Add the basil, oregano, and pepper. Use an immersion blender to puree the soup. Or blend it in small batches in a blender on low, using a towel to cover the top of the blender.
Strain the soup back into the pot using a fine-mesh sieve. Use a spoon or spatula to press on the solids to extract all of the liquid. Straining the soup will make it very smooth and silky, but you can skip this step if you don't mind some texture.
Stir in cream and give the soup a taste. Add more salt if you think it needs it before serving.
Garnishes and Side Dish Ideas
Ladle the soup into bowls and top each with more fresh basil and crunchy croutons. A sprinkle of grated Parmesan cheese would not be a bad idea either.
You can't go wrong with a grilled cheese sandwiches or, if you're feeling adventurous, make a mushroom melt to go with it.
A simple green salad with some toasted garlic bread would be great, too.
Save this tomato bisque recipe for a day when you need a warm-up or a little comfort. It might not help you solve all the world's problems but it definitely softens the edges of an otherwise stressful day.
Happy simmering,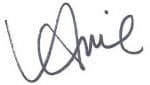 More Creamy Soup Recipes
Print