Need a quick and tasty dinner idea? Try this baked tortellini recipe. Refrigerated tortellini pasta baked in a hearty meat sauce and topped with mozzarella cheese is a quick 30-minute meal. This tortellini casserole is a great weeknight dinner when life gets busy.
Tortellini Bake
In my house, there is one convenience product that ranks first on my list of go-to ingredients to help get dinner on the table fast and that's a packet of fresh pasta. You know, the ones in the refrigerator case near the produce section? It's a guarantee that at least one or two packets end up in my order every time I grocery shop and for good reason – a refrigerated pasta is the answer for those busy weeknights when getting dinner on the table seems impossible.
I've made this baked tortellini many times and love it – it takes no time at all, but looks and tastes like it took much longer to make. I've switched this pasta recipe a little each time I've made it, but I like this version with ground turkey. It's hearty and filling and easy to change up with other ingredients – more on that in the tips section.
It has a quick prep time since there's nothing to dice – except for some roughly chopped spinach (emphasis on "roughly"), everything goes straight into the pan.
The total time for this recipe is 30 minutes so if you are looking for easy main dishes, add it to your dinnertime list.
Some Ingredients You'll Need
Cheese tortellini – you don't need to cook refrigerated tortellini for this dish, it goes right in the oven as is and comes out perfectly cooked.
I use ground turkey, but I've also made it with ground beef and Italian sausage – both are delicious. Or, if you're really short on time, skip the meat and just cook tortellini with the spinach and sauce. No pre-cooking required.
Use your favorite jarred marinara sauce or make your own spaghetti sauce from scratch if you're feeling adventurous.
Spinach adds some color and healthy good stuff, but it's totally optional.
Parmesan cheese and mozzarella – it's a cheesy baked tortellini recipe!
How to Make It
Preheat the oven to 365°F. While it heats, you can prep the pasta bake.
Heat the olive oil in a large oven-safe pan over medium heat brown the ground turkey, breaking it up with a spatula or wooden spoon.
Add the seasonings and cook them with the meat until it's no longer pink on the outside. Add the spinach and stir it into the beef. Once it starts to wilt, add the marinara. Bring the meat sauce to a simmer and add the cheese tortellini stirring to coat it evenly in the sauce.
Sprinkle the mozzarella and Parmesan cheese over the top, cover the pan loosely with tin foil and pop it in the oven. Bake it for 15 minutes, uncover it and add 5 to 10 minutes to the cook time and leave it in the oven until the pasta is cooked and the cheese is melted.
Tips and Variations
You can make this with lean ground beef or try Italian sausage in place of the ground turkey.
You can leave out the meat, too.
You can also add other veggies like mushrooms, peppers, or swap the spinach for kale. Just saute them with the meat before adding the sauce.
I haven't tried this recipe with frozen tortellini, but it should work fine. You could also use refrigerated ravioli.
If you don't have an oven-safe pan, you can transfer it all to a baking dish or casserole dish instead.
Add some garnishes like freshly ground black pepper or chopped herbs like parsley or basil before serving.
I love cozy dinner recipes and this baked tortellini recipe is always a favorite. It's an easy dinner for a weeknight – I hope you enjoy it!
Happy Cooking,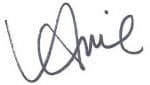 P.S. Looking for more comfort food? Be sure to browse some favorite Comfort Food Recipes.
More Easy Pasta Dishes
Love easy recipes? Here are a few more pasta dishes I love to make:
Print
The nutrition information is an estimate only. It was calculated using Nutrifox, an online nutrition calculator.
Post updated from the archives. First published in November 2014.