Blue Cheese Burgers with crispy bacon and a creamy blue cheese sauce are an easy restaurant-inspired burger recipe. The beef patties, sauce, and bacon are stacked on toasted burger buns so every bite is a savory blue cheese delight!
There are regular bacon cheeseburgers and then there are these decadent blue cheese burgers, which are a big step up flavor.
We're talking crispy thick-cut bacon on top of a juicy burger with a creamy cool blue cheese sauce to finish it off. I love a classic burger, but these savory beasts are in a class of their own and it's all about deliciousness.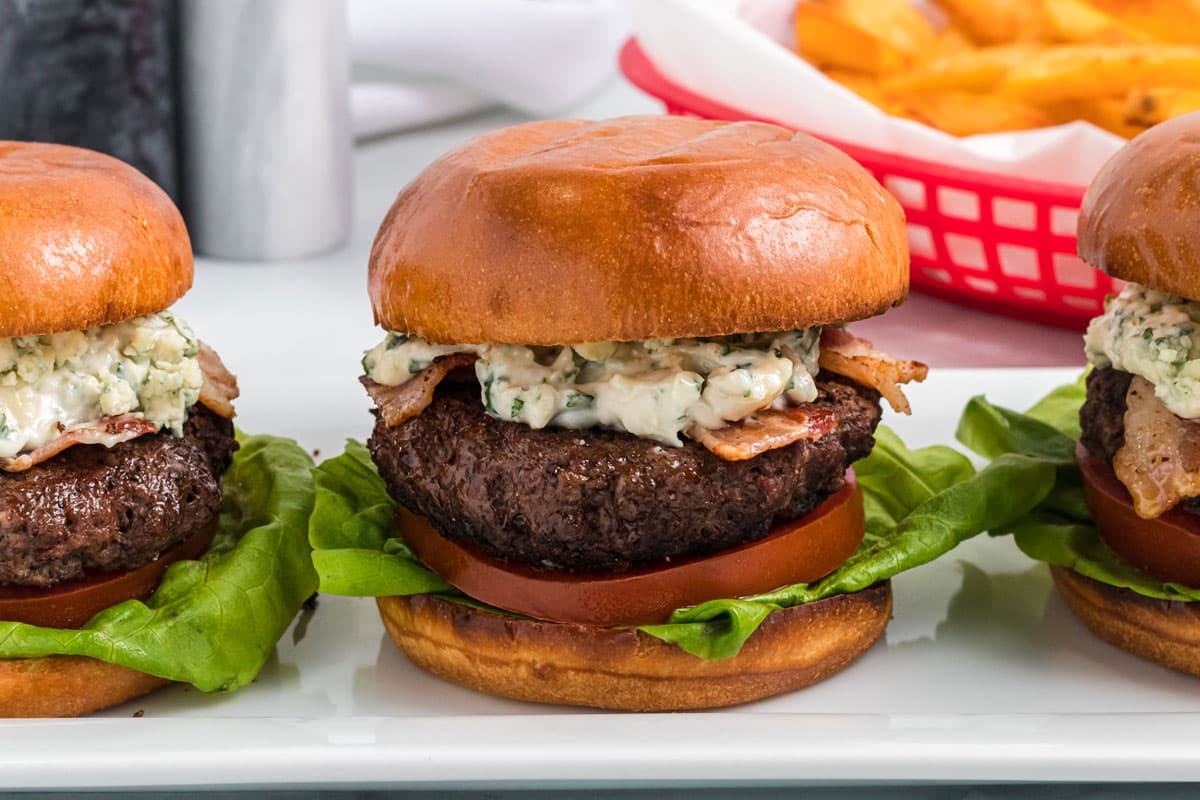 And the best part? They're not hard to make – it's an easy stovetop burger recipe with a little extra flair in the form of the four ingredient sauce. In about 30 minutes – less time than it would take to drive somewhere for a blue cheeseburger – you can have these bad boys on the table.
Add a side of garlic French fries or potato chips for the best burger night ever.
💌 Sign up for the Girl Gone Gourmet Newsletter and get recipes delivered straight to your inbox!
Ingredients
Thick-cut bacon
Ground beef (85% lean)
Kosher salt and black pepper
Mayonnaise
Sour cream
Crumbled blue cheese – you can use packages of crumbled cheese or treat yourself to a wedge of gorgonzola and crumble it yourself.
Chopped parsley
Lettuce and tomato – totally optional.
Toasted hamburger buns – I like to use brioche buns.
Recipe Instructions
First, cook the bacon in a large non-stick pan or cast iron skillet. Once it's crispy, take it out, drain it on paper towels, and slice the strips in half.
Drain off all but one tablespoon of the bacon fat in the pan. Cook the burger patties in the pan until they reach your desired doneness.
While the burgers cook, make the sauce. Combine the mayo, sour cream, crumbled blue cheese, and chopped parsley. Set the sauce aside.
If you're using lettuce and tomato, place them on the bottom bun first. Top them with the burger and bacon, spoon some sauce mixture on top, and sprinkle some more crumbled blue cheese over the top.
Place the top bun on top and dig in.
Recipe Tips
Burger Patties: I like 85% lean ground beef because there's just enough fat to add lots of flavor and moisture. I've made this recipe with ground turkey and it's good but not great. Turkey burgers are always a little dry in my opinion.
Cooking Tip: Cooking the patties in the bacon fat adds lots of deliciousness. I highly recommend it. That said, you can grill your burgers instead. A meat thermometer makes it easy to figure out if your burgers are done. I like mine around 140 to 145°F.
Sauce: Feel free to mix up the blue cheese topping ahead of time. Keep it in the fridge until you're ready to use it.
Other burger toppings: Sliced red onion would be great. Or, get really crazy and top your blue cheese burgers with caramelized onions.
If you love blue cheese as I do, you need to try this blue cheese burger recipe! It's easier than you think and the final result is a taste of burger heaven. Enjoy!
Happy burger making,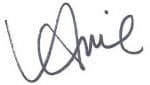 More Dinner Ideas
📣 Do you love this recipe? I would love to know! Leave a comment below the recipe along with your recipe star rating.
Print
The nutrition is an estimate only. It was calculated using Nutrifox, an online nutrition calculator.