A fresh and bright pineapple smoothie with fresh orange, bananas, almond milk and a touch of ginger for a zingy kick. Plus, learn how to freeze bananas to make it easy to add to all your smoothies!

Recipe and photos updated in February 2018. First published in April 2015.
Pineapple Smoothie
This is what I've been drinking this week – a fresh and sweet pineapple orange smoothie that takes about five minutes to whip up and goes so well with all the nice Spring weather we've been having.
I've been a little more conscious about what I'm eating lately and combining that new healthy eating mindset with some much needed evening walks, which is so good for my mood, my soul, and my waistlines (go figure!).
So much of what I love is wrapped up in butter, cream, and other delectable ingredients so I've tried to strike a good balance lately — a few indulgent treats a week and the rest of the time a bit more, how should I say… reasonable. Hence, this pineapple smoothie.
How to Freeze Bananas
Smoothies are generally pretty simple to make – add some fruit and other ingredients like milk or yogurt to a blender and puree until smooth – but it's often having the right ingredients on hand that are ready to use that get in the way of my smoothie-making goals.
You can find a variety of frozen fruit already packaged and ready to use, but bananas are not always one of them. For the best pineapple smoothie consistency they're best frozen, so thinking ahead and making it easy to pull some out the freezer is sometimes the reason I skip a smoothie in the morning. So, here's what I did recently to ensure I have plenty of frozen bananas on hand for all the smoothies:
I bought four bananas and sliced them into 1/4-inch slices
I placed the slices in a single layer on a baking sheet and popped it in the freezer.
Once they were frozen I transferred the slices to a ziplock bag to have on hand in the freezer.
This whole slice and freeze on a baking sheet method solves two potential problems:
If you freeze whole bananas it just makes it harder for the blender to puree them. Slices puree a lot easier.
Freezing the banana slices on a baking sheet ensures you don't end up with a block of frozen slices, the potential outcome if you just chuck all the slices in a bag together before freezing.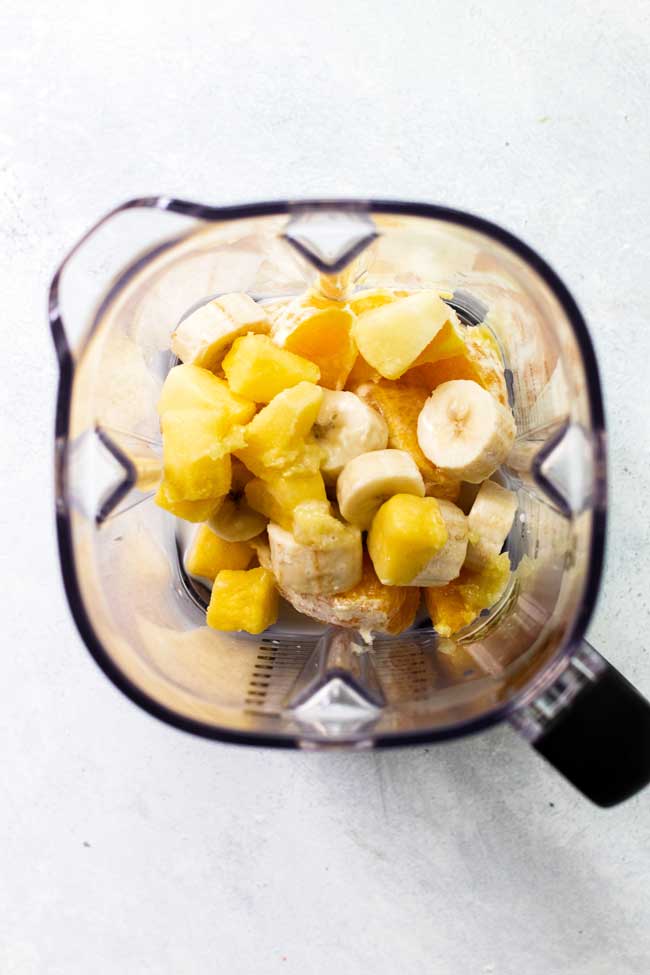 Other Ingredients You'll Need
Frozen pineapple chunks
Orange: I used one whole orange, peeled and cut into segments. I have a high-powered blender that completely breaks down the segments, so if you're worried you can always just squeeze the juice from the orange and add a few extra chunks of pineapple or sliced bananas.
I used unsweetened almond milk, but regular milk or half and half (extra indulgent!) will work great, too.
Ginger: I buy tubes of ginger paste (look for it in the produce department) because it's super easy to measure and add to the smoothie, but the same amount of grated fresh ginger works, too. I love the flavor it adds to the smoothie – sort of a zingy surprise!
This pineapple smoothie is a bright and fresh way to start the day and now with plenty of frozen fruit on hand, I'll be making this one a lot.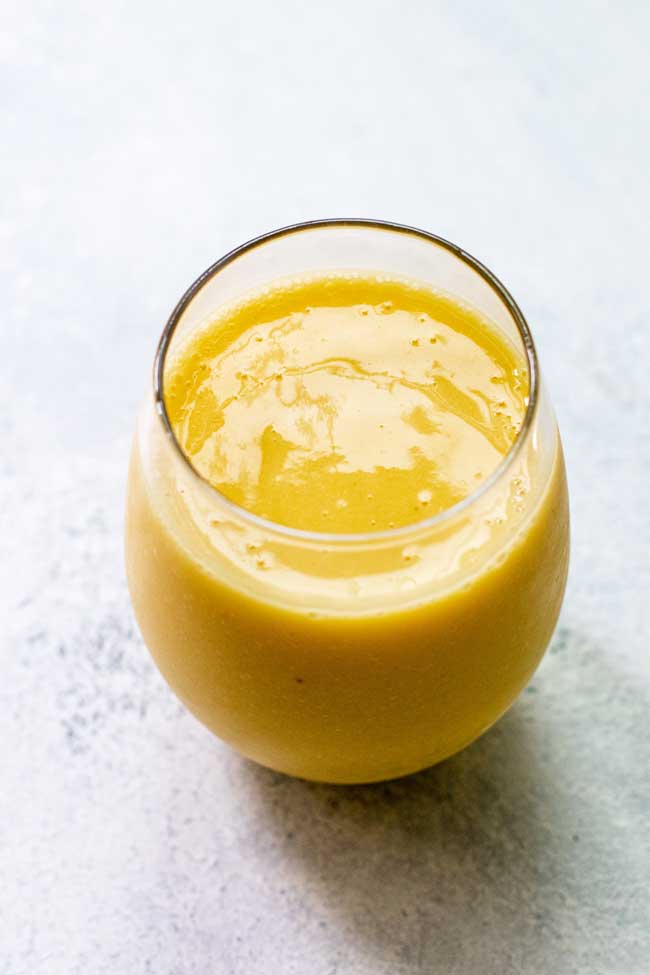 More Smoothie Recipes
Print
Pineapple Smoothie
---
Description
This pineapple smoothie has a whole orange, some banana, and a touch of ginger. It's a bright and fresh way to start the day! See the recipe notes for some tips and tricks in making your smoothie.
---
1

orange, peeled and cut into segments (see notes)

1/2 cup

frozen pineapple chunks

1/2

a frozen banana (see notes)

1/4 cup

unsweetened almond milk

1/2 teaspoon

ginger paste (see notes)
---
Instructions
Place all of the ingredients in a blender and puree until smooth.
Notes
I used a high-powered blender to make my smoothie, which can easily break down orange segments. If you are worried, you can just squeeze the juice from the orange and add it to the smoothie. If you do this, just add a few more banana slices or pineapple chunks.
I like to slice and freeze banana slices to make it easy to add them to smoothies. To do this, just slice the bananas and place the slices in a single layer on a baking sheet. Place the baking sheet in the freezer until the slices are frozen. Transfer the slices to a freezer bag and keep frozen.
If you love ginger, increase the amount to 1 teaspoon for an extra kick of flavor.
Prep Time:

5 minutes

Cook Time:

0 minutes

Category:

Drinks

Method:

Blend

Cuisine:

American
Nutrition
Serving Size:

1 smoothie

Calories:

209

Sugar:

42.8g

Sodium:

66.8mg

Fat:

1.2g

Saturated Fat:

0.1g

Unsaturated Fat:

0.8g

Trans Fat:

0g

Carbohydrates:

51.1g

Fiber:

5.5g

Protein:

2.2g

Cholesterol:

0mg
Keywords: pineapple smoothie, pineapple orange smoothie