This Chocolate Coffee Smoothie has a green twist with some fresh spinach blended in! You won't even know it's there – all you get is a naturally sweet chocolate smoothie with a kick of caffeine that is great for breakfast or as a snack.
It took me a while to come around to the whole green smoothie thing, but once I did, I haven't turned back. Once I realized you really can't taste whatever green thing you've blended in, I've taken to adding a handful of fresh spinach to whatever smoothie concoction I'm making.
And this green chocolate coffee smoothie is one of my all-time favorites. I've been making it for years, and I never get tired of the rich chocolatey flavor with a caffeine kick. It tastes like a coffee shop frozen blended coffee drink, but better because there's no added sugar, and it has secret good-for-you green stuff in it.
It's the perfect way to start the day or a great pick-me-up when the 3 o'clock slump hits.
Ingredients
Frozen banana
Coffee – Cold brew coffee is great, but I don't always have it on hand. So, I refrigerate some regular brewed coffee so it's nice and cold when I'm ready to make a smoothie.
Unsweetened cocoa powder
Milk – I've made it with whole, 2%, and almond milk. Other non-dairy options, like oat milk, work great, too.
Fresh spinach leaves
Once you have the ingredients it's as simple as popping them in the blender and whirring it up until it's nice and smooth.
So maybe you're wondering – chocolate, coffee, and spinach? Can it even taste good? Yes, friends, it does and I really hope you try it!
Happy blending,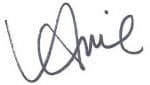 More Smoothie Recipes
📣 Do you love this recipe? I would love to know! Leave a comment below the recipe, along with your recipe star rating.
Print
The nutrition is an estimate only. It was calculated using Nutrifox, an online nutrition calculator.
Post, recipe, and photos updated from the archives. First published in January 2015.