Chocolate mug cake and ice cream for one – Need I say more? This mug cake recipe is a five-minute-microwave hero when a chocolate craving hits.
Chocolate Mug Cake with Chocolate Chips
I don't often have a reason to bake a cake and even if I think, "well, I don't need a reason!" baking a big cake for myself is just a bad idea. It means I will either eat the entire thing or end up throwing most of it away. Depending on the outcome, it's either an exercise in excessiveness or wastefulness and so there hasn't been a lot of homemade cakes in my life.
And then I talked to my best friend who told me people use their microwaves to cook things. Not just to reheat leftovers, or nuke a frozen meal, but real cooking where you combine raw ingredients, toss them in the microwave, and, voila, dinner or dessert (or both!) is served. It was a revelation.
Turns out, my microwave could deliver what I thought was out of reach: a single-serve chocolate mug cake that's fast and easy. Plus, there's no risk of a chocolate overdose followed by the day-after self-hate that goes with a regular-sized cake. The moderation is built right in.
A Mug and a Microwave
It really is as simple as combining a few ingredients in a mug and popping it in the microwave, but if you need a visual reference you must watch this Lucky Peach video. Not so much for the detailed steps, but more for the quirkiness of it that might make you smile.
I adapted this same recipe here  – I switched a few things up like cream for milk, butter for oil, and a nice dollop of ice cream to finish it off.
Decadence, it seems, is the order of the day.
Ingredients and Recipe Tips
A 10 to 12-ounce microwave-safe mug
Melted butter
An egg
Heavy cream
All-purpose flour
Granulated sugar and unsweetened baking cocoa (using dark cocoa powder makes it extra rich!)
Vanilla
Chocolate chips
Combine all of the wet ingredients in the mug. Add the dry ingredients and stir just until the batter is combined.
Technically this is a molten chocolate mug cake but it's not like a lava cake which has a very liquid center. Instead, you pile the chocolate chips on top of the batter – when the cake is cooking it will puff up and cover the chocolate chips which will melt into the cake. When you dig in there will be small pockets of melted chocolate just under the top of the cake.
You can also just stir the cakes into the batter but you won't get as many pockets of melted chocolate.
Tips for Cooking the Mug Cake
Don't overmix the batter. Just stir until it comes together and be sure to scrape the sides of the mug so all of the flour and cocoa powder are mixed in.
I've made this mug cake in a few different microwaves and it usually takes 2 minutes. Every microwave is different so I recommend that you start at one minute and then cook it in 30-second increments checking it each time.
The cake is done when the top is fully cooked and springs back when you lightly press it.
The cake will be very hot so let it stand for several minutes before digging in.
This recipe makes one large chocolate mug cake that's perfect for sharing – or keep it all to yourself!
Happy microwaving,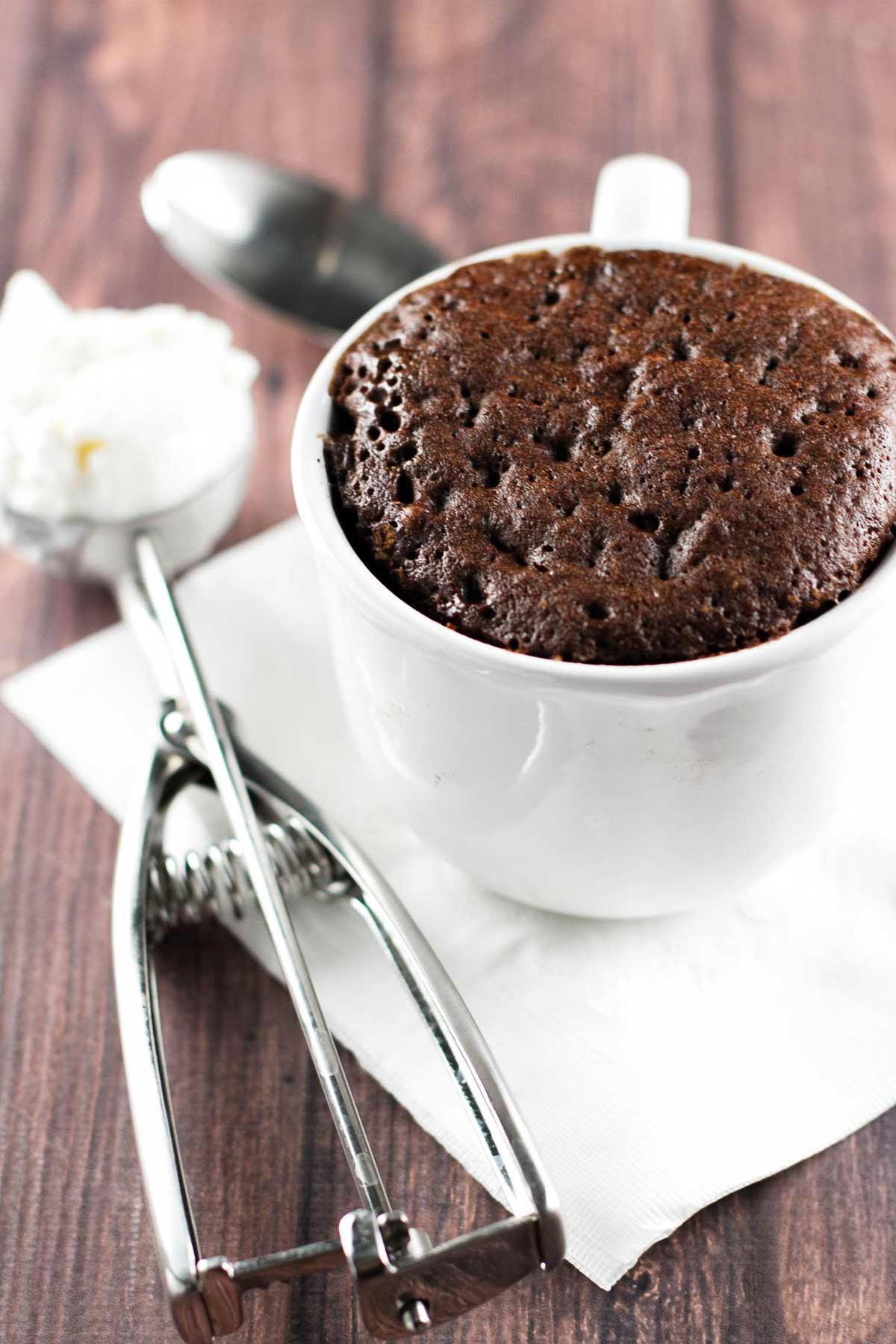 More Easy Recipes
Print
Chocolate Mug Cake
As the name of this recipe suggests, this single-serve cake is "baked" in a mug in the microwave meaning there are just five minutes between you and a big spoonful of this chocolaty rich dessert. This recipe makes one large mug cake that can easily serve two people.
Author: April Anderson
Prep Time:

3 minutes

Cook Time:

2 minutes

Total Time:

5 minutes

Yield:

1

large mug cake

1

x
Category:

Desserts

Method:

Microwave

Cuisine:

American
2 tablespoons

butter, melted and cooled

3 tablespoons

heavy cream

1

egg

1/4 teaspoon

vanilla

1

pinch of salt

3 tablespoons

all-purpose flour

4 tablespoons

granulated sugar

2 tablespoons

unsweetened baking cocoa

3 tablespoons

semi-sweet chocolate chips

1/4 cup

vanilla bean ice cream (optional)
Instructions
Combine the butter, cream, egg, vanilla, and salt together in a 12-ounce microwave-safe mug until well combined. Add the flour, sugar and cocoa and stir until just combined. Be sure to scrape the sides of the mug so all of the dry ingredients are incorporated.
Once you've mixed the batter, pile the chocolate chips on top of the batter. As the cake cooks, it will puff up and cover the chocolate chips and they will melt into the top of the cake. You can also stir the chocolate chips into the batter if you prefer.
This cake usually takes two minutes to cook in the microwave, but I recommend starting at one minute and checking it every 30 seconds until it's fully cooked. The cake is done when the top is cooked and springs back when you lightly press it.
Remove the mug from the microwave and let it sit for a few minutes to cool. Top the cake with the ice cream, grab a spoon, and dig in.
Notes
The nutrition estimate does not include the ice cream.
Nutrition
Serving Size:

1 mug cake

Calories:

961

Sugar:

75.6g

Sodium:

2412.8mg

Fat:

57.3g

Saturated Fat:

33.8g

Unsaturated Fat:

15.2g

Trans Fat:

0.6g

Carbohydrates:

102.6g

Fiber:

5.6g

Protein:

15.2g

Cholesterol:

297.9mg
Keywords: chocolate mug cake, mug cake recipe