Chocolate-Dipped Macaroons are easy to make and delicious chewy coconut cookies that keep well at room temperature, in the refrigerator, or freezer. They're a great cookie recipe for the holiday season!
Chocolate-Dipped Coconut Macaroons
Macaroons are one of those cookies, while delicious any old time of year, really say Christmastime to me. They're chewy, they're coconut-y, and the perfect sweet bite for all the cookie and dessert platters this time of year.
Plus, they're easy – a handful of simple ingredients and about an hour will get you a batch of these holiday favorites. And, bonus, they're dipped in chocolate for a finishing touch. It's optional, of course, but I do hope you say yes to the chocolate, friends. It takes these classic Christmas cookies to a fancy-ish level.
Ingredients
Sweetened shredded coconut flakes
Sweetened condensed milk
Vanilla extract – Or try almond extract for a different flavor.
Salt
Large egg whites
Semi-sweet chocolate, dark chocolate, or milk chocolate – You can use chocolate chips or chopped chocolate.
How to Make Them
Combine the coconut flakes, condensed milk, and vanilla extract in a large bowl. Set the coconut mixture aside while.
In a separate mixing bowl, beat the egg whites and salt with an electric mixer until stiff peaks form. This should take about two minutes at medium speed.
Gently fold in half of the egg white mixture into the coconut flakes mixture. Once combined, fold in the rest of the egg whites.
Use a small cookie scoop to drop the cookie mix on a parchment-lined baking sheet. Space the mounds about one to two inches apart.
Bake one tray of cookies at a time at 325°F for 20 to 25 minutes. The cookies are done with the edges and tips of the coconut flakes are golden brown.
Cool the macaroons on the baking sheet for five minutes and then transfer them to a wire rack to cool completely.
Place the chocolate chips in a microwave-safe bowl. Melt them for one minute and then stir. Warm them for 30 seconds and stir again. If the chocolate is not completely melted, continue warming it in 15 minutes increments, stirring between each until smooth.
Dip the bottom of each macaroon in the melted chocolate and place them on parchment paper. Let the chocolate set at room temperature before storing the cookies in an airtight container.
Storage Tips
Once the cookies are cooled you can store them at room temperature for up to a week. Or, keep them in the refrigerator and they'll keep for several weeks.
You can also freeze them for a few months. When you're ready to serve them, let them sit out at room temperature to thaw.
If you're planning some holiday baking this year, I hope you try these chocolate-dipped macaroons! They're a classic for a reason – everyone loves them. Enjoy!
Happy baking,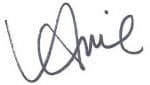 More Chocolate Treats for the Holidays
📣 Do you love this recipe? I would love to know! Leave a comment below the recipe along with your recipe star rating.
Print
The nutrition is an estimate only. It was calculated using Nutrifox, an online nutrition calculator.