Ricotta meatballs are soft, juicy, and incredibly tender. They're just as easy as regular Italian meatballs but ricotta cheese is added to the mix to give them the most amazing texture. Serve them with pasta, rice, or use them to make meatballs subs.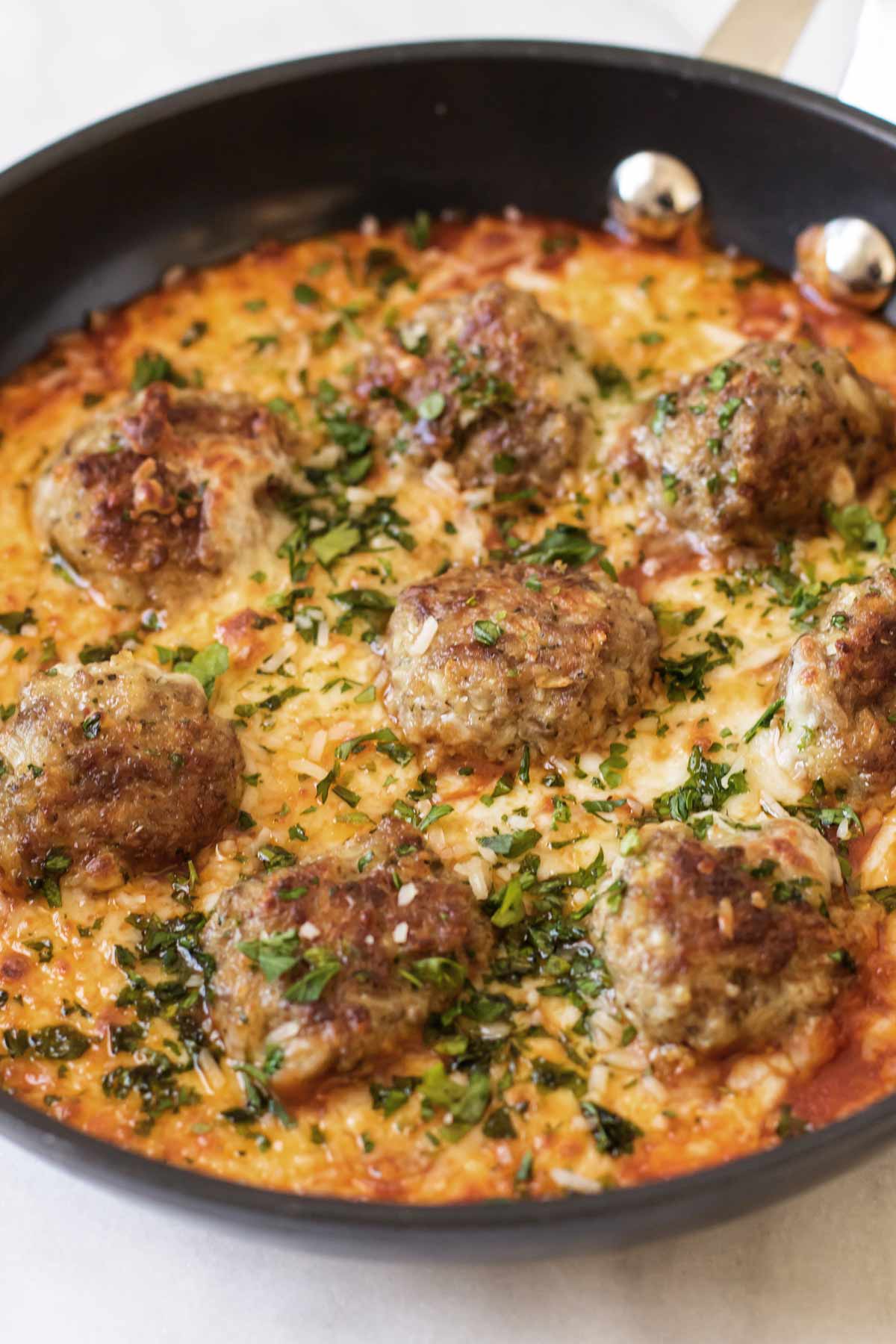 A month or so ago, I binged the newest season of The Chef Show on Netflix and, after watching the episode with meatballs, got a serious craving. That craving led to some web browsing and when I saw Chef John's ricotta meatballs I thought, "well, doesn't that sound delicious?"
And that's how we got to where we are today with this new recipe. Being a fan of meatballs, I love experimenting with ways to make them, and these ricotta meatballs? Well, they're pretty amazing.
Juicy and Tender Meatballs with Ricotta
Ricotta does something magical to meatballs – it doesn't add a ton of flavor, but what it does to the texture is pretty amazing. The meatballs are so juicy and tender. They almost melt in your mouth.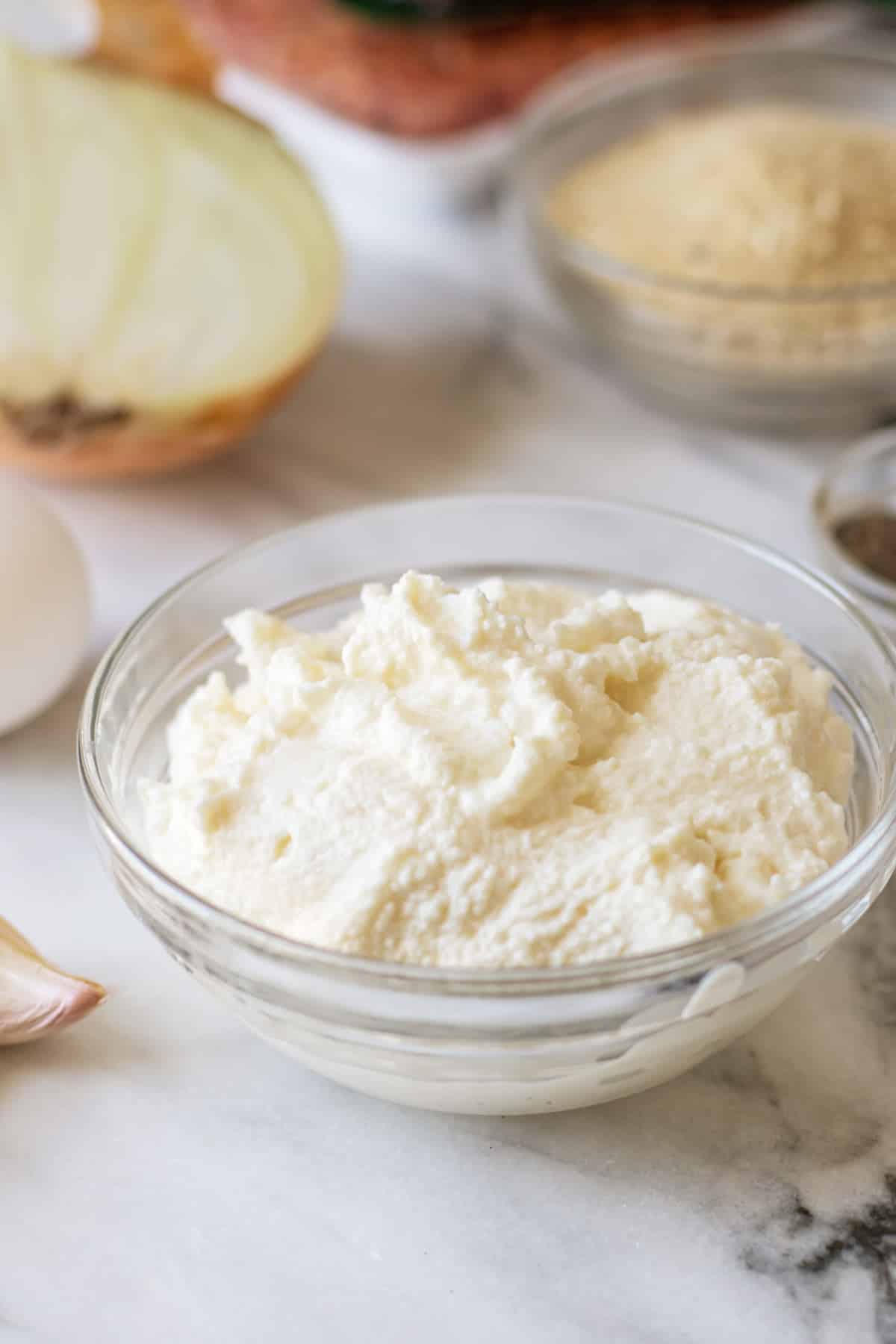 Chef John's creation inspired me, but I played around with my own slow cooker meatball recipe and landed on this new variation I'm sharing today. Except instead of cooking them in the slow cooker, they're browned in a skillet. It's a simple mix, roll, and brown operation.
Ingredients
You don't need a ton of ingredients for this recipe – a few fresh ones, a few pantry ones and you're good to go.
I like to do equal parts ground beef and mild Italian sausage. I've also tested the recipe with plain ground pork and it's good, but not as good as Italian sausage.
Onion, garlic, a few seasonings, and an egg pulls it all together. The star of the show is the ricotta cheese – there's a whole cup which seems like a lot, but it isn't. I promise.
Tips for Prepping the Onion and Garlic
First things first: the onions and garlic. I don't enjoy chunks of either in meatballs and prefer that they act like ex-boyfriends – melt and disappear from my life. That means you need to chop them up very small (the veggies, not the boyfriends). There are a few ways to do this:
Easiest: Chop them up in a food processor. It takes no time, but it does mean an extra thing to clean up. For me, the trade-off is worth it.
Easier: If you don't have a food processor, you can grate the onion using a box grater. For the garlic, you can use a rasp or just finely mince it with your knife. Or, just buy the garlic paste in the tube and exert no effort at all.
Kind of a pain: Sometimes, finely chopping onion by hand is very therapeutic! It takes longer, but it is gratifying. This is what I tell myself, anyway, when I have to take time to chop something finely.
Make the Meatball Mixture
Once you've handled the onions and garlic, combine them with the breadcrumbs, egg, seasonings, and cheese. I like to do this first before adding the meat. It makes mixing everything a lot easier.
Add the meat to the breadcrumb mixture. I like to break the meat apart into small chunks to start and then use my hands to mix everything together.
The easiest way to mix is to pull the mixture up over itself (sort of like kneading dough) and squeeze it all every so often until the meat is evenly distributed.
Scoop and Form the Meatballs
I like smaller meatballs which is good because they're cute and bite-sized but bad because it takes longer to scoop them. So, you are welcome to size yours however you like – but just keep in mind the bigger they are the longer they take to cook.
For this recipe, I scooped approximately 0.8-ounce of the meat mixture to form each ball. Just under one ounce. A small cookie scoop works great for scooping.
I scoop and then gently roll it between my hands to form a ball. You don't want to pack the meat – that will make them dense. So use a light hand.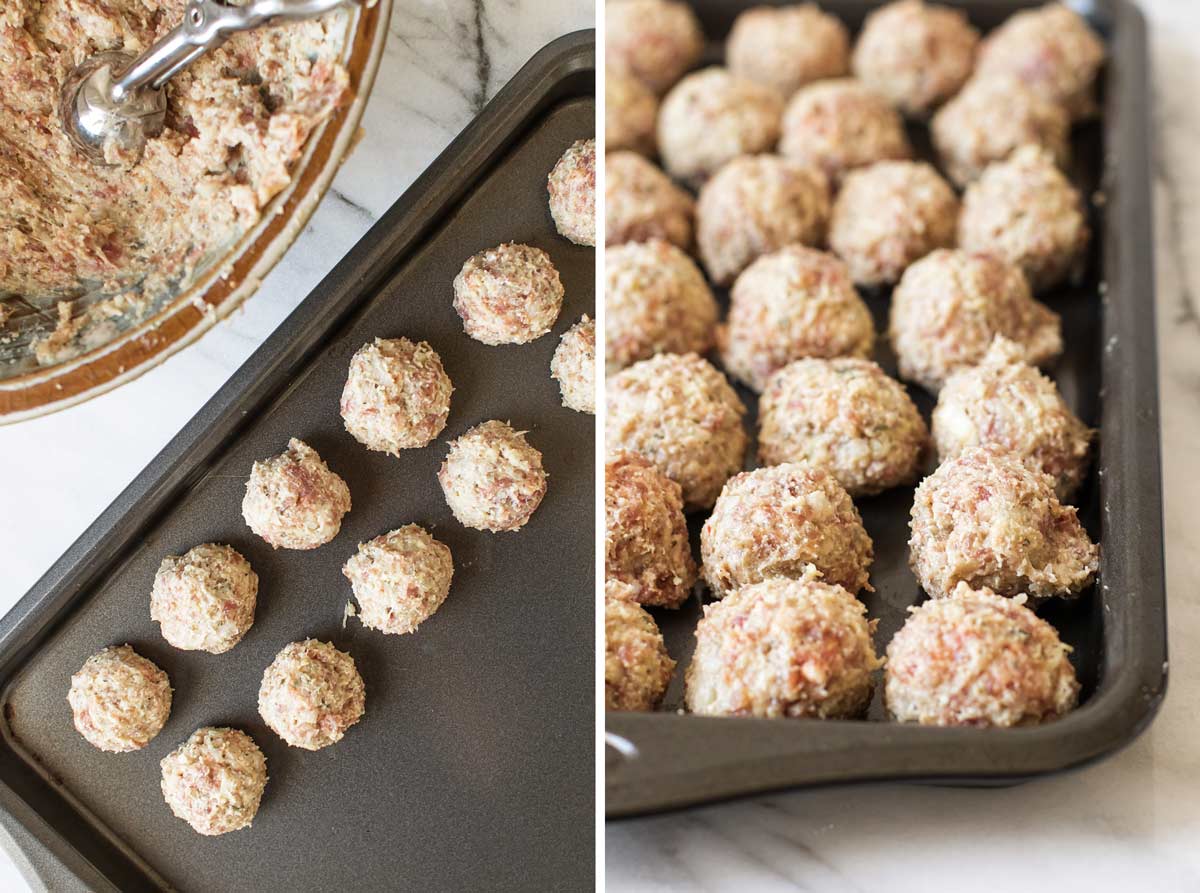 How to Cook Them
Brown them in some vegetable oil (or olive oil) in a non-stick skillet over medium to medium-high heat. If you make small ones, they don't take long to cook this way and they get a nice color from the browning.
A non-stick skillet works best – I tried a version in a regular one and they stuck even with the vegetable oil. In a non-stick one, you can easily roll them around and get an even sear.
I also recommend cooking them in a couple of batches for best results. If you crowd them all in at once, they won't brown as nicely.
Once they're a nice golden brown and cooked through (takes about 10ish minutes) they're ready.
Different Ways to Serve Them!
If I'm serving them right away, I'll warm up some marinara sauce and, once it's hot, drop the meatballs in and simmer them for a few minutes.
Make the ultimate comfort food dinner: spaghetti and meatballs. They're also great served over rice with the sauce. Sometimes I pile them on top of cauliflower mash – they'd be great with mashed potatoes, too.
Or, simmer them in the sauce and then sprinkle shredded mozzarella cheese and Parmesan cheese over the top and let it melt. Serve some crusty bread on the side and enjoy them just like that.
Meatballs subs would not be a bad idea either – the small meatballs fit perfectly in a bun. Top them with sauce and cheese and pop them under the broiler for a few minutes until the cheese is melted.
Because they're bite-sized you can also serve them as an appetizer. Serve them in a bowl with some sauce on the side and let everyone stab them with toothpicks.
Don't forget garnishes – chopped parsley or fresh basil, grated Parmesan , Parmagiano-Reggiano, or pecorino cheese and freshly ground black pepper are good choices.
Freezing Tips
You can make a big batch and freeze them for later, too. Allow them to cool on a baking sheet and then place it in the freezer. Freeze them for 30 minutes or so and then store them in a freezer-bag for a couple of months.
Questions Answered
Can I substitute ground turkey?
Yes, you can use all ground turkey or use it in place of the beef if you want. It will change the flavor (fat adds flavor) but will still be delicious. You can also use all beef to make ground beef meatballs.
How long do they keep?
In the fridge they'll keep for a few days. They'll keep well for a few months in the freezer.
I like heat! Where's the heat?
If you want to add a spicy kick, add some red pepper flakes to the mixture before you for you form the meatballs.
Can I use panko breadcrumbs instead of regular ones?
I usually skip the panko for meatballs, but if that's what you have on hand it will work.
Can I bake them in the oven instead?
I've made these in the oven, too, and they're delicious. You won't get the all-over golden brown color but you can bake them all at once to save time. I usually bake them at 375°F for 15ish minutes or so (for small ones). You can always cut into one to make sure they're done. Bake them on parchment paper for easier clean-up.
If you've been looking for a way to switch up meatballs adding ricotta is a game-changer! Juicy, tender, delicious. That's what you get when you give this ricotta meatball recipe a try. I hope you like it!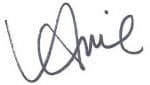 💌 Sign up for the Girl Gone Gourmet Newsletter and get recipes delivered straight to your inbox!
More Comfort Food Recipes to Try
📣 Do you love this recipe? I would love to know! Leave a comment below the recipe along with your recipe star rating.
Print
Ricotta Meatballs
Ricotta meatballs are soft, juicy, and incredibly tender. They're just as easy as regular Italian meatballs but ricotta cheese is added to the mix to give them the most amazing texture.
Author: April Anderson
Prep Time:

30 minutes

Cook Time:

25 minutes

Total Time:

55 minutes

Yield:

6

servings

1

x
Category:

Dinner

Method:

Pan Fry

Cuisine:

Italian
1/2

yellow onion, grated

3

large cloves of garlic, grated or finely minced

1 cup

ricotta cheese

1/2 cup

dried plain breadcrumbs

2 teaspoons

dried oregano

1 teaspoon

kosher salt

1/2 teaspoon

black pepper

1

egg

4 ounces

ground beef

4 ounces

mild Italian sausage

2 tablespoons

vegetable oil
Instructions
Combine the onion, garlic, ricotta cheese, breadcrumbs, oregano, salt, pepper, and egg in a large bowl.
Add the ground beef and sausage and, using your hands, mix the meat into the breadcrumb mixture.
Make 0.8-ounce balls (just under one ounce) with the mixture and place them on a plate or baking sheet.
Heat the oil in a large non-stick pan over medium-high heat. Once heated, lower the heat to medium and brown the meatballs in batches. With a large 10-inch pan, you will probably need to do two batches. Cook the meatballs for approximately 10 minutes or until they are brown all over and cooked through.
Serve them with your favorite pasta sauce over pasta or rice. Or, cool them and freeze them for up to two months. The recipe makes approximately 32 small meatballs.
Notes
This recipe does not have a lot of meat – the ricotta is the star! Because of that, the meatballs are pretty delicate. Be sure to cook them in a non-stick skillet with oil and gently turn them to brown them all over.
You can serve them in sauce with some garlic bread on the side, spoon them over rice with the sauce, or use them to make spaghetti and meatballs. If you want to serve them with pasta, Don't toss them with the pasta – instead, take the meatballs out of the sauce, add the pasta to coat it, and then place the meatballs on top. If you toss them, they will fall apart but they'll still be delicious.
These ricotta meatballs are so good, and I hope you try them! But if you prefer meatier meatballs, you might like my easy turkey meatballs or slow cooker meatballs better.
Nutrition
Serving Size:

7 meatballs

Calories:

260

Sugar:

1.1g

Sodium:

470.4mg

Fat:

18.4g

Saturated Fat:

10.2g

Unsaturated Fat:

7.1g

Trans Fat:

0.1g

Carbohydrates:

9.6g

Fiber:

0.8g

Protein:

13.8g

Cholesterol:

78.3mg
Keywords: ricotta meatballs, Italian meatballs
The nutrition is an estimate only. It was calculated using Nutrifox, an online nutrition calculator.