Avocado replaces the mayo in these quick and easy avocado egg salad sandwiches. The salad is flavored with fresh chives and lemon and makes a delicious sandwich filling!
Yes, we're combining egg salad with avocado because in my world most things are improved with some avocado and, what the heck, it's summer! Let's have some fun.
And by fun, I mean make an avocado egg salad sandwich and pour yourself a cold glass of iced tea or lemonade. Because, when the weather's warm, there's nothing more summery than that, except maybe a chicken salad sandwich, my other favorite summer sandwich.
I love sandwiches during the summer because they're easy and often require very little cooking depending on what they're made with. Egg salad tops the list and I could have a classic egg salad sandwich several times a week with some crunchy chips and a glass of iced tea on the side. It's a quintessential summer lunch in my mind.
Thanks to the avocado this egg salad is still rich and creamy so I don't even miss the mayo.
Ingredients for Avocado Egg Salad
In addition to hard-boiled eggs, this new version has avocado (hello, healthy fat!), which replaces all of the mayonnaise. There's also some fresh chives and a squeeze of fresh lemon juice along with a little salt – all in all, you only need five ingredients!
You can switch up the fresh herbs in this salad depending on what you have on hand. Fresh parsley, dill, thyme, and basil would work well, too. Or try a combination of herbs.
If you're looking for a little more crunch feel free to add some chopped red onion, green onions, or some celery.
I like my avocado egg salad on croissants or toasted bread but you can also wrap it up in tortillas, serve it on bagels or soft buns. Or use it to make lettuce wraps or toss it in a green salad for a low carb experience.
I love to serve egg salad with chips on the side, but fruit salad or a bowl of 10-minute tomato basil soup would be great, too.
Can you make avocado egg salad ahead?
You can boil the eggs ahead of time and keep them in the refrigerator until you're ready to make the sandwiches. As far as the avocado egg salad, I don't recommend making it ahead because the avocado will probably brown and look a little unappealing. It will keep for a day or so in an airtight container but it's best the day it's made.
How do you know when an avocado is ripe?
Ripe avocados will give a bit when you gently press them. They will feel slightly soft while still being firm. If it's mushy the avocado is overripe. If it's hard it's not yet ripe.
How do you store avocados?
Most likely, when you buy avocados at the store, they won't be ripe. I like to ripen my avocados on the counter at room temperature. It usually takes a couple of days and, once ripened, I pop them in the fridge. The cold air will slow the ripening process and they keep well for up to a week this way.
This avocado egg salad recipe is a nice twist on a summer classic. I hope you give it a try soon and enjoy!
Happy sandwich making,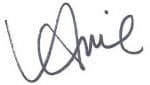 💌 Sign up for the Girl Gone Gourmet Newsletter and get recipes delivered straight to your inbox!
More Sandwich Recipes
Looking for more summer sandwich recipes? Here are a few more of my favorites…
📣 Do you love this recipe? I would love to know! Leave a comment below the recipe along with your recipe star rating.
Print
The nutrition is an estimate only. It was calculated using Nutrifox, an online nutrition calculator.
Post and photos updated from the archives. First published in November 2014.